I have a confession. I haven't bought a pair of new sunglasses since 1942. Okay, so I wasn't technically alive in 1942. But when I'm talking about how badly I neglect myself and my own needs, I like to get as much attention as possible. Today I decided to go in search of the top trends in sunglasses for summer.
It's no lie to say it's been a LONG time since I bought new sunglasses. I am still wearing sunglasses that were cool five years ago. By the process of elimination or osmosis or some other kind of process, that means I am technically no longer cool.
My kids will be genuinely surprised to hear this news.
Today I'm shopping these interwebs for sunglasses I think are exceptionally sassy. And saucy. And other fun words that start with S and end with Y.
1. Let's get the silliest trend in sunglasses out of the way first. Have you seen these? They are Sun-Staches and they are billed as the "Original Mustache Sunglasses."  They come in lots of colors, because somehow I guess that makes it better. If I weren't one-hundred years old, I would probably buy these to try and impress my mustache-enthusiast friends. But I am old and in truth, mustache-enthusiasts are never impressed.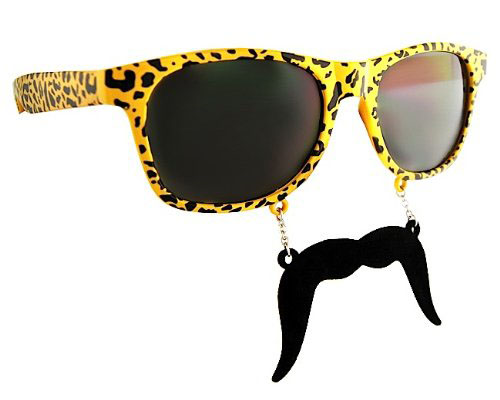 2. These Ray-Ban RB3025 Aviator Sunglasses are stupidly delicious. I love them, and I'm not just saying that because I try to practice Aniston in all I say and do. I'm not sure they'd look the same on me as on her, but if I buy these Ray-Bans, I will tell myself I look exactly like her. I will also force friends & relatives to tell me the same thing.  Or else. (Seriously… aren't they sexy?) It's little wonder these Ray-Bans are at the top of the charts for must-have sunglasses.
PS: If you have a square face shape like I do, the classic Ray-Ban aviators are the right sunglasses for your face type.
3. Exaggerated cat's eye sunglasses are expected to be a crazy hot trend for summer 2012. I'm not sure how they'll look on me, but I'm for sure going to try them on. The best part about the sunglasses pictured below are their price point. These vintage inspired "cateyes" sunglasses are less than $11 on Amazon. So… about the price of a gallon of gas, right?
4. These Ray-Ban Aviator "Clubmaster" sunglasses in tortoise are my FAVORITE sunglasses so far. I don't know why I love them so much, but I do. In that way they are very much like my 1st husband. Aren't they about ten kinds of sexy? Do you love 'em?
 The Ray-Ban Aviator Clubmaster sunglasses are supposed to be super hot this spring and summer, or so say people who know things like this. I don't. Ask me what kind of dessert trends I'm expecting this summer, and I'm all over it.
5. Here are those same super-sexy
Ray-Ban Aviator Clubmasters
in black and emerald green. I desire them. If you're not doing anything important right now, please purchase them and have them sent to me at once. I'm positive it'll earn you a bigger mansion in Heaven. At the very least, you'll get to tell all your friends that you once bought a pair of
Ray-Bans
for a blogger you never met for reasons you never understood. It'll be a great story.
6. Beyonce has that wonderful oval face shape, so Ray-Ban Wayfarer sunglasses are perfect for her. The Wayfarer is a trend in sunglasses that really has legs. This one has been around a long time, and will continue to be landing on lists of the top trends in sunglasses.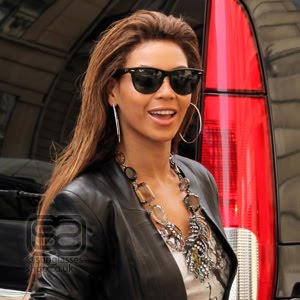 7. Oblong face shapes need beautifully oversized sunglasses. One of the hottest trends in oversized sunglasses this summer are these Ray-Ban OverSized Wrap sunglasses. I'm mad for them, but my face shape just can't pull them off. Damn this box-sized head of mine!
Love all these sunglasses, but they're a bit out of your price range? I totally feel you. You can get most of these must-have sunglasses styles on
Amazon
through a company called
Urban Boundaries Eyewear
. Looks like most of their sunglasses are around the $10 mark. Not bad!
Do ya love it?