Gas costs so much lately, I feel like I'd be better to buy a car that runs off sour cream. Today I was thinking I bet I could go to Etsy and spend pretty much the same amount I'd spend on a gallon of gas – and I'd actually have something in my hot little hands that would last longer than 5 minutes.
Sadie can't drive 55.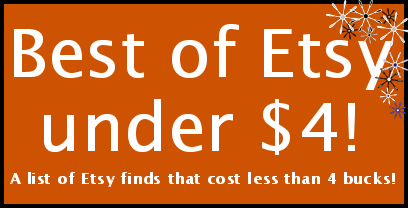 I'm dropping about $4 per gallon, so my criteria is to find as many beautiful buys from Etsy as I can – all around 4 bucks. I'm going to need your help on my Etsy scavenger hunt. If you have an Etsy shop and want to feature one of your darling products that's less than FOUR smackeroos, please add it!
If you're an Etsy shopper who has uncovered an Etsy steal for $4 or less, help the Seller out and list it here. I'm positive you'll get good karma all up in your business – especially if you leave a comment below telling us about the link you added. 🙂 Nothing like grabbing karma's attention and shaking the hell out it. (PS: read Advertise Your Etsy Shop Like a Pro, Yo!)
Thanks.. and let's have FUN! It'll take my mind off the fact that it cost more to put gas in my car than I paid the hospital to bring home my daughter twenty-seven years ago. And yes – that's a natural fact.
Just add the link of the Etsy bargain you find (if it's over $4, I'll delete it because I'm mad serious about this). Where you are asked to enter a name – that means the name of the item, not your name. The form will require your email, but I promise not to email you or sell your email address. (Unless you're Angelina Jolie – then all bets are off.)