You and I have been best friends since two seconds ago when you started reading this post. That's why I know I can share this with you… I hate grapefruit. I've tried to be a grown up about it and learn to love it, especially since Dr. Oz keeps telling me I'll lose my belly fat and be able to spontaneously fly if I drink grapefruit juice every 9 seconds.
Grapefruit is so pretty. I see it and it looks nice and I think I'll try it again… and BLAMMO! My mouth turns inside out. I think grapefruit is a trick of nature, like a poisonous spider that looks like a delicious candy bar.
If anything in the universe can make me learn to love grapefruit, surely it'll be Grapefruit Cheesecake by Spark Stack. I feel fairly sure that someone could mix dried leaves and dryer lint in a cheesecake and I'd eat it.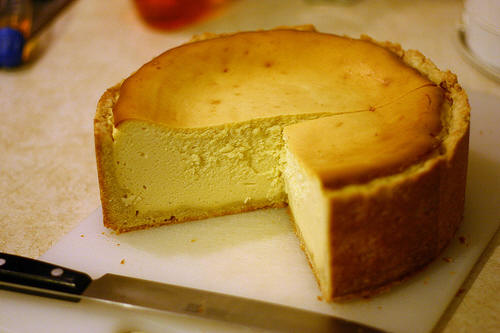 This pink grapefruit embroidery sachet from Harp and Thistle is adorkable. It's stuffed with lemon grass, pink grapefruit essential oil, and dried lemon and orange peel. I think I could love this. I could love this a lot.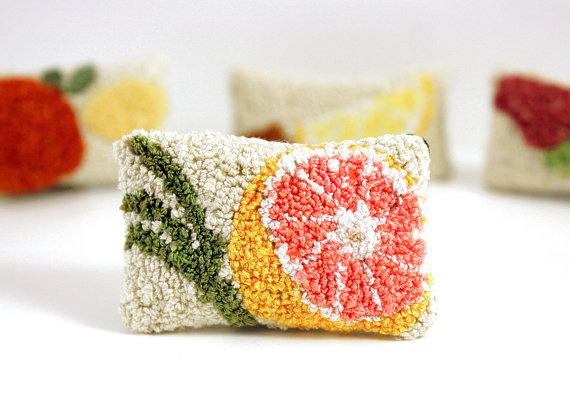 From This is Glamorous, this pink Campari-Citrus Sorbet has 3 cups of grapefruit juice.  You freeze the beautiful concoction in an ice cream machine, but if you don't have one the recipe says you can make popsicles.
I have only two rules in life.
1. Do whatever Oprah tells me to.
2. Buy anything that has Neutrogena on the label. If Neutrogena says grapefruit in body wash is a good thing, sign me up, Sister.

This next pretty little goodie is called a Grapefruit Saver and it's by Hutzler. I know enough about the grapefruit eating counter-culture to know they often eat only one half of the fruit and save the other. I guess when I learn to love the stuff, I'll want to keep my grapefruit halves in fruit safes as well.
Until that happens though, I will keep Coconut M&Ms in mine.
(PS: This company has "savers" of all kinds – including onion and tomato. I think they're stupid cute.)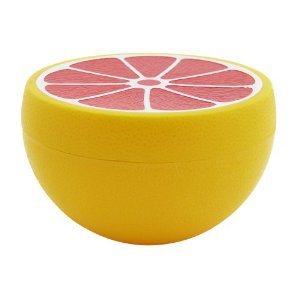 I want you to know I have never once in my 108 years on planet Earth, scrubbed my lips. Among the things that need scrubbed in my life (walls, toilets, ex-husbands), lips is way down on that list.
This grapefruit lip scrub from AubreyEApothecary makes me wonder if I've been living in the dark like some kind of cave woman. Made with brown sugar, shea butter and jojoba oil, I not only want to scrub with it, I want to put it on a cupcake.  (PS: I love the label on the jar.)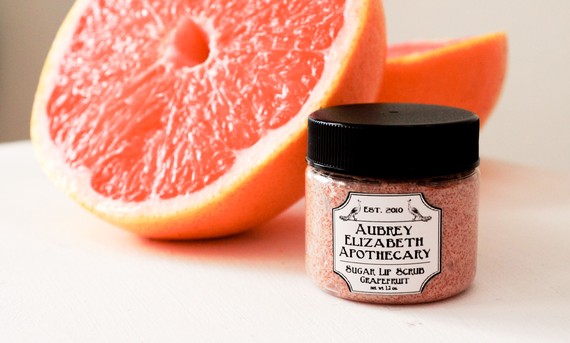 Let me just say this… CANDIED GRAPEFRUIT PEELS!!! Are you kidding me? No way you can look at these and not believe we live in a world that is decent and good. Are they not the PRETTIEST little delights you've seen in at least 4 hours?
I swear to you, Dear Reader, I would actually learn to eat grapefruit if I knew at the end of the day, these things would magically appear. The recipe actually looks doable, so maybe I won't need to bring David Copperfield into this.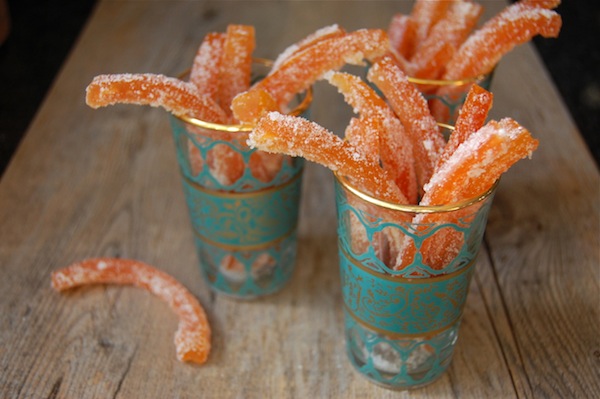 Like Momcaster on Facebook…as recommended by Tom Cruise. (Note from Momcaster Legal Department: Tom Cruise, the actor, doesn't even know this website exists. Sadie is talking about an entirely different short man who hates anti-depressants.)