My Green Smoothie Weight Loss Journey
[one_half]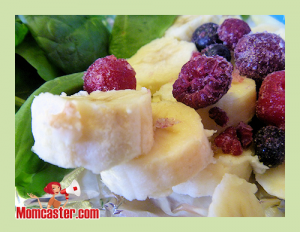 Like so many people, I decided that 2012 would be the year I would be kinder to my body. I decided I needed to lose weight, but more importantly, that I needed to be healthier. I read a lot about green smoothies and weight loss and for me, I thought it just made sense. [/one_half]
[one_half_last]
[/one_half_last]
I wanted to be sure I didn't treat green smoothies like some kind of weight loss fad, though. I wanted to try them because I knew they were good for me. I also made the decision  to walk at least three times a week.  (If you want to follow along on my weight loss journey, be sure you subscribe below this post. I'll be sharing everything about what I do, how it's working, and how I'm feeling.)
Unfortunately, I got a late start on my green smoothie and walking weight loss journey. Things kept getting in my way (things like cookies and french fries.) I only started a week ago, but I'm seeing really exciting results that I wanted to share with you. In a week, I've lost 4 pounds. (And that's even with making a batch of Whiskey Peanut Butter Cookies and eating at least 4 of them over 2 days.) Don't hate. I'm a sweets-loving-human-American.
Every day I have one or two green smoothies. Sometimes I have a smoothie instead of breakfast, and other times I have a smoothie at a time I'd ordinarily eat a snack. I have been diligent about walking as well.  I have to tell you, after the first day I walked I thought I'd never felt so sore and so old in my entire life. Every muscle in my body hurt and it made me feel like a big fat slob that I had gotten to the point in my life where doing something that humans do every single day was painful.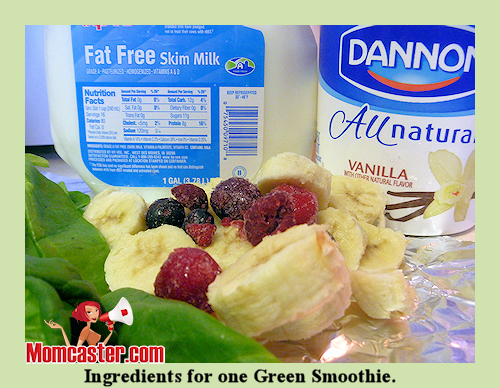 The really good news though is that within only a couple days of walking, the pain diminished drastically. The stiffness started to decrease and I realized that once I got past a certain point in my walk, it became pure pleasure. Truly, the hardest part was taking the steps from my chair to other side of my front door. I listen to music or eBooks while I walk, and it makes me feel even better. (PS: Top Workout Music is a little site I started at the same time because I felt it would help inspire me to try new walking music and I wanted to share this whole journey with people who are like me – not exactly physically fit people who really do want to be.)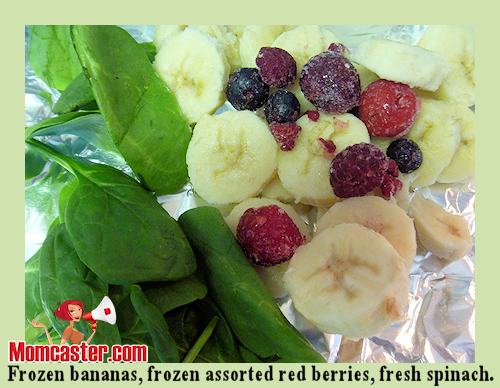 As I read about green smoothies, I found out there are different camps about what should and should not be in a green smoothie. Some say you shouldn't use dairy. Others say it's perfectly fine to use low-fat dairy. So far, my smoothies have used a little low-fat yogurt and low-fat milk. Today I'm going out to get some coconut water and give that a try. One thing they all agree on though is that green smoothies have green vegetables in them. Experts say the more brightly colored the vegetable, the more protective the health benefits, thanks to a rich assortment of plant compounds called phytochemicals. Phytochemicals help the body deal with free radicals. Free radicals, formed from a natural process called oxidation, can damage body cells and tissues as well as DNA. Damage caused by oxidation may lead to the onset of health problems such as cancer, heart disease, cataracts, and arthritis.
So far, I've been using spinach in my green smoothie. The benefits of spinach are so many I won't even list them all here. You can read more about why spinach is a great thing to eat here. When I drink a green smoothie, I find that I am fully satisfied and far less hungry than when I don't. I hate to be indelicate, but to be candid another benefit of the green smoothies is that going to the bathroom is…ummm….different. 🙂 Let's just say it's easier. (I can't believe I just told you that, but hey…we're in this thing together.)
I never taste the spinach in my green smoothies. Not even a hint. I am a hardcore sweets lover and I'm being honest in telling you I LOVE THE TASTE OF GREEN SMOOTHIES! I almost always add in frozen bananas and it makes my smoothies rich and thick and sweet. I look forward to having a smoothie – it doesn't feel at all like something I "have to do."
I only use frozen fruit, and just enough liquid (low-fat milk, etc) to make sure the whole thing blends. I never use ice cubes because I don't have to as the frozen fruit does for me what ice cubes would do. I have a Cuisinart blender – so nothing too fancy or expensive. Because I have everything already frozen and in baggies, it only takes a minute to make one. Seriously easy – seriously tastes good.
[one_half]Here are some Green Smoothie resources if you want to have a smoothie with me.
Incredible SmoothiesTracy went from 147 to 106 in part by making green smoothies part of her life.
Cuisinart BlenderThis is the kind of blender I have. You can use any you want, but make sure it's tough enough to easily blend chunks of frozen fruits and vegetables without burning up the motor.[/one_half][one_half_last]
[/one_half_last]
Related articles