The Top 5 Most Awesome Things to Make With Jello
I'm going to be honest with you. I hate Jell-o. I hate it because the texture is weird, and I hate it because I don't understand the science behind it.
Most of all I hate Jell-o because typing the word "Jell-o" requires I locate the hyphen button on my computer.
[one_half]Jell-o is largely disgusting, but back home in North Carolina my relatives found a way to make it even more disgusting. Any manner of weird fruit would be dumped into Jell-o under the disguise of "dessert."
So not dessert, people. So totally not dessert.
Meanwhile, I found some gelatin – Jell-0 kinds of things online and they look so awesome, I may change my mind about Jell-o. (No I won't, but I need to sound reasonable here.)
1. These "gelatinas" are the most incredible thing I've seen all month. They are absolute works of art made of gelatin. Made by Rosario Gamboa of the Canela Bakery, they are made, in part, using hypodermic needles and are entirely edible.
If you'd like to try your hand at these stunning works of food art, you can find a "gelatina artistica" video on YouTube.
2. If you've ever wondered what Jell-o sorbet would taste like, you have way too much time on your hands and not enough cool things to think about. Meanwhile, the delightful blog Four Pounds Flour uncovered some old Jell-o recipes and came up with a sorbet I found really interesting.
3. I do very much enjoy popcorn balls, so I think I could manage the Jell-o here because it kicks the popcorn up a notch. I like that. These Jell-o popcorn balls are from The Gourmet Mama, and I think they're cute as a…um…popcorn ball.
4. This next feat of Jell-o derring-do is ten kinds of awesome. Would I eat these gelatin bananas that are in banana peels? Probably not, but it's cool to look at. In English, she (SandeeA) calls the stuff she uses "fruit gums." I'm calling it Jell-o because I'm the boss of me and I can do whatever I want. I imagine fruit gums to be gelatin. If I'm wrong, let's all pretend you don't know it. Go here for the how-to.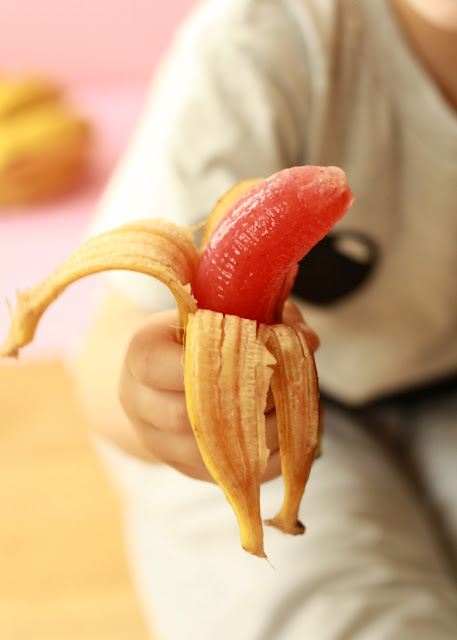 5. The brilliant mind behind Gelology has taken Jell-o places Bill Cosby never dreamed it could go. Look at this glow in the dark Super Sonic Jell-o Shot!  These have such a WOW factor that I might want to carry them with me whenever I go out at night. I wouldn't put them in my mouth, but I could use them to find my keys.
There are my top 5 awesome things to make with Jell-o!  If you liked this post, please share it on Facebook, Twitter and/or Pinterest. If you hated it, please don't tell anyone. My fragile ego can't take it. 🙂