What's better than a cute dress for summer? Nothing – unless maybe it's a frosty drink on the beach. Today I went looking for cheap, cheap dresses because between me and you, I'm a cheap, cheap Mama.
I set out to find dresses that are pretty and that hopefully won't fall apart in the first wash. In this case "cheap cheap" means inexpensive – not held together with tape and used thread. All the dresses I'm showcasing here are currently available online for less than twenty-five bucks!
Meanwhile you should know when I went looking for cheap dresses online, I found several sites that said things like, "you buy dress from here you get good clothes yes" and "we pass savings onto you consumer real good." I did not include those. 🙂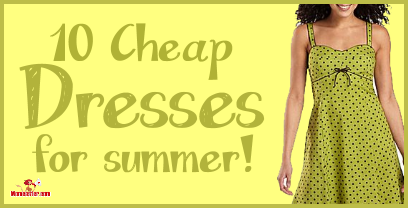 10 Cheap Cheap Dresses You'll Love!
This little Alki'i Jardin de flores cotton beach sundress is cute as it can be. At just $19.99 on Amazon, it's a cheap enough to afford to buy some adorable flip-flops that make it perfect for the beach! PS: I'm sure the reason God didn't give me arms like hers is because he knew I'd walk around punching old people and unicorns.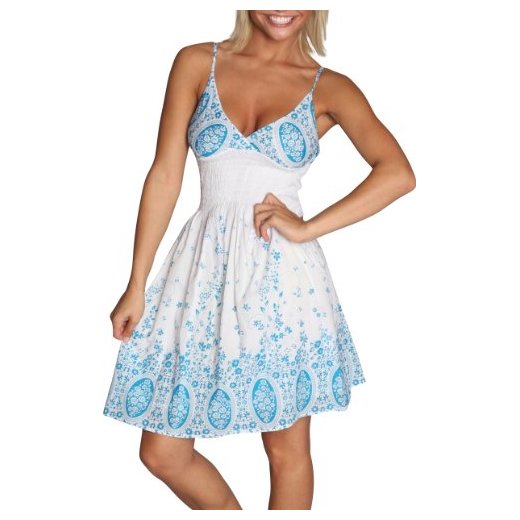 From Target, check out this little one-shoulder ruffle dress. It comes in lots of colors and since you can pick it up for only $18, get one in every color! In other news, why doesn't my body look exactly like the one in this photo? Oh well. She may have a skinnier waist than I do, but at least I have an entire head.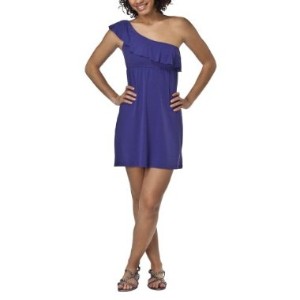 Curve Appeal has this halter top dress with an empire waist and handkerchief hem for just $19.50. It comes in sizes Small to 4X. If I buy it, I wonder if I'll be inspired to twirl like the model in the picture? I will admit my life definitely lacks enough twirlage. I blame Rush Limbaugh.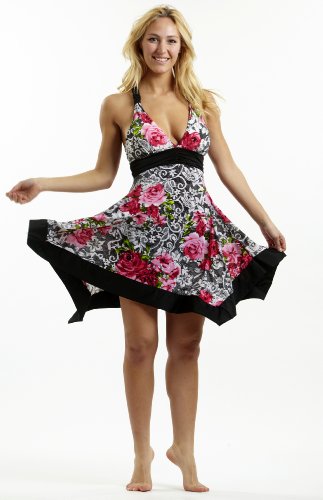 This little
black & white number from Alki'i
says one size fits all. It says it will fit sizes 3-15. Is such a thing possible? I don't know. That sounds like too much math and science for me. You know… like if a train leaves a station wearing a sundress going 60 mph…blah, blah, blah. All I know is that it's cute as can be, it has
50 pretty positive reviews
, and I fall somewhere between a size 3 and a size 15, give or take a Moonpie.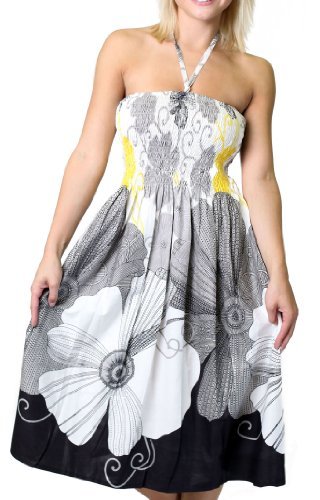 I enjoy the look of maxi dresses. I also enjoy a simple black dress. This black maxi dress gets me hooked up for 19 dollars and 99 pennies. I think I'd love to slip it on to go to dinner after a long day on the beach in Hawaii.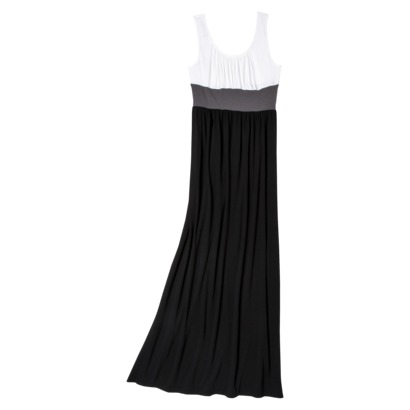 From
Charlotte Russe
, whatcha think of this brightly colored tank dress? It's $19.99 and if you haven't had the privilege of shooting several babies out of your woman area, this could look really great on you. In other news,
Charlotte Russe
wanted me to know the model is 5'8.5″ tall and wearing a size small.
Here's what I want you to know, Charlotte Russe. I could take her in a bar fight.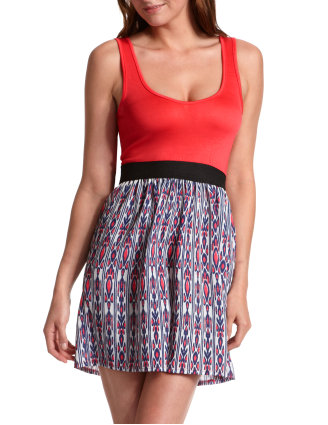 I really like this sleeveless floral print dress from Forever21. It has a v-neck with a stand up collar, which is good for my body type. It's $19.80 and even though I am not Forever 21 any more, I think I should own it. I hope the Forever 48 police don't catch me.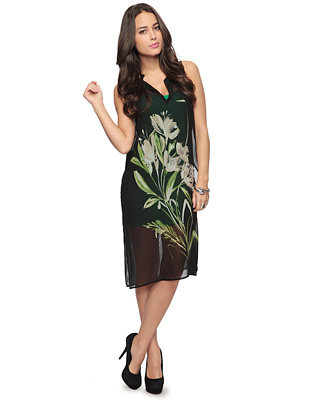 Let's talk JC Penney for a minute. Since they hired Ellen and started giving us honest prices every day, I've fallen in deep lust with them. It's like when your best friend admits she got gastric bypass surgery after years of telling you it was all about portion control. You gotta love her.
So check out these dresses from my new BFF, JC Penney. How much do ya love 'em? Hint: the correct answer is: A LOT. You should love them a lot. They're all just $25! C'mon! You know you spend that much putting enough gas in your car to even drive to the mall!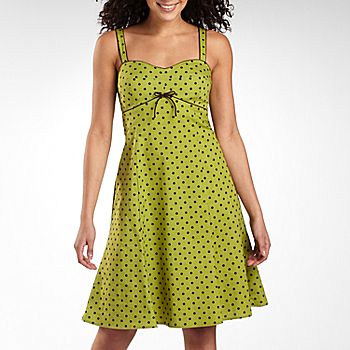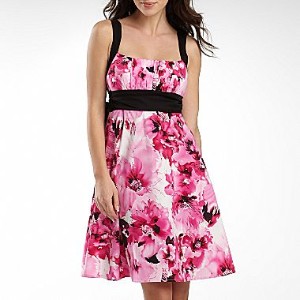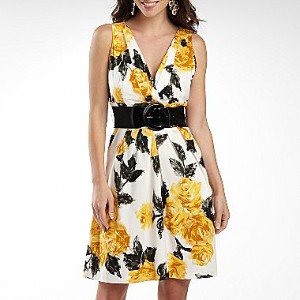 Okay so this final thing is neither a dress or less than $25, and yet I include it anyway. I'm going rogue! I just figured since we saved so much money on these inexpensive dresses, we could snag ourselves some dressy little flip flops that'll go with all the dresses featured here.
These GUESS  Tutu Sandals are simple, and sweet, and with the tiniest rhinestone embellishment, I declare them entirely necessary. You know you love 'em awful.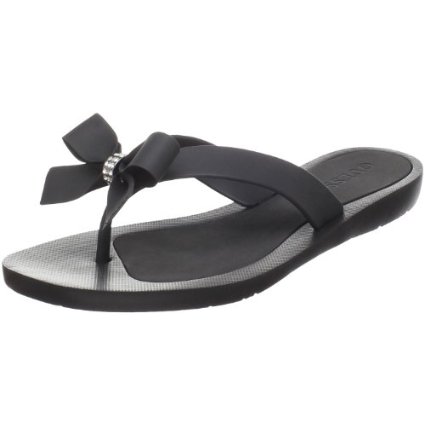 Okay, so that's it for cheap summer dresses. I'm off to do a post on cheap summer gum flavors.
No, I'm not.