Giveaway! Make Your Party POP!
I'm a terrible party-thrower. I can admit that to you because we're pretend friends. It's not that I'm not good at party food. Don't kid yourself. I'm GREAT at party food. I can open a bag of chips and a can of Sterno better than anyone you've ever met.
It occurs to me as I write that perhaps heating up bags of chips over flaming Sterno would indicate I'm in fact not at all good at party food. My bad.
Aside from the fiery hot burnt potato chip appetizers, I am also a bit less than wonderful at keeping a party exciting and fun. I usually  wind up telling the story about the time I was in first grade and my brother fractured his arm. That story has everything.
Intrigue, blood, tears, sock puppets and sound effects.

The thing is, if your party sucks NO ONE will tell you. In the old days, back when people had to actually do physical finger work-out exercises before dialing a rotary phone, it could take 7 months for word to spread that a hostess had suffered a terrible party fail.
Today people tweet about your soggy cocktail weenies before they're finished chewing and 8,000 people all the way to Upper Taiwan know you are an awful party-thrower in 1.2 seconds.
I don't want that for you. Nobody wants that for you.
Especially not my friends at Printable Games A to Z.
They are in the business of saving you from acute party failure. They have games for every kind of party you can possibly imagine: baby and wedding showers, kids' parties, family reunions, luau parties, 4th of July, retirement, office parties, and tons more.
You just choose a game (or several) that fit with your theme, you print, your personalize (optional on lots of games), and you rock the party. There's no limit to the number of the games you can print, so if you're better than me and you have 108 friends at your son's 5th birthday party, they've got you covered.
Cool? Yes!
Today, courtesy of Printable Games A to Z, I'm giving away one of their mega-awesome collections that includes a whopping 260 games for all seasons to one lucky person with a winning personality and a dazzling smile.
Okay. That's not true. You can have only 4 teeth and no friends and still win this thing.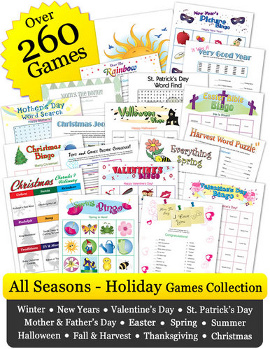 Here's how you can win this prize valued at $34.95: Visit Printable Games A to Z, check out their games, and come back here to leave a comment telling me what kind of party you'd have and which game you'd use at your party. If you want to "like" them on Facebook, I'll even give you some bonus entries. I'm awesome like that.
PS: Please enter via Rafflecopter below so your comment will count and I can reach you if you win.
Contest ends on May 25th at midnight, and a random winner will host an awesome party and invite me. (The inviting thing is not required, but highly encouraged. I'll even tell the arm story.)
a Rafflecopter giveaway