Want to make your own chocolate? I can show you how!
Unless your Mom named you Dooce or The Bloggess, there are very few perks to being a blogger. No one has ever given me a good table at a restaurant because I have a blog and my dry cleaning has never been "on the house."
Maybe that's because I haven't had anything dry cleaned since…ever. I'm not sure I even understand what dry cleaning is.  I'm was born a Southern Baptist. We know for sure things aren't clean unless they're soaking wet.
One little blogging perk that came my way recently was via Verve. They are the makers of Glee Gum and Make Your Own Candy Kits. They asked, "Would you like a Make Your Own Chocolate Kit?" and I replied, "WHY ISN'T IT IN THE MAIL YET????"
Seriously? Do people actually say NO when they are offered chocolate? If so, I would recommend a congressional panel to investigate their ties to organized crime, communism, and perhaps unicorn larceny.
So this arrived in the mail and because that's what bloggers do now, I took a photo of it. And yes… that is a real wood grain laminate table top. Don't even act like you aren't jealous. (And by the way, at the bottom of this post you can enter to win your own candy kit – because I firmly believe chocolate is the road to greatness. )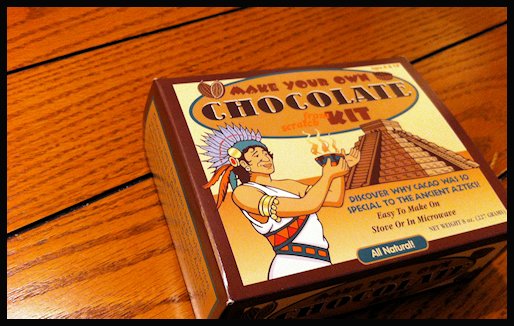 It so happened my friend's teenager was in my house when the box came, so I demanded she make the chocolate while I pretended to be a highly sought after food blogger and take photos.
The box was filled with all sorts of cool chocolate making goodness – like sugar and real cocoa butter. The wonderful smell generated when heating up the cocoa butter was enough to make your ears sweat.
It was like walking into a chocolate shop, but without the shame of pretending the six dozen pounds of fudge I just ordered was for my pretend daughter's pretend soccer awards ceremony – even though we all knew I was going to eat it all by myself in the car and cry.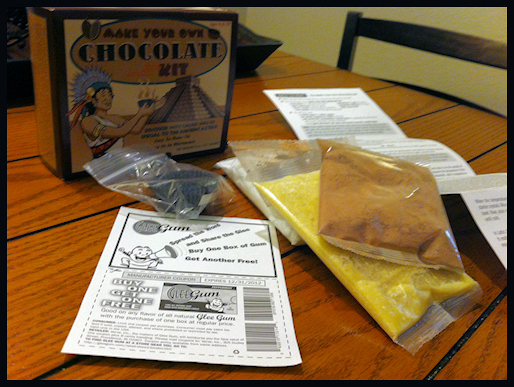 The directions in the kit were easy to follow, and I could see how homeschool moms and scout leaders and teachers would really appreciate how it's all laid out. There was info about the history of chocolate and certainly the process of making it could be a really great teaching opportunity for the kiddos.
But let's face it. All I wanted to learn was how fast this random teenager could turn chocolate ingredients into chocolate I could put in my mouth.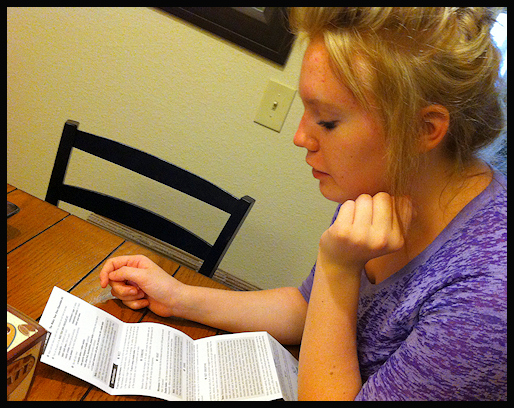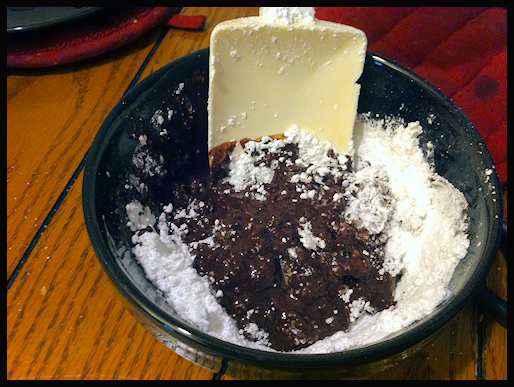 There was mixing, and heating in the microwave, and smells, and at one point, there may have been crying.
Okay. The crying may have been me. I have no self control – which is why no brownie mix brought into this house has ever actually made it to the point of growing up to be a brownie.
The kit had everything we needed, including a little stick-on thermometer to determine when everything was at the correct temperature. The only thing not included was vanilla flavoring, but the kit said it was optional.
I had a vanilla impersonator in my cabinet, so we used it. Everyone knows imitation is the sincerest form of flattery.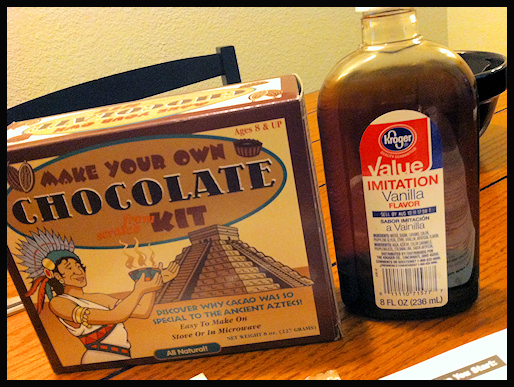 The random teenager had a really great time making her own chocolate and there wasn't one misstep because the directions were clear and everything was pre-measured and ready to go. The chocolate candy turned out absolutely perfectly and while a real professional food blogger would show you an artsy shot of the finished product, all I have is a photo of the empty paper candy cups I took before the candy was finished.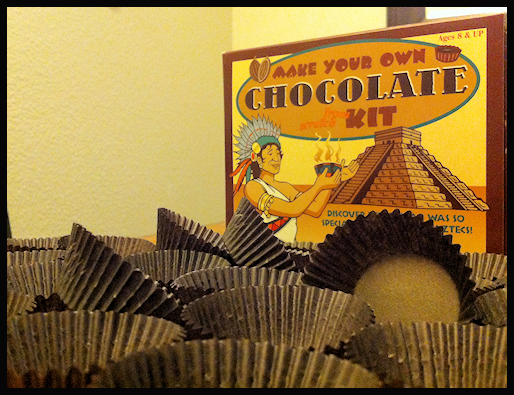 In my defense, once the candy was done I was too busy shoving it in my face to be snapping photos. It was DELICIOUS.
I'd like to thank the sweetie-pies at Glee for sending this little piece of awesomeness to me, and big thanks to the random teenager who made it. I'd also like to thank the Academy and my 1st grade teacher, Mrs. Bradley. If it hadn't been for you, I still wouldn't know that Mr. Y was both a vowel and a consonant. That revelation changed my life.
Glee wants to give YOU one of their Make Your Own Candy Kits – so enter! You can choose from Make Your Own Chocolate or Make Your Own Gummies Kit or even Make Your Own Gum Kit.  (Open to residents of the US only.)
Super Important Note from Sadie: You want me to review YOUR product. Of course you do, don't be ridiculous. Email me and tell me all about it, especially if it's a free car or a house on the beach in Hawaii.
a Rafflecopter giveaway