Even though Oprah didn't tell me to, I went in search of shirts with animals on them. Why? Because the whole "shirts with animals on them" thing is a super hot, up and coming trend and I am nothing if not a trendy up and comer (no matter what my kids tell you).
1. I don't know a lot about squirrels, but I do know they are dapper dressers. I can absolutely guarantee you won't see a squirrel running around wearing a raggedy pair of sweats and a flannel shirt with mustard stains all over it. (Unless the squirrel is shopping at Walmart.)
That's why I love this shirt from MisNopalesArt. It's accurate.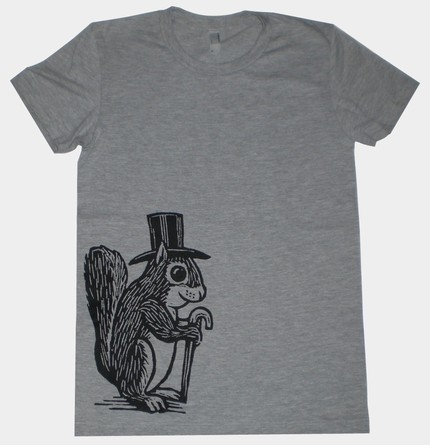 2. I want to start a club called, "Awesome Individuals Who Wear Gorilla Cop T-shirts," in which I, as founder (and president and sergeant-at-arms) I will require all members to purchase this t-shirt from lastearth. It delights me to know that when I wear this shirt to my cousin's wedding no one else will have on the same thing.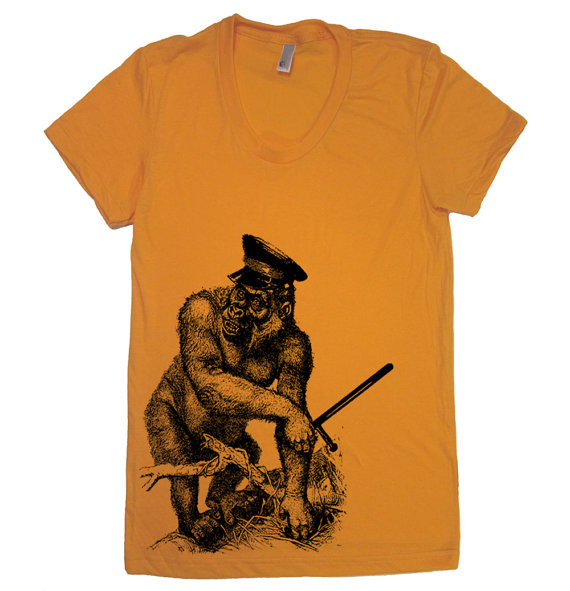 3. This shirt is called "Lost in the Crowd," by nicandthenewfie. I like it because it expresses how I feel when applying for a job.
If one of these fish was shown sporting a tiara made out of aluminum foil while eating peanut butter from a jar and ugly-crying, it would be called "One of These Fish Is Not Like the Others" and it would be awesome sauce.
It would also look exactly like me when I celebrate my weekly You May Have Gained 5 Pounds But At Least Your Not Dead day.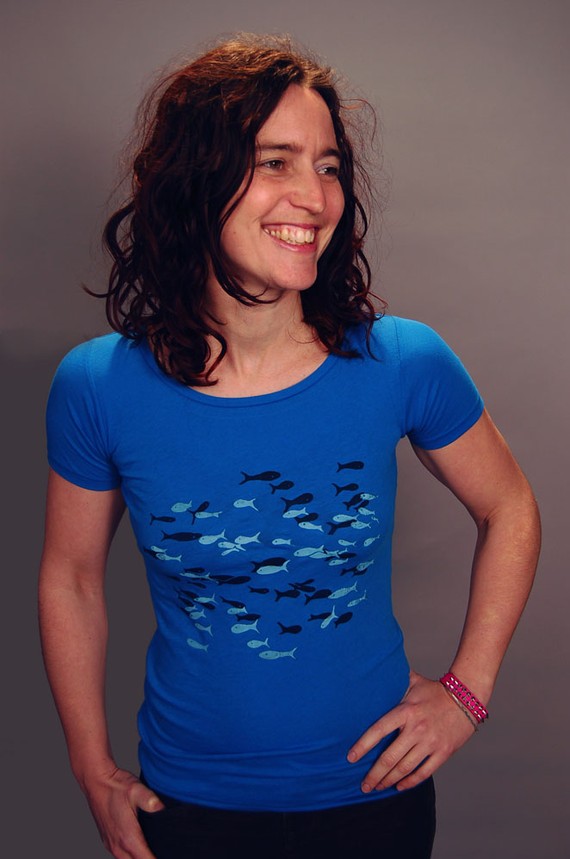 4. I can admit something to you because we're pretend best blog friends – I don't know what a Bali Koi is. Do you still like me?
Yes, I know it's a fish. I think it's a fish that breaks into a song and dance instead of kissing. Meanwhile, this Bali Koi print t-shirt from PutuPrincessEscapes is ten kinds of adorable and it's made with low impact dye.
Do I know what low impact dye is? I do not. Please don't break up with me.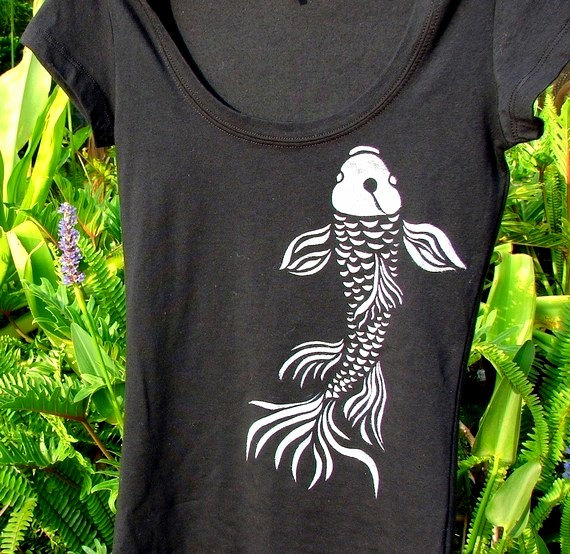 5. I want to buy ArtisanTees a pony for this ridiculously awesome Hipster Tiger t-shirt. Seriously. For those shoppers who suffer from a freak Q-tip accident that caused all their tiger knowledge to drip out of their ears, the shop owner shares the definition of a tiger.
"A Tiger is a big orange and black striped liony thing with sharp claws and rather a nasty bite. They don't usually eat men but that's only because they don't usually get the chance. Obviously, if you live near a tiger it may consider eating you. Basically, what I am saying is – the further away you live from a tiger, the less chance you have of getting eaten by one."
(Urban Dictionary)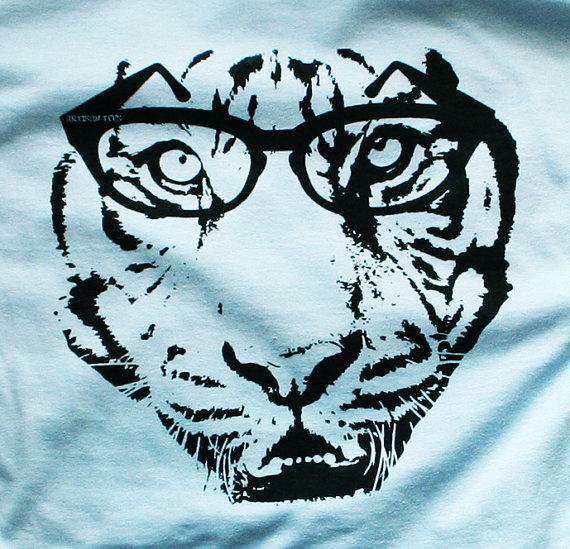 6. Zebras are fastidious laundry doers. Fact.
I learned that from Marlin Perkins.
This zebra shirt from Banksy is just $19.99. That's cheaper than Tide with zebra stripe alternative.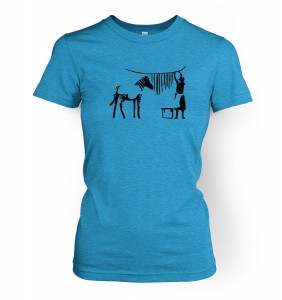 7. I dig this owl t-shirt from Green 3 Apparel. Let me rephrase that. I LOVE THIS OWL T-SHIRT.
I used all caps, so it must be true.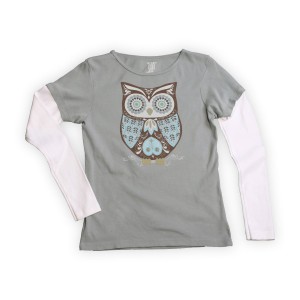 8. If you already own a t-shirt with a bunny playing the guitar for a beaver wearing a delightful hat while floating in a boat, you can skip to number 9.
Otherwise, behold a bunny-beaver t-shirt made in Heaven aka Retro Comics USA.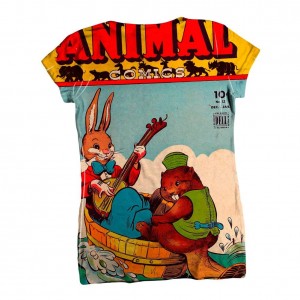 9. If I have any gripe with pandas, it's that they aren't sparkly enough. Black and white and black and white and black and white. Okay. We get it. You blend in with newspapers.
But, c'mon. A little spangle action from myrhinestoneapparel and you're in business.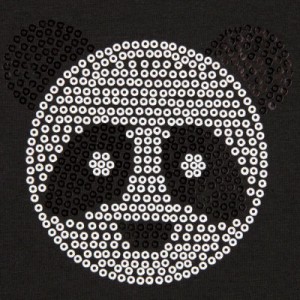 10. At first glance you may think this honey badger t-shirt from CrazyDogTshirts cares. Upon closer inspection however, you will realize that in fact NO… this honey badger t-shirt don't care.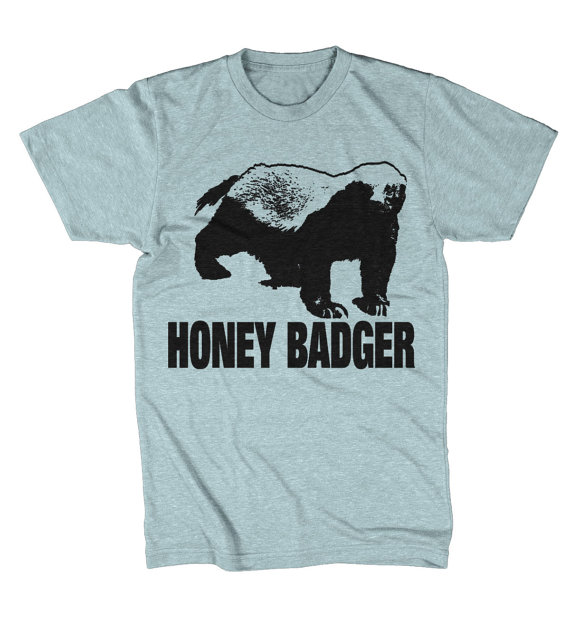 Hey Cute Reader! Do you have a topic you'd like me to cover? How about a sexy awesome something on the web you want me to see? Do tell. It's easy and you'll totally get good karma for sharing. Just click "contact". (Note from the Momcaster Legal Department: Sadie has no authority to guarantee good karma. She's full of crap. )