Halloween Yard Decorations That Scare Me Down to My Ovaries
I respect and admire humans who create super cool Halloween scenes and yard decorations. Mine always look like I was going for a graveyard and by virtue of tequila and losing my glasses, wound up with what can only be described as a garden of broken jack-0-lanterns and poorly hand-painted tombstones made out of grocery bags and tears.
But the creators of these Halloween yard decorations were obviously not drunk because they are stupendously Halloweeny.
I think we can all agree Martha Stewart is an evil craft genius who makes women everywhere want to donate our Fallopian tubes to the Salvation Army because we realize by comparison we are something less than female. The fact that she can take a piece of gravel, 4 pheasant feathers and the right testicle of Rush Limbaugh and craft a whimsical side table is completely non-human.
I only include her on this list because making these hanging bats could totally help you decorate your yard for Halloween – and also because she monitors the interwebs for craft posts that don't include her and is rumored to abduct offenders and boil them in Mod Podge.
Skeleton flamingos. In all my life I've never put those two words together – until now.
These are deep fried Halloween awesome sauce and the only flamingos Momcaster authorizes ANYONE to put in their yard EVER.
You can purchase them for about twenty-two buckaroos on Amazon.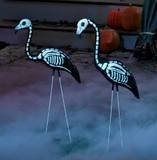 Damn you, Martha Stewart! I cannot believe I am adding yet ANOTHER one of your ideas for a Halloween yard. I can't help it. These DIY cloth ghosts are ten kinds of cool. Seriously. Ridiculously cool.
In other news, I wonder if Martha somehow took control of my soul when I picked up some of her chalkboard paint at Michael's yesterday? That would explain my posting about her like this – and also why I got cramps that forced me to use a public restroom in a crafts store.
PS: Isn't it just like Martha to think women everywhere have a bunch of Styrofoam mannequin heads and cheesecloth laying around? Thank the craft gods Amazon has a half dozen mannequin heads for $22 and 9′ of cheesecloth for $6.29.  (Not for nothing, how awesome is it that we're talking about buying a box of heads online?)
More than anything in the whole world up to and including winning a dream date with Rick Springfield, I want these Halloween ghost dresses in my yard.
If you don't find them highly desirable for Halloween, I find you to be extremely suspicious and most probably a communist.
This, my darling blog reader person, is a House-o-Lantern and it is spookalicious. You need corrugated cardboard to make this. I don't know what that is, but I think it's the opposite of Southern Baptist cardboard.
This next craft to decorate your yard for Halloween is officially creepy and I love it. Ghoul Friday teaches you how to create a pretty realistic corpse skeleton for your very own. (Not that I'm a recognized expert on what constitutes a realistic corpse skeleton.)
It does remind me of someone though.
Thanks for that memory, Match.com.
These toxic waste barrels glow under a black light. That makes me feel all warm and fuzzy – and I like that very much.
You'll need something called Great Stuff spray foam to make it, but praise be… Amazon rocks it again.
There you go, kidlets. You go on now and make your Halloween yard look scary. I've gotta go now. I need to try and wash the Martha off me.
PS: If you liked this post, please share it, pin it, slamchop it, tweetle it and come hang out with me on Facebook. It won't put groceries in my fridge, but it'll encourage me not to hide under the kitchen table crying and eating cream cheese with my fingers.