What Can I Make With Cake Mix? 9 Kinds of Amazingness, That's What.
Every home in the whole world has at least one box of cake mix and every human woman wonders "What can I make with cake mix?". Was that a general, sweeping, completely false declaration? Of course not. Bloggers are not allowed to make things up on the internet. Meanwhile you just want to know "what can I make with cake mix," right?
Maybe I'm not ready to talk about cake mix yet.
Don't make me do for you what I did for my ex-husband when he rushed me before I was ready – take all your barbecue ribs I've been slow-cooking for you all day and throw them in the yard for the neighborhood cats.
That'll learn you.
Okay. NOW I'm ready to talk about cake mix cookies, cake mix brownies and plenty other awesome things you can make with cake mix.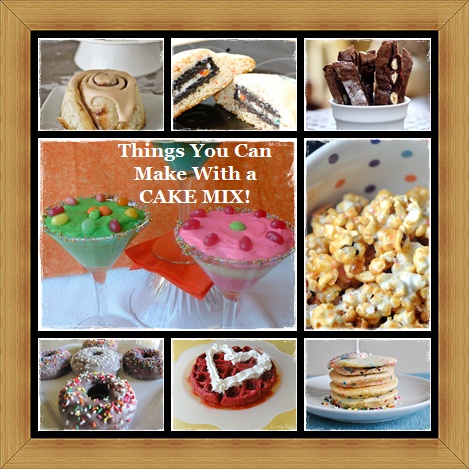 Put your eyeballs on these pancakes made with cake mix by Jessica at How Sweet It Is. Do I love her or do I want her investigated by a senate oversight committee for getting all up in my head with her cake mix voodoo? I think I can't possibly know until I come out of the sugar coma I will undoubtedly experience this weekend after I whip these up. Sweet. Mother. Of. Awesome. Sauce.
PS: I may or may not know what a senate oversight committee is. I like to use words I don't understand in my blog.
I dig Biscotti. It makes me feel fancy to say it and even fancier to eat it. Sweet Additions makes a pretty mean looking Biscotti using cake mix. These look so good I would probably eat them even if she said she made them with old spark plugs and oysters.
I like this chick's blog name – A Little Tipsy.  Cute, right? I like it so much I think I'm going to sell the domain www.Momcaster.com for one point two triggawatts of American dollars and buy her domain. Don't tell her how much money I made selling mine, though. It'll totally ruin my bargaining power.
Her stellar blog name aside, please tell me you see the brilliance of her red velvet waffles (made from cake mix) and the important purpose they serve on the planet.
Big Mama's Home Kitchen is a place I want to go. Maybe she'd let me vacation at her house, like if she has a nice couch or something where I could crash. I could just chill out while she makes me these glazed chocolate cake donuts from cake mix.
Yes. I want to go to there.
I wish I was the kind of person who could take a box of cake mix, some martini glasses and candy and make this kind of serious cakey-cuteness. Let's just all agree that I am not that kind of person.
I'm more the kind of person who would open the cake mix and eat it straight from the box in my pajamas while stopping only to wipe the tears away because eating cake mix from a box makes me sad.
No tears for Hoosier Homemade, sister friends.
Cake mix cinnamon rolls. I'm not even kidding. I have been on this Earth long enough to see delicious cinnamon rolls made from cake mix.
I guess all I have to look forward to now before I die is Lee Press On Eyebrows for those moments when you want to look really surprised but you don't have a Joan Crawford eyebrow pencil handy.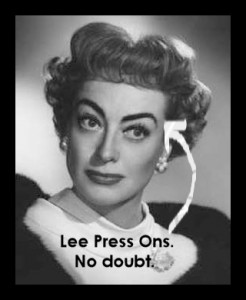 But I digress. Let's all look at these cake mix cinnamon rolls from Love From the Oven. Ready? Go!
I want to know what is going on inside a person's cerebellum that causes them to see cookies in their cupboard and decide they should bake more cookies and then stuff those cookies inside. Beautiful Disasters could solve the mystery for me as she whipped up these yummy cookies from a cake mix and Oreos.
What we have here is s a cookie cake mix turduckin – but with out the tur. Or the duck. Or the in.
Monkey bread is a good thing. Not for nothing though, why do they call it monkey bread? I've never seen a monkey on the Discovery Channel enjoying a nice tube of refrigerated biscuit dough. Shouldn't it have bananas or thrown poo or something in it to deserve that name?
Now I've done it. I've broken my rule about blogging about thrown poo. It's all down hill from here. We can't act like it didn't happen because I know that you know and you know that I know you know.
Cheri Liefeld  of www.adventuresinthekitchen.com created this monkey bread using cake mix for Pillsbury.com.
I swear to you on the ever-balding head of Matt Lauer, I did not know cake batter popcorn existed in the universe.  Young Married Chic sure did though, and she made some, and she put the recipe on her blog, and she probably ate it all herself because young chic people never think that maybe they should make enough for all the rest of the bloggers on the internet.
To quote the great Veronica Salt, "I want it now."
Okay darlings, I've hooked you up with some cake mix magic. Whatcha got for me? I accept ponies, pimento cheese sandwiches, blog comments, Facebook likes and pins. But first, get thee to reading my Ultimate Bad Ass Oreo Collection. It'll straight up make your day.