6. I hate this number, so we're totally skipping it.
7. Winvian Cottages in Connecticut will let me sleep in a cottage with a helicopter. Strange and exotic and weird? Oh yes. The cottage surrounds a 17,000 pound meticulously restored 1968 Sikorsky Sea King Pelican HH3F.
This is an appropriate use of the phrase, "Shut – the – front- door!"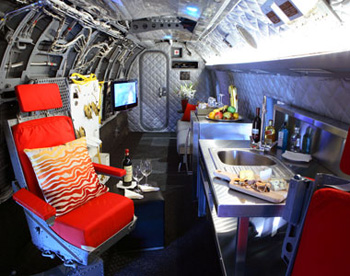 8. Kokopelli's Cave Bed & Breakfast in Farmington, New Mexico. The last time I was in a cave was on one of the adventures Tall Jerome and I went on. We were scooting across America when he said to me, "Darling Sweet Honey Face," which is a big fat lie but sounds better than what he actually calls me, "there's a sign for a cave! Wanna go spelunking?"
I cannot say no to him because when we are on an adventure, no is not allowed. I could totally get kicked out of our travel club (of two) if I did and I worked too hard to finally get elected Sergeant at Arms to quit now.
Meanwhile I went in the cramped and dank cave with a group of people, one of whom was so large and panting so wildly that I genuinely wondered how paramedics were going to carry out his lifeless body, and more importantly, what I would have to say about it when TV cameras interviewed me later.
After our descent into cave hell, and here's the fun part, I began a two day puke-a-thon that caused me to throw up on my shoes on the side of the road somewhere in Arkansas. I caught Cave-o-hippa-haunta-virus and because I love him, passed it on to J. Naturally.
Did that deter me from wanting to go back inside a cave? Not when it includes a nice place to sleep, a well-appointed kitchen, a rainfall shower and a hot tub. This place is 1650 square feet of exotic hotel awesome sauce.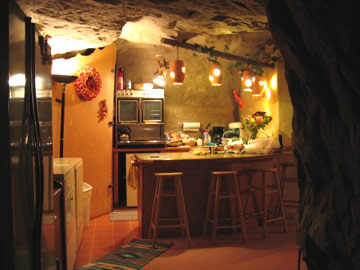 There are roughly one go-zillion other exotic, strange and weird hotels I want to sleep in but, it's nearly 10:30 in the morning and I am craving macaroni and cheese in ways that would cause me to suspect pregnancy were it not for the fact that my lady business hasn't functioned since 1928. Praise be for malfunctioning lady business!
Do you know any super cool and totally unusual places to stay? Share with me on the Momcaster Facebook page. And if you love strange hotels, you're so gonna dig staying in these sexy chicken coop designs I found. Yes… I said chicken coops. 🙂