Have you ever tried to make knobs? Has anyone ever asked you that question before? 🙂 The truth is every time I see pretty knobs in the store, I'm overcome with the desire to screw them into my body and wear them as jewelry. The idea that you can easily make your own knobs at home fills me with delight.
But, know this my friendo…when in life you realize the knobs you use to pull open the drawer where you keep broken pens, Sweet Tarts from Halloween 1987 and empty pill bottles are at least 92% prettier than your jewelry, it's time to reevaluate how you treat yourself. Am I right? Am I right?
Let's Make Knobs!
I'm more than in love with these knobs found on Welcome to Cheltanham Road. I actually need a bigger word than "love" to express how much I heart these knobs. Perhaps something in French.
Meanwhile, I cannot believe these knobs are handmade. What an amazing result, right? And not for nothing, but anyone who uses the phrase "sticky extravaganza" in a blog post is my new best friend forever. Follow this blog, y'all. But, only if you want incredible inspiration to make stuff.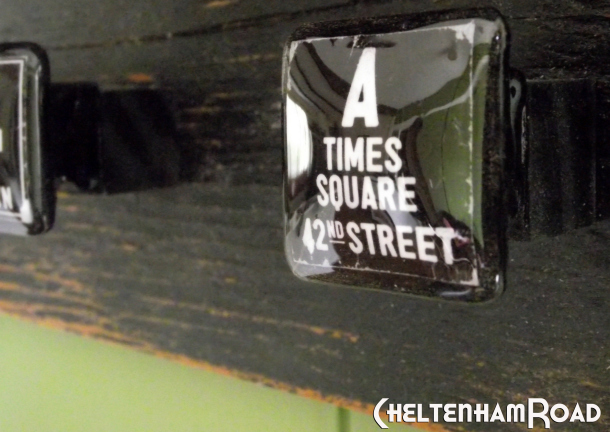 WeekendTinkers says in order to make these awesome resin knobs, you have to know how to handle poisonous and harmful substances and materials.
I use industrial strength glue to adhere fake eyelashes to my skin at least once a week. I think that qualifies me.
Sadie Tip: make sure you actually get the eyelashes on your eyelids. I can't tell you how often my man-partner has had to point out an incredibly hairy mole on my chin that suddenly came out of nowhere.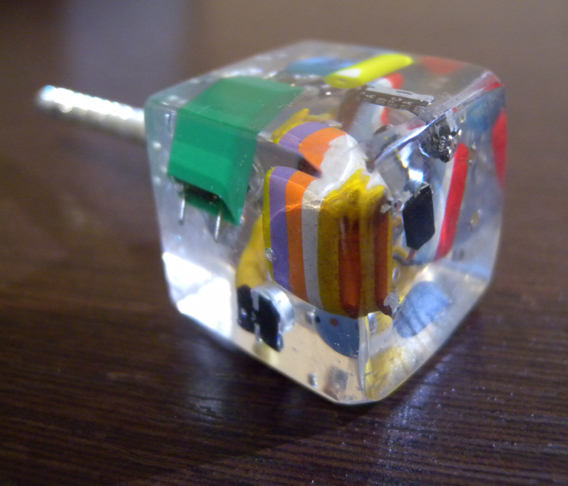 I can't remember the last time I had champagne. I think it was when I turned twenty-one and the champagne came with a a free keyring, or a complimentary condom or something. That was 108 years ago and I've slept since then, so who remembers?
Rhonda over at Dollar Store Crafts must have a cooler life than I do because she had champagne corks lying around, woke up one day and made knobs out of them. Can you even stand what kind of crafty genius it takes to think of something like this, much less do it? Why doesn't my brain work like that?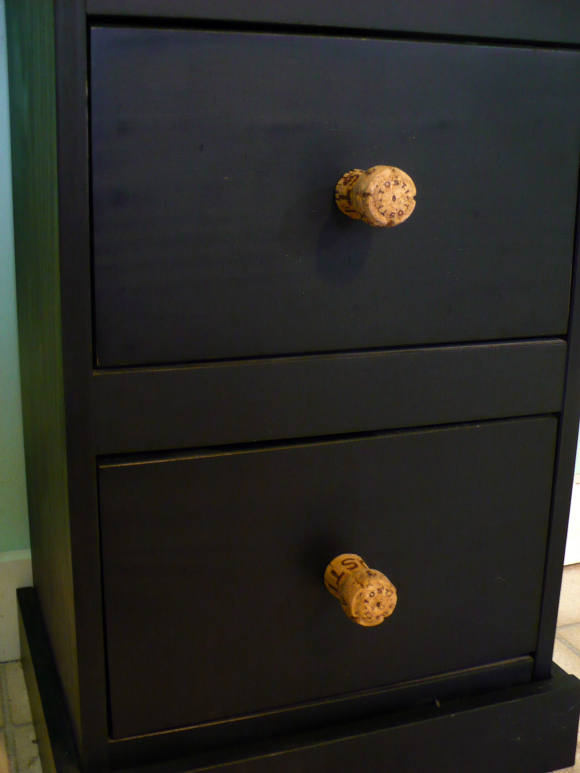 These DIY knobs from Curbly look spendy, no?
PSYCHE! They are faux stone cabinet knobs! She used Sculpey, which apparently is French for inexpensive crafty awesomeness. (You can snag some Sculpey on Amazon for less than what you'd pay per knob if you bought the real deal stone.)
Okay. I will admit to you that I'd never heard of this Sculpey stuff before today. But lookie here… more Sculpey drawer pulls and knobs. The Polka Dot Closet says if you can roll a meatball, you can make these completely beautiful cabinet knobs.
She did not comment about what you can make if you can eat a meatball.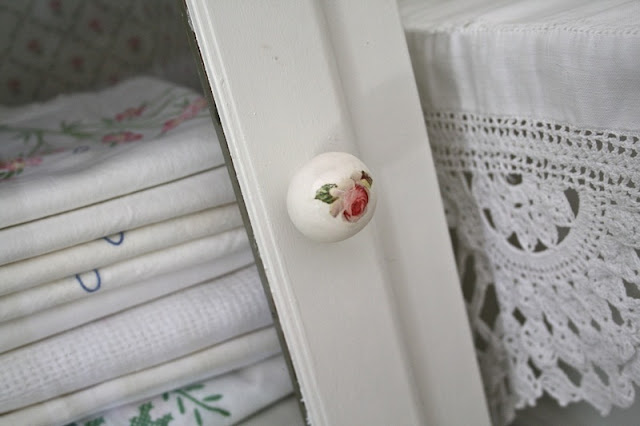 Using Button Cover Kits, JCaroline Creative made these lovely tangerine colored drawer knobs. I dig this. Truly I do.
I am swooning over these stunning DIY knobs created by "from Generation to Generation". If you don't love them awful, I find you to be a highly suspicious character and I feel it my duty as a human to report you to some authority. Perhaps the Earth Citizens Against Ugly Knobs tribunal.
Becky uses E6000 Adhesive to slap those sexy jewels on her knobs. (That was unintentionally dirty and I apologize to my Southern Baptist Daddy.) I'm no expert, but I suspect E600 is infinitely better than E5999 so go all out and buy the good stuff.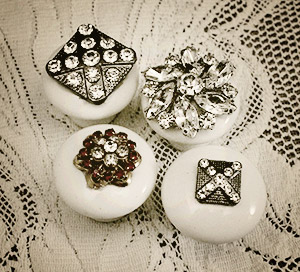 Keep clicking, kiddo, because on page two there are even more knobs you can make… and they are awesome sauce.