6. These yo-yo flip flops are cute as bugs. (Not spiders and worms, but more like Lady Bugs and pretend cartoon bugs in the movies.)  Making it Fun has the flip flop craft tutorial- and it does look fun!
7. If I had a little girl, I would make these tu-tu flip flops for her and force her to wear them everywhere. They are that insanely cute. I do have a daughter, by the way. But, at twenty-seven she has decided I am no longer the boss of her. Stupid growing up. This flip flop craft design tutorial is by Sharon Femia.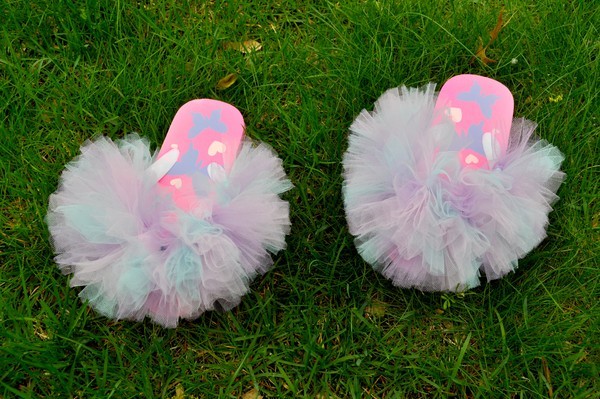 8. When I found this guest post on Ruffles & Stuff, I had to look really closely to see what this sweet little flower on the flip flop craft  was made with. It's a pink zipper!  Linda, of Craftaholics Anonymous created these flip flops with zippers and flip flop glue. I'm voting for Linda in the next Presidential election.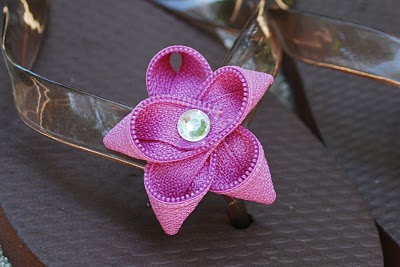 Grab the Flip Flop Glue!
9. These flip flops from
Fave Crafts
are also made with flip flop glue, among other things.  I love the colors. They make me want to close my computer and head for the beach. Unfortunately, the coast of Kansas is closed today due to lack of ocean.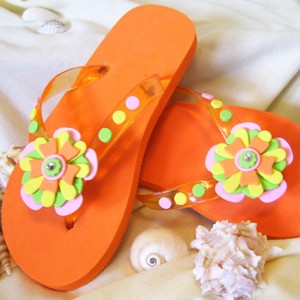 10. I am in deep, deep love with these handmade jeweled flip flops from Such Pretty Things. She bought the flip flops at Target for a couple bucks and added the jewels from some rhinestone earrings. I am going to break some jewelry soon and make these.