Oh kids, what a hot contest I have for you today! Not only can you win a purse, you can win a Stella & Dot purse! From the super popular Love & Marriage Blog and Momcaster, take a minute and get yourself entered to win this super gorgeous purse from the new Stella & Dot Debut Collection.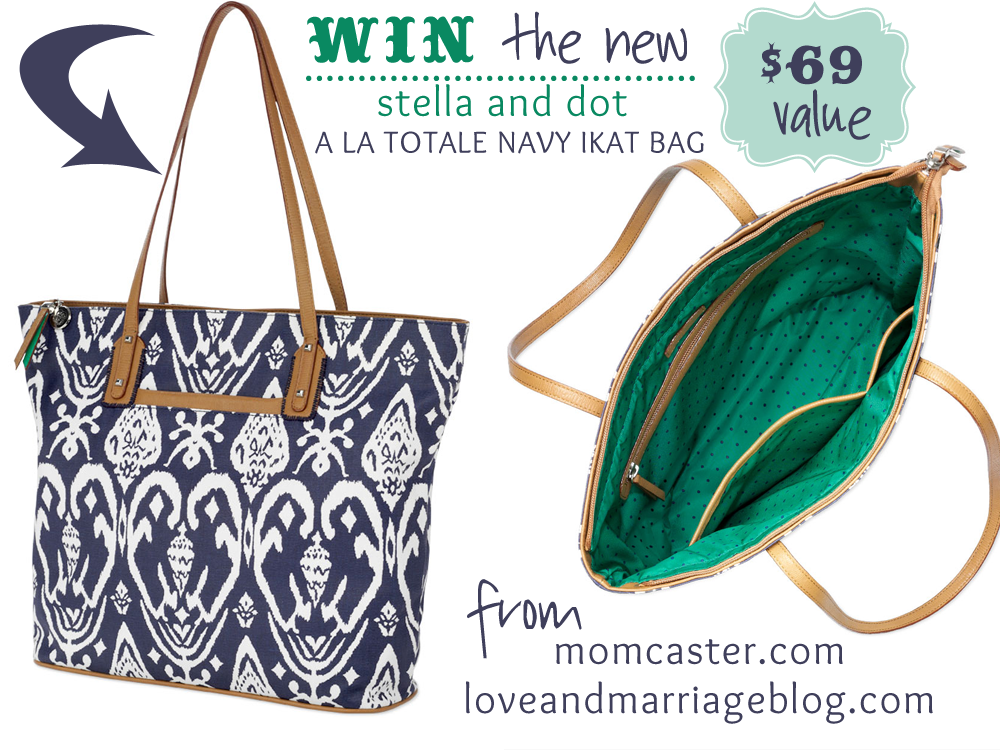 Win a Purse!
The Stella & Dot Navy LaTotale  is your go-to bag that goes and goes – from client lunch, to mani-pedi, to happy hour! Meanwhile, why do I never go from client lunch to mani-pedit to happy hour?
I go from vending machine lunch I eat standing up to trying to rest just 5 minutes in the ladies' room to falling asleep on the sofa with a half-eaten tub of Betty Crocker frosting in my lap.
But, enough about what it's like to be the Momcaster. Here's what you really want to to know about this purse:
Measurements: Height – 12.5″, Length (at widest point) – 17″, Depth – 4″, Strap drop – 10″.
Exterior: Navy Ikat in Coated Canvas fabric.
Interior Lining: Green/Navy Dot print in spill resistant material.
Lizard textured trim in Camel.
Trim and Handles: Camel lizard textured material.
Top Zip Closure.
Signature Stella & Dot hardware on zipper pull.
1 Exterior slip pocket, 3 Interior pockets to fit your phone, keys, wallet.
Get yourself entered in this purse giveaway, my friendo! If you don't enter, you can't win and Lord knows you need to win this contest!
xoxo,
Sher
a Rafflecopter giveaway