7 Easy Mason Jar Crafts
[schema type="product" url="http://www.MasonJarCraftsBlog.com" name="Mason Jar Crafts" description="Mason Jar crafts are HOT right now, and probably will be for some time. These 7 Mason Jar crafts are gorgeous and easy to make! You're gonna love 'em." ]
I really don't know why I love Mason Jars so blessed much, but I surely do. There is something so clean and homey about them and I guess they remind me of my life growing up in the South. In fact, I love Mason Jar crafts so much, I created a website where I can organize all the best ones I find online. It's called…
Mason Jar Crafts Blog! Are you shocked at the originality of the name?  I add new Mason Jar ideas, crafts, recipes, and general jar goodness there every time I find something delicious online – which is OFTEN. (I have a little Mason Jar monkey on my back. I can admit this thing.) Come join me over there when you're done here!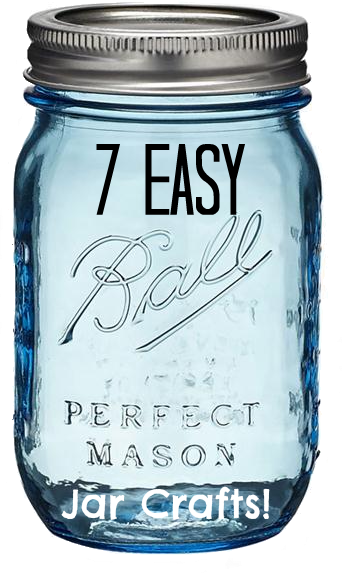 7 Easy Mason Jar Crafts…
1. These Mason Jars are dotted with glow-in-the-dark paint. I think they're so crazy adorable. I actually made some of these glow-in-the-dark jars a couple months ago. There really is nothing to it.
You just dot the jars with glow-in-the-dark paint, let them soak up the light during the day and at night… shock & awe, Baby! I keep mine in my bathroom to store things like cotton balls, and then at night…they're kind of like a little nightlight.
I did have a heck of a time finding glow-in-the-dark-paint, though. After going to Hobby Lobby and Walmart and Home Depot, I wound up ordering mine from Amazon. Hint: if you dot the jar with several different colors of paint, it looks even cooler.
2. Look at these pendant lights from Secret Pocket Blog.  It looks entirely doable. (In other news, that line is the entire reason I said yes when my first husband popped the question.)
3. Who in the world would ever think of displaying photos inside a Mason Jar AND suspended in oil?
Who wakes up one day and says, "You know what, Mildred? I'm going to drop a whole bunch of our family photos inside some oil in a jar today and see what that's about"?
I just adore people who have these kinds of creative minds. You can get the instructions on Funky Bear Decor.
4. Mason Jar soap and lotion dispensers are really easy to make. Country Living is happy to tell you how. It involves a drill bit. That lets me out. I haven't been allowed to operate power tools since…ever.
5. The Inspired Room came up with something so simple, but so lovely. Check out this "Key to Your Heart" Mason Jar.  Why can't I think of stuff like this on my own, y'all? I fear I was born deficient in whatever essential mineral that is in the DNA of all crafty chicks.
6. I have Christmas lights and I have Mason Jars. What is preventing me from shoving one inside the other like Lea Klausen? I'll tell you what…
The moment I start cramming Christmas lights into jars, my partner-man is gonna be all, "Why are you doing this thing?" And I'll be all, "You don't understand my creative spirit!" And he'll be all, "You're off your hormones again aren't you?" And then I'll smack him in the kidney and it'll be a whole thing.
7. I do not have a garden, nor do I have the talent to create these lovely, lovely, uber-cool garden lights. The Country Barrel does though.
These are so pretty, and at only twenty-six smackeroos for the hangers, they make me want to pack it all up and move to a house with a garden… where I would promptly murder every living thing because I have a black thumb.  Maybe I'd better just stay put and admire these from afar.
Since you're a Mason Jar Crafts fan, (all the best people are), don't forget to come hang out with me at…