It's finally warm outside and that means gardens and garden crafts! Every time I see a pretty garden full of lovelies, I swoon a little. It's jealousy really as I've never had a beautiful garden space full of crafts that I could be proud of.
A garden full of dead and dying flowers & vines? Oh sure. I'm sort of the Queen of that whole situation.
Here are 39 truly gorgeous garden crafts that you should make for your pretty outdoor oasis. Send me a picture!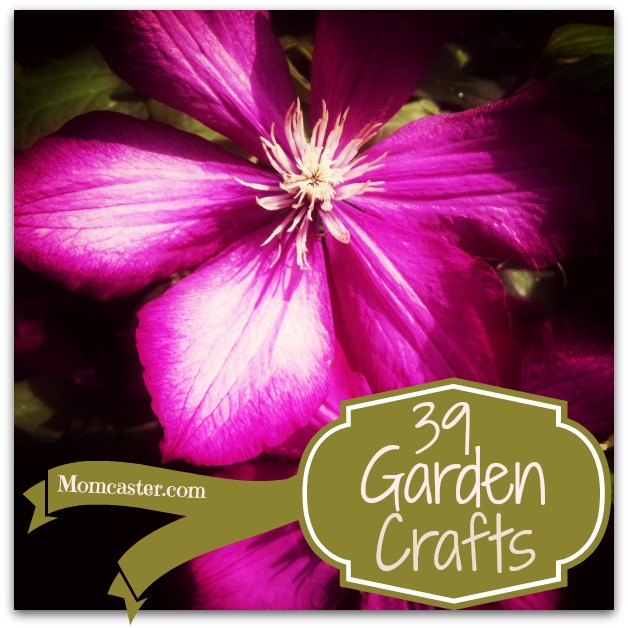 Garden Crafts
Terra Cotta Pot People – Artistic Garden
How to make a Flower Tower – Alternative Energy Gardening
Bird Bath Path – Slomedown
Terra Cotta Windchimes – HGTV 
Leaf Stepping Stones – Herbs in the Garden
Broken Crock Plant Markers – Hardly Housewives 
Dove Windchimes – Danielle's Place
Teacup Bird Feeders – Cap Creations
Garden Treasure Jars – Empress of Dirt
Fork & Cork Plant Markers – Artsy VaVa
Living Monogram Wreath – BHG
Bicycle Fence – Those Artsy Bowman Girls
Moss Graffiti – I Waste So Much Time
Make a Garden Cupola – Forever Decorating
Garden Shelf – Spittin Toad
Palette Path – My Garden Diaries
Potting Benches – Funky Junk Interiors
Garden Pot Chair – Valley Gardening
Butterfly Garden Crafts – eHow
Beaded Frost Luminaries – Crafts by Amanda
Shabby Garden Shed – Shabby Story
Contemporary Garden Gazing Ball – HGTV
How to Make a Garden Chandelier – Empress of Dirt
Picnic Table from Old Door – Momcaster
How to Make a Fairy Garden – The Magic Onions
How to Build a Waterfall in Your Garden – Suite 101
How to Build an Outdoor Fireplace – DIY Network
Glowing Flowerpots – Engadget
Birdcages to Decorate Patio Wall – Decorologist
Garden Totem – Momcaster
Footprints for Grandma's Garden – My Crazy Blessed Life
Dancing Garden Jewels – Gardner's Supply
Birdbath Enchanted Fairy Garden – Enchanted Gardens
How to Build a Garden Archway – The Family Handyman
Old Gas Can Bird House – Teresa Yates
Patio Light Covers from Soda Bottles – Family Crafts About.com
How to Build a Planted Path – The Family Handyman
Marble Gazing Ball – Veritas India
Bottle Trees – Squidoo