Strawberry health benefits? I'll be honest. I'd never once given any thought to the health benefits of a ripe, juicy strawberry. All I've ever known is how much I love them! Even as a little girl back in North Carolina, my Grandma said when it came time to pick the rows and rows of fresh strawberries she grew for us, I ate more than I put in the pails.
I'm sure that's exactly how I'd pick them today. 🙂
Check out these fantastic (and healthy) benefits of strawberries, and some pretty stellar concoctions from some equally stellar bloggers that I just love.
The Benefits of Strawberries for Your Health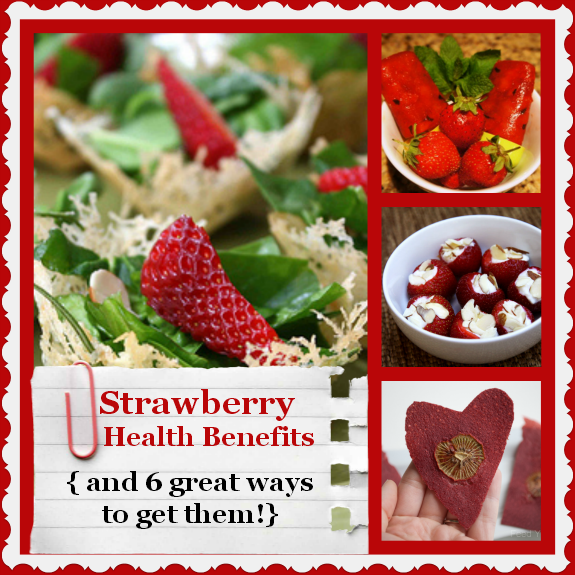 Strawberries have Antioxidants, and antioxidants are believed to help prevent such chronic diseases as cancer, heart disease, stroke, Alzheimer's disease, Rheumatoid arthritis, and cataracts.
If you can't get fresh strawberries, researchers have found frozen strawberries have just as many vitamins & minerals as those grown in our gardens. For the best health benefits,  just be sure you aren't buying the berries with added sugar.
Snag all those antioxidants, and cool off on a hot day with these beautiful, homemade Strawberry & Mint popsicles by Doves & Figs.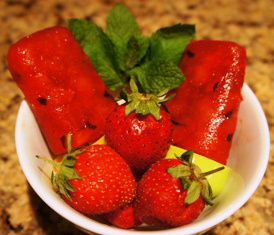 Strawberries have Vitamin C.  The recommended daily allowance (RDA) for women is 75 mg a day.  One medium strawberry, all by its little self,  has 7.1 mg of Vitamin C.
Fabulous, right?
This Hot Pink Strawberry Frosty is a frozen concoction from Babble that serves up over 100% RDA of vitamin C and includes potassium, calcium, iron and other nutrients. And PS: there's a secret ingredient that may shock you!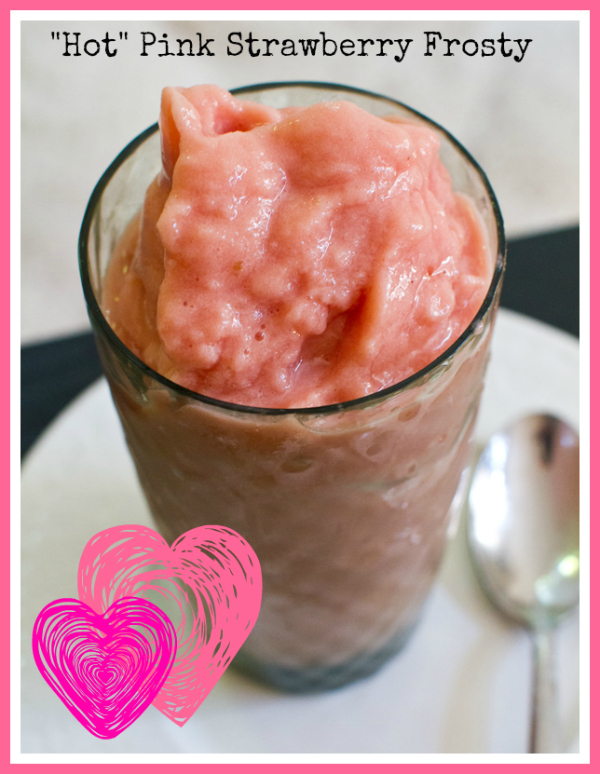 Strawberries are Potassium rich. There are 18 mg of potassium in 1 medium strawberry. While one strawberry can't take on a banana in a Potassium fight, munching on strawberries can help you reach the 4,700 mg you need each and every day!
Feed Your Skull (diggin' that blog name) will show you how to make strawberry & kiwi fruit leathers. Isn't that awesome? They look amazing, and I'll betcha kiddos love them.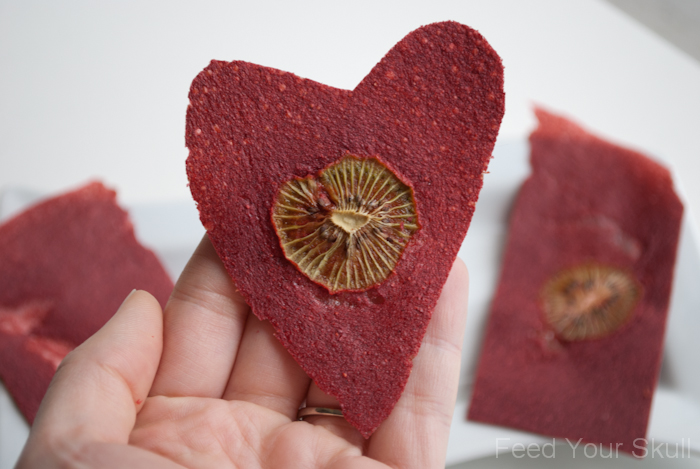 Strawberries are rocking a little extra Fiber for ya. Women should make sure they get 25-30 grams of fiber a day in order to decrease their risk of heart disease, type 2 diabetes, and some types of cancer, including breast cancer. Strawberries have about .02 grams of fiber in each one… another reason to help yourself to a bowl full a day!
From Cookin' Canuck, feast your eyes on these gorgeous spinach & strawberry salads with a crispy Parmesan base. In other news, I'm moving to Canada… more specifically, I'm moving in with Dara.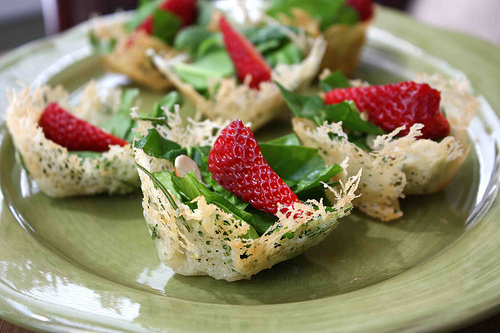 Strawberries are low calorie & fat free. Now we're singing my song! A word of warning though – if you're diabetic, be cautious of the natural sugar content.
I'm crushin' on these Strawberry Banana Creams from Fitsugar, and they're under 150 calories!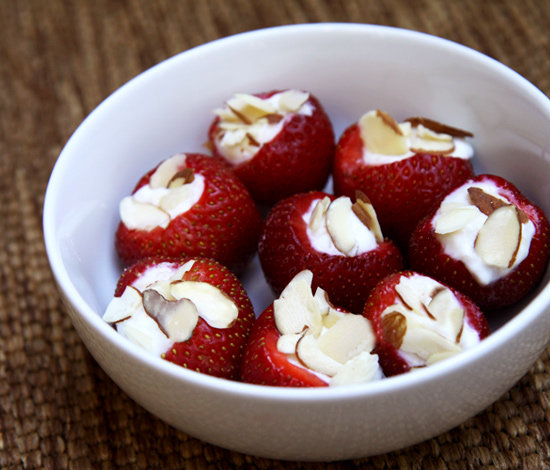 And finally, did you know that a health benefit of strawberries is that they can help clear up acne or other skin problems? Salicylic Acid, the stuff in OTC acne medicines and face washes, is also in strawberries!
Kristin Eldridge teaches us how to make a lovely strawberry face mask. She says it exfoliates the skin, removes impurities, reduces redness and swelling, and leaves her face feeling super soft. I love it!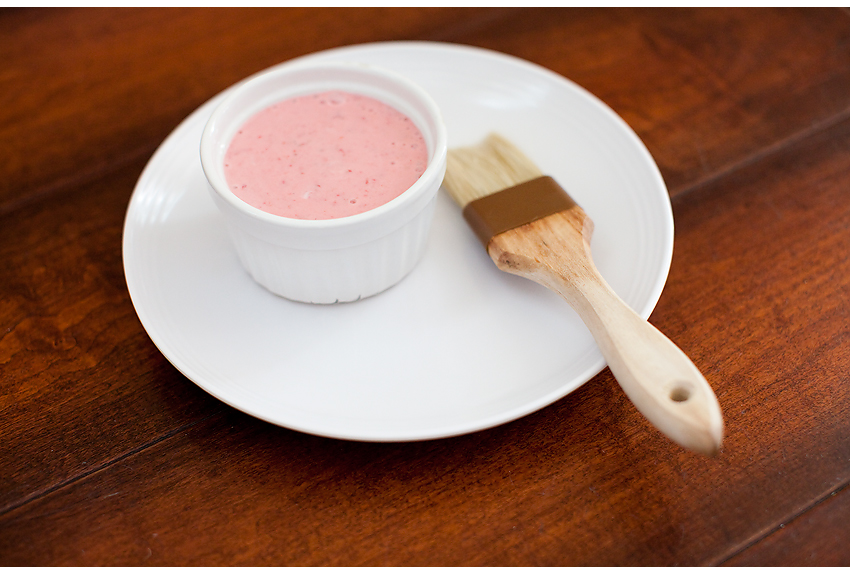 What's YOUR favorite way to use these little red jewels of health???