Fall Garland Ideas – How to Make Your Own
Call in sick to work today because it's time for FALL GARLAND IDEAS! Okay. So maybe I'm jumping the gun a little as it's roughly the same temperature outside here in Kansas as it is in the south quadrant of Hell. Roughly. But, c'mon! You know you want some fall garland ideas so you're ready for the single best time of the entire year.
Unless you live in the south quadrant of Hell. They don't see a lot of autumn there.
Fall Garland Ideas!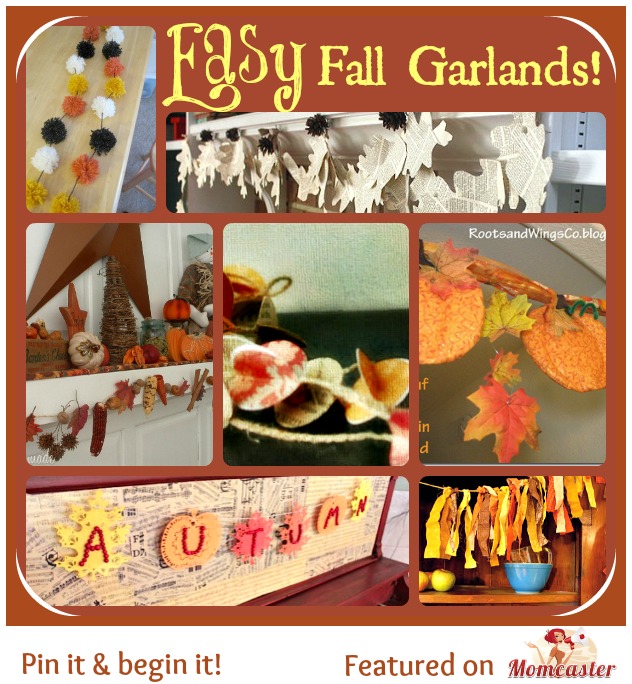 Craft Interrupted – Isn't this yarn pom-pom garland just as sweet as it can be? It looks so easy, maybe even I could do it!
Pretty Handy Girl – A fall garland made out of book pages! I love it! (I'm a freak for crafts involving book pages.)
Hoosier Homemade – Liz uses everything from acorns to potpourri to make this lovely fall garland.
A Rural Journal – Very rustic & minimalistic this is a take on the fall garland for those of you who aren't into having a lot going on in your interior design.
Roots & Wings Co – This fall garland features pumpkins and a little glitter and involves a sewing machine – so that let's me out! 🙂
Crafting on a Budget & Dollar Store Mom – Not only is this fall garland pretty, it's super inexpensive to make. Wait 'til you see how much!
Peace Love Bird – She says you only need three things to make this sweet prim fall garland.
Fall cannot get here soon enough for me. I'm already turning the air conditioning to "freeze your nipples off" and forcing everyone who comes into my home to wear sweaters and ask for hot chocolate. Do you love fall, too?
Meanwhile, if you're a craft lover, I'm inviting you to follow Crafts & Craft Ideas on Facebook list. It currently features around 60 craft blogs & websites and makes it so easy to see what's new from all your favorite craft blogs in one click. It's super-duper simple, and I add new craft blogs frequently. Just go to Crafts & Craft Ideas on Facebook and buh-bam! You're all set to easily see (in one place on Facebook) what all the best craft bloggers have posted that day. Awesome, right?