Outdoor Halloween Decorations for Maximum Scary Sauce
It's that time again! Time for women across the United States to dress up like slutty nurses, witches, janitors, beekeepers, and everything in between. (Why ladies? Just why?) It's nearing Halloween and that means all good Americans must search out the scariest outdoor Halloween decorations in order to make their yards look like a serial killer is inside waiting to hand out intestines instead of candy. 
I love it.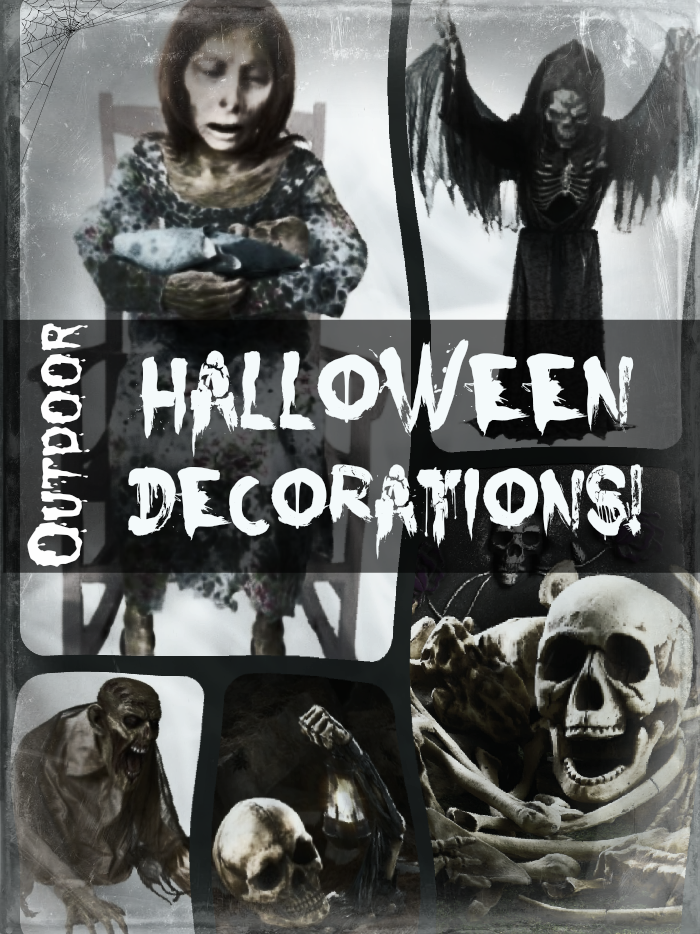 (Meanwhile, have you read 
my disclosure
? I think you should. There will be a test later.)
1. If you don't have a zombie flamingo in your yard, you're not doing Halloween right. What's not to love here? You've got your flamingo and you've got your flesh-eating, brain-sucking, undead-being, Zombie. C'mon. All the cool kids have one and it costs about the same as a case of Twinkies – which we all know is of utmost importance in a flamingo zombie attack.
Reviewers say:

"Undead flamingoes rule! What's not to love about an undead flamingo? I'm looking forward to putting it out for Halloween this year and in the future."

"This ROCKS! Only thing bad…well not bad…is it's a little smaller than I thought..but…but…it's a Zombie Flamingo!!! Goes well in any flower garden, yard, etc. :-)"
2. Spendier than an undead flamingo, but less than hiring a really anemic woman to rock on your porch and moan on Halloween. How about this for an outdoor Halloween decoration? An animated Rocking Moldy Mommy. Yes. It freaked me the Hell out, too.
Reviewers say: 

"Rocking motion; sounds AND a zombie baby… man! What's NOT to like?"

"This is worth the purchase. Fairly life-like and the movements are excellent. I also like having the footpad included and it has volume control for her voice. Very creepy."
3. Nothing says Halloween like the Angel of Death… unless it's those orange and black Halloween candies with the weird, gritty, peanut butter like substance in the middle. I heart those things.
4. What, I ask you, is a gaseous zombie? A zombie who eats many burritos? A zombie whose constitution cannot handle cauliflower? A zombie with a wife who is always yelling, "Seriously, honey? You couldn't go outside to do that?"
Reviewers say: 

"This dude is so cool – I'm itching for the day to be over so that I can start setting this up! I was a bit worried about whether the quality would be good or if the size would be what i was hoping for. I can say that the skull is actually just about identical with my own dome, as the hands are relatively comparable too, so this is actually pretty much life-sized! It looks awesome and also durable, so I just can't wait! I'm really excited – great find!!"

"I really love this zombie prop! Easy to put together and take apart,realistic looking and the fog that comes out of his mouth is amazing.My miniature poodle Tillie, has been barking nonstop at the prop.The prop states indoor use onlybut I have a covered porch and he will fit in nicely with my graveyard.The only drawback I had was keeping his shirt collar on the head while it turned.This was easily fixed with sticky Velcro.I highly recommend this Zombie!"
5. Just this morning I was saying to no one in particular, "I really wish I had a sinister skull holding a lantern." And, then BLAMMO! Amazon was like, "Here ya go, Sher. One sinister skull holding a sinister lantern."
Reviewers say:

"Higher quality construction than I expected and great paint job. I didn't pay attention to the size so it is a little smaller than I thought (around 3/4 human size), but still works well since I have a variety of different sized skeletons and tombstones. Lantern is very bright, but does not light the the face below the forehead so don't place him in a dark area where he can't show off his creepiness."

"It's spooky-looking and excellent for a graveyard setup for Halloween. I used a black twist tie to make the lantern hang a little lower to light up the skull face more. Was a good value for the price and would definitely buy again."
6. Tiny unsuspecting children, encouraged by their candy-loving parents, will walk ever so cautiously to your front door only to be forever emotionally and psychically scarred when they step on your screaming Halloween doormat. And after all, isn't that what Halloween is all about?
Reviewers say:

"The voice quality isn't great on this BUT it totally worked to scare the heck out of my trick or treaters, adults as well as kids. It was very entertaining watching them approach my house. Most jumped and screamed, then started laughing. I don't recommend it just to put under a door mat for a non-scary house. I totally recommend it if you decorate scary and disguise it like I did!"

"It has an on/off switch, an assortment of things it says, and it hides right under the regular doormat so no one suspects anything until they step on it."
7. Deluxe bag of skeleton bones. I'm so glad this is on Amazon and not on Craigslist.
Reviewers say:

"Light weight materials suitable for keeping the meter-reader from rippin' ya off while in the basement. I think that they serve THAT purpose, and are also good for the appropriate holidays: Memorial Day and Valentines' Day, of course."

"Beautiful props. They are very fragile though. Its a Styrofoam type material and thus they can chip, snap, and crack easily. But very nice for the price."
Here are some more completely necessary and not at all frivolous outdoor Halloween decorations you're probably gonna love.
Warning: Please Do Not Feed the Zombies
PS: Those candies with the weird peanutty substance in the middle that are like trying to chew a piece of Tupperware? They're called Mary Jane Peanut Butter Kisses!
Not for nothing, here are some DIY Halloween ideas on Momcaster. They're good – and good for you. 🙂