How YOU Can Make Money on Craigslist
Everyone knows what Craigslist is and that you can make money by selling your things on Craigslist. But, did you know you may be able to create your own work-from-home business using Craigslist?
Unfortunately we are in tough times in this economy. That means there are lots of things that pop up for sale on Craigslist every day that are absolute steals because someone needs to make a fast sale and is happy to part with what they have for a lot less than they otherwise might. I would never want to take any joy in someone else's sorrow. But, if a person really needs money and you can give it to them in exchange for things they don't need, that can be a good thing for both of you.
You can make money by buying what they are selling and then re-sell it for a profit.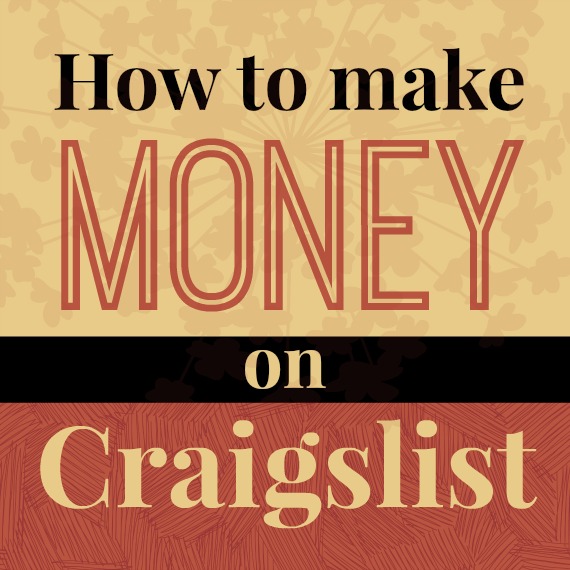 1. Search for items for sale on Craigslist that are being sold for much less than what you know they're worth, then turn around and sell them later for a profit. Depending upon the item, you can sell it on eBay, on a website you build yourself, or you can even sell it on Craigslist again.
2. Pick up free furniture that you can restore and sell for a profit.
3. Buy unused or partially used gift cards and resell on sites like Cardpool, where you can get up to 92% of their value. Of course, make sure you check the actual balance of the cards you're buying online, and be careful to pay a price that will guarantee a profit when you resell. If a seller won't allow you to verify how much is left on the gift card – walk away.
By creating a small business out of buying low and selling high (the same way retail works), you're doing your part to stimulate the economy, you're helping people who need to money immediately, (and maybe keeping them away from those God-forsaken check-cashing services) and you're providing for your family at the same time.
Some Examples:
Use specific search terms inside quotes to help you find great deals on Craigslist.
If this SeaDoo cover I found on Craigslist is in fact in like new condition, a quick internet search reveals I may be able to sell it for up to $150 online. There are lots of factors to consider, and I'd certainly ask for lots of photos and more information, but it's worth looking into – especially since he's said "MUST SELL!!!" and that he's open to all offers. That tells me I may be able to get an even better bargain.
Resources:
Where to check the value of items…
Amazon – look for the used prices right next to new prices for any item.
Where to sell used items:
Gazelle – They buy select cell phones and Apple products.
Phone for Cash – They buy cell phones.
Buy My Tronics – They buy used electronics.
Tips:
Craigslist updates every 10 minutes. You REALLY have to keep your eye on the ball to grab a great deal before someone else nabs it.
When you see something you're interested in, ACT FAST!
Stay away from "By Dealer" ads. You aren't going to get the best price there.
Watch out for really poor English and grammar. Could be a sign of a scammer.
Never send money – always see (and test) the merchandise before you buy.
Never go alone to meet a Seller. Always take someone with you.
A Personal Note
You may feel like buying from folks in distress is somehow unsavory.
Yes… they could try to sell their TV or ring or furniture at a fair-value price. The truth is though, if they need the money desperately, they don't have the luxury of waiting for it to sell. Pricing it low will make sure they get the money they need in a pinch, and you can be the person who helps them out of a tough spot.
Personal Stories of Making Money on Craigslist
Ryan Finley made enough on Craigslist to pay his bills, take care of his family, and take them to Hawaii.
This man earns his entire living on Craigslist and is kind enough to answer questions.