Make Easter fun by hand painting eggs. It is a brilliant way to give vent to your creativity. Here are a few egg painting styles you can try.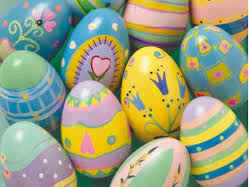 How to Paint Easter Eggs: 3 Cool Ideas
You would require hardboiled eggs for this project. The other supplies vary with the methods.
Watercolor Letter Painted Eggs
Firmly attach letter stickers to the eggs so that they spell out an Easter message.
Swirl your favorite watercolors onto the eggs with a paintbrush generously allowing them to bleed and blend. Use a paper towel to control dripping of any excess paint.
Allow the eggs to dry completely.
Peel off the stickers.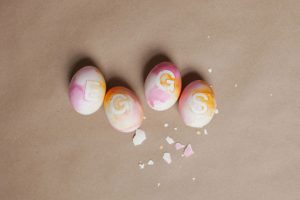 Brushstroke Egg Painting
Choose a color scheme or design.
Pour small amounts of acrylic craft paint in the desired shades on a palette.
Mix paints if you wish to make a unique color.
Dot the eggs with short quick brush strokes in a single color leaving a space between the consecutive dots.
Allow the coat to dry.
Add a second layer of brush stroke dots in a different color to fill up the spaces mentioned above.
Once dry, start dotting with a third color. Allow to dry.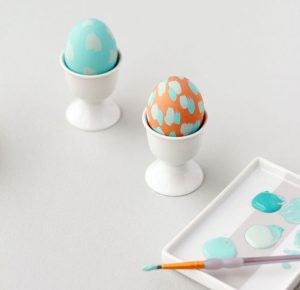 Hand Painted Eggs with Overlapping Designs
Use a craft punch that gives your desired shape on a vinyl sheet to make a stencil. I prefer the circular shapes.
Apply the DIY stencil to the egg. You may need to rub the inside edge for ensuring a good seal.
Dab undiluted food coloring inside the stencil with a cotton swab.
Let it dry completely before removing the stencil.
Repeat with a different food color while pressing the stencil down to overlap the previous shapes.
I wanted a dark background for some of my designer eggs. So I covered the circles up with round stickers, dipped the eggs in inky-black dye before removing the stickers.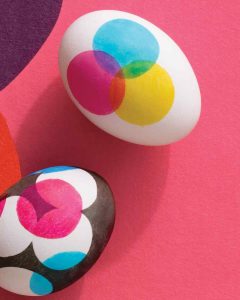 Well, beautiful patterns on eggs are not a big deal, after all. Just a few easy steps and you are all set for Easter celebrations.