There are basically two kinds of houses: big ones and small ones. Most people would naturally prefer the former with perhaps sprawling lawns, ample storage spaces, expansive areas to while about, indulge and make merry. Now hang on; what if owing to compelling circumstances, one has to rope in for a small dwelling? What if there is a big family to squeeze into the minimum available spaces of a small house?
Downsizing from a house to an apartment erupts several pressing situations; apart from the labor of shifting, there remains the subtle pain of leaving behind something; grandpa's old clock perhaps, or the shaking bookshelf that in spite of accumulating years of dust is irreplaceable. Nonetheless, if a change is inevitable, let's embrace it with creativity, practicality and logic, so you can dive into the field with full force.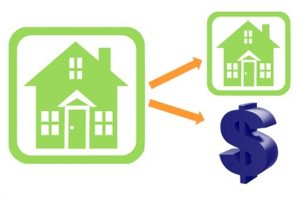 How to downsize: Tips for downsizing to a smaller home
Categorize your needs: It is imperative to draft three categories at the onset as 'must have', 'preferable to keep' and 'replaceable'.
Penetratingly peep: Every secluded cabinet, each obscure corner must be thoroughly scoured, and the items sorted into the categories mentioned above.
Keep the essentials easy to access: Objects of daily utility, as soap, toilet paper, toothbrush, towel, relevant medicines, scissor, and flashlight should be huddled into a separate box being clearly identifiable as box 1. Address book, check book can be taken in a different smaller box and named as container 2.
Avail a floor plan if possible: Securing a floor plan of your new house would aid you to plan effectively, chiefly concerning big pieces of furniture; in which corner to erect the dining table, how to place the big hanging mirror and several other possibilities that might crop up.
Stack as you move: Your moving in should be accompanied by deft storing of commonplace items, as the prospect of doing it at a later time would only pose hitherto unavoidable inconveniences.
Get rid of the junk: The items to be left behind can be sold at e-Bay or Craiglist, saving the money for future purposes. A garage sale can also be arranged, or you can donate the stuff too.
Innovative ideas for living in a small house with style
Living in a small house does not necessarily signify crammed survival. Creative utilization of the limited space can transform any mundane corner into a magical bower. The following plans can help:
Floor to ceiling shelves can be constructed. They enhance the outlook of a bare wall and are great for storing various articles.
Flexible types of furniture like box beds, pull out cabinets serve the dual purpose of storing and adding to the style quotient of the décor.
The vacant wall of a staircase can be converted into a spacious bookshelf.
The corners can be utilized by fastening wall shelves.
Benefits of a minimalist home
Saves time: A small house with optimum household items would demand fewer hours of dusting, and scrubbing as compared to a larger one. Consequently, it would lead to surplus time that can be invested into something fruitful.
Saves money: Money that could have been splurged on heedless purchasing of furniture to fill up the vacant spaces of a large mansion can be saved when the condition of a smaller house arise. Hence, it is a good idea after retirement as well.
Paves the ground for greater bonds: A big family in a small house cannot afford individual living spaces. When family members have to share beds or study tables, unknowingly they foster the virtues of adjustment and compromise, which eventually strengthens relations, promoting ties.
Life is at times unpredictable; from the unimaginable luxury of rejoicing in grand spaces, one can be hurled down to the depths of living small. For a beautiful living, one is expected to embrace innovative schemes. So let lose your wings of fancy, shake up those little gray cells and make your house a place you'd die to reach after every long day.