10 Best Trampolines for Kids
It is quite common nowadays to see kids glued to the screen with little physical activity. If you are a parent to such a kid(s), it might be a good idea to introduce more physical activities to their play time. Getting your kid a trampoline might just make it easier for you to achieve that.
Trampolines can promote imaginative, sensory and active play time for your kids. If chosen carefully, they could also increase the excitement meter of birthday parties, sleepovers and picnics by a few notches.
Here is a conclusive guide which will help you to select the most suitable trampoline for your children.
What Factors To Consider Before Buying a Kids' Trampoline
Size
The size of the trampoline that you buy would mainly depend on the space you can afford to set it up. Smaller trampolines are usually considered fit to be placed indoors, whereas you can place the bigger ones outdoors if you have a backyard or an open play area. If you are placing a trampoline inside your house, make sure that you have ample overhead space and surrounding area for your kids to jump, mount and unmount.
If you have older kids, you can consider going for a bigger trampoline that allows greater jump heights. On the other hand, smaller trampolines or rebounders, that allow lower jump heights would be a better choice for toddlers and preschoolers.
Safety
Since falling from or getting hurt in a trampoline is quite common, you should always check the safety features that the product offers. Go for ones which have a sturdy base that would prevent your kids from tipping over while jumping. Those with a weighted bottom or with provisions for securing the trampoline to the ground are usually safer.
Some trampolines come with a safety net enclosure which can be especially useful if you are placing them outdoors. Some brands also include safety handles or handrails on smaller trampolines that keep younger kids protected and well balanced as they jump.
In spite of all the safety features, there's no substitute for strict adult supervision during your child's bouncing time.
Weight Limit
Always check the weight limit specified by the manufacturer before getting a trampoline for your little one. There are ones that can carry only a single child while others have enough capacity for holding a small group. Usually, 8 ft trampolines are for 1-2 kids, 12 ft ones are for 1-3 kids, while 15 ft ones are for 2-3 kids.
Kid's Age
Strictly follow the product label for the recommended age specification of the trampoline. While jumping on trampolines is a good exercise, it is not recommended for kids below the age of 6 years as their bones are still developing and an injury at such a young age could prove detrimental for their growth.
Still, if you want them to have some fun, you can choose from a variety of mini trampolines or rebounders that have ample safety precautions like paddings and handles. Do make sure to check with your pediatrician before you make that decision.
If you are buying it for an older kid, opt for ones that are bigger having a diameter of at least 12 to 15 feet.
Durability
Kids can be over-enthusiastic and experimental on the trampoline. So the product that you buy should be durable enough to put up with frequent use by active children. Ones having a strong frame with springs that are resistant to rust are a good choice. Those made of galvanized steel are excellent although a shade expensive. If budget is a constraint, you may go for blow-molded plastic frames that are also quite durable.
Accessories
If you want to add variety to 'bouncing time', you may opt for trampolines that come with additional features like a basketball hoop, swing set and slides. Small children would love the ones that come with handles and bars for extra balance.
Shape
Though trampolines for kids are predominantly circular, there are other shapes available like rectangle, square, oval, triangle, hexagon, etc. Rectangular and oval trampolines take up much less space than the circular ones.
10 Of the Best Trampolines for Kids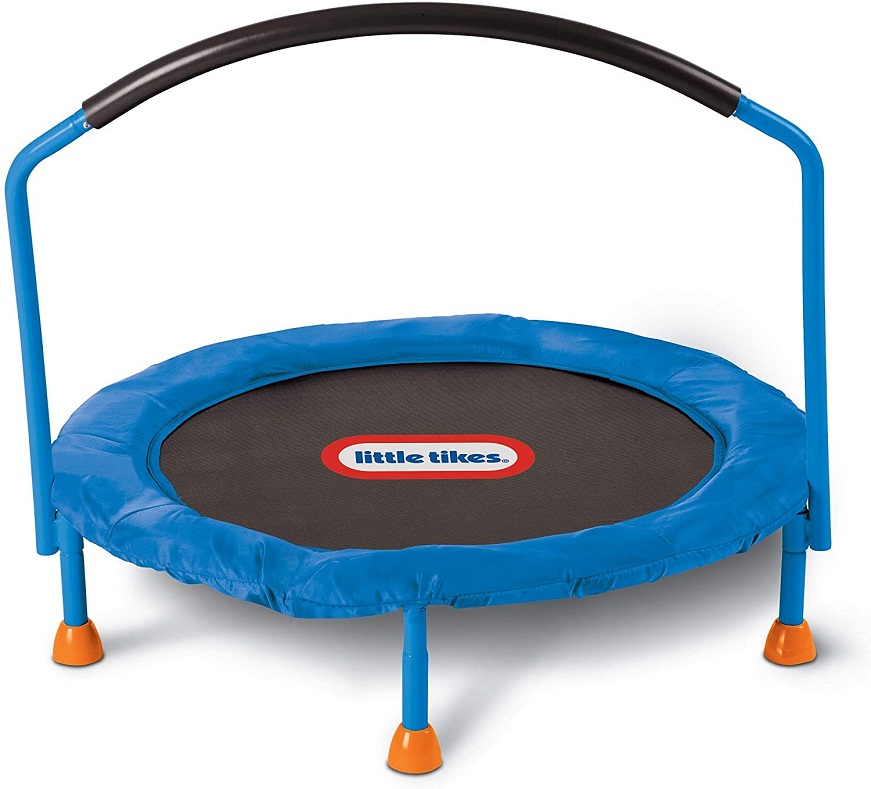 Little Tikes 3′ Trampoline
Pros:
The handrail of this indoor trampoline gives good stability. Portable. Strong plastic and metal make. Boasts of a large bouncing surface for 3-6-year-olds. The weight limit is 55 pounds.
Cons:
Too much pressure can cause it to tip over. The foam padding on the handle bar is flimsy and can come off easily.
Final Word:
The handle bar, covered springs and wide surface make this trampoline safe enough to guarantee hours of fun for toddlers and preschoolers.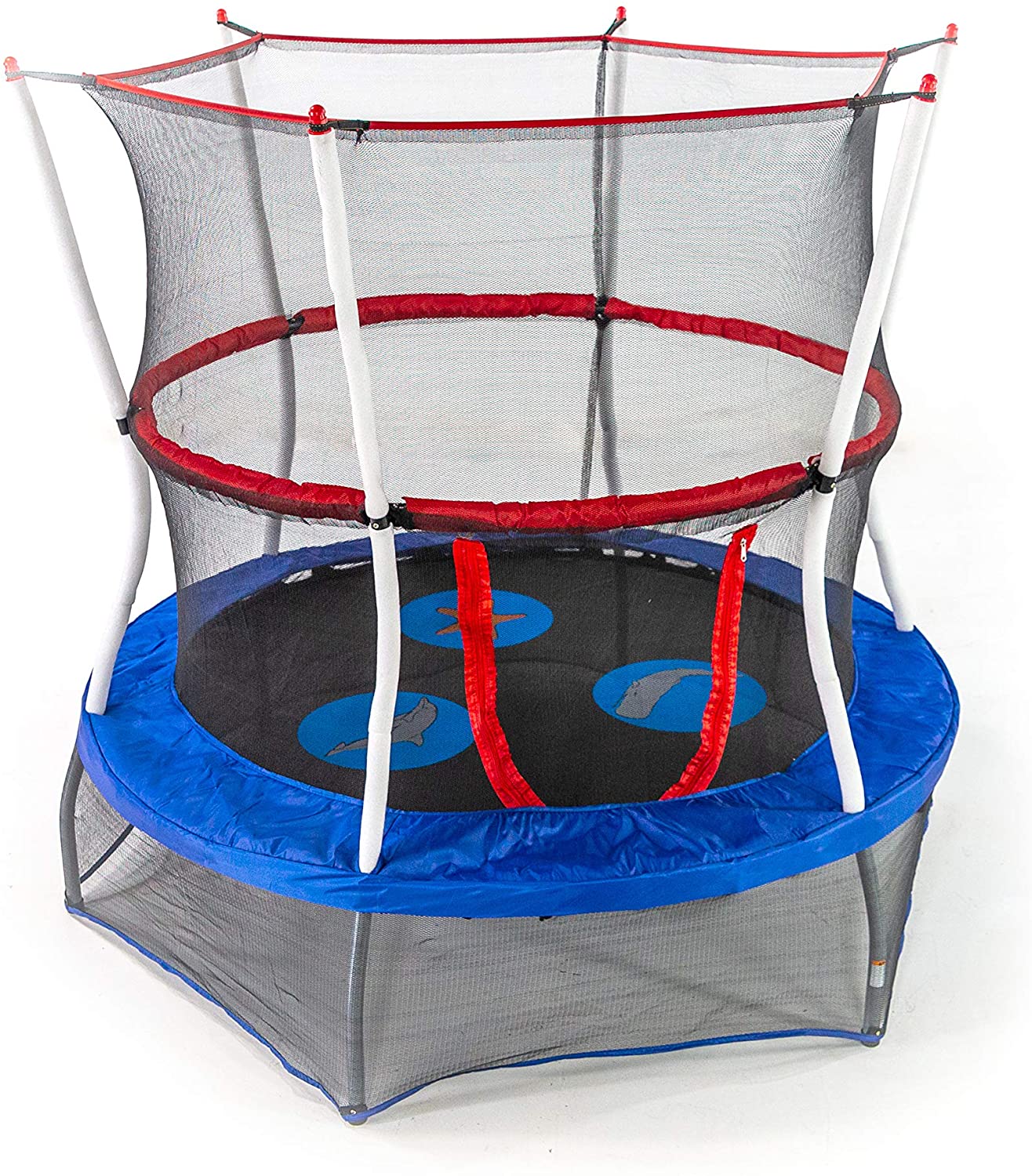 Skywalker Trampolines Mini Trampoline with Enclosure Net
Pros:
The handrails all around this mini trampoline ensure balance while jumping. The net enclosure prevents kids from falling off. The padded jumping mat made of non-slip material adds to comfort and safety. Stretch bands instead of springs don't pinch or tangle little ones. Strong steel construction can carry weight up to 100 pounds. The frame has a warranty of 3 years while for the other parts it is 1 year.
Cons:
Difficult and time-consuming assembly.
Final Word:
If you are looking for a safe, mini trampoline for toddlers and older kids above 6 years with a bungee-cord system devoid of springs that can be used both indoors and outdoors, this playing companion fits the bill. You can also choose this as your kid's first trampoline.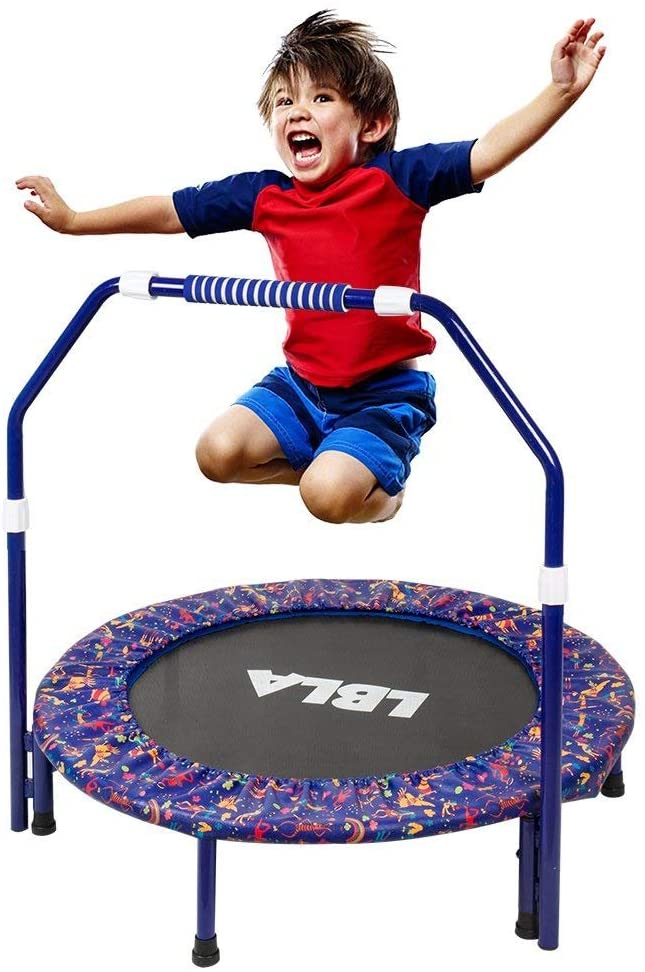 36-Inch Kids Bungee Rebounder Trampoline with Adjustable Handrail and Safety Padded Cover
Pros:
6 legs offer ample stability. Adjustable, padded handrails give good grip and support. Foldable and easy to set up. It can be used both indoors and outdoors. A protective cover shields children from falling on the durable steel frame that has 132 pounds capacity.
Cons:
Not suited for kids younger than 6 years.
Final Word:
If you are looking for a good bungee trampoline for older kids that can be carried with you while traveling, look no further.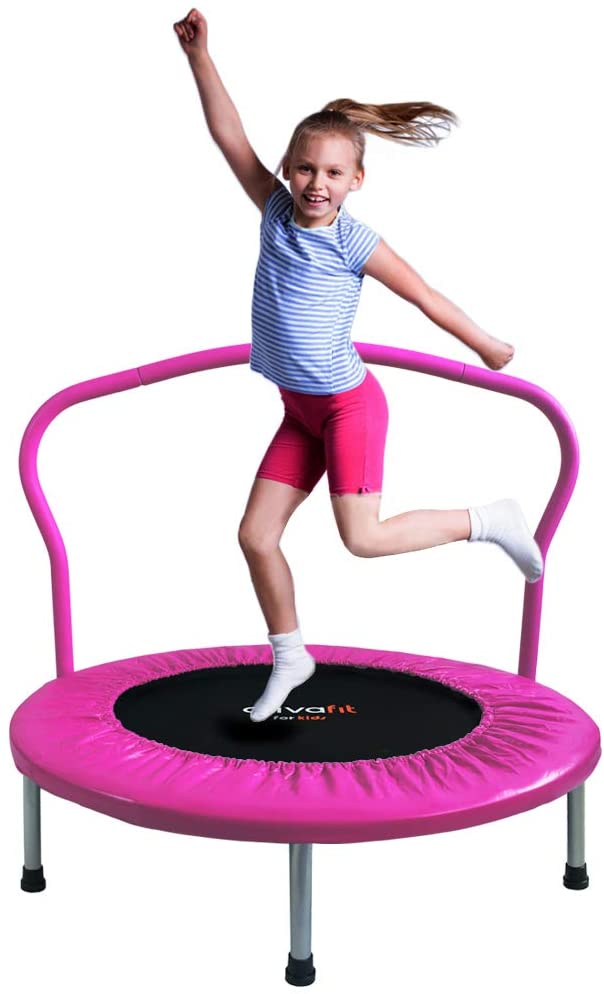 ATIVAFIT 36-Inch Folding Trampoline for Two Kids with safety Padded Cover
Pros:
The fold-up rebounder is easy to store and install. It can be used both indoors and outdoors. Padded handle prevents falls. Highly elastic springs reduce the chances of getting hurt. Suitable for 3-10-year-olds.
Cons:
Though the listing describes it as suitable for holding 2 children, the instructions with the product advise you to put one child on it at a time. It is advisable to go by the latter.
Final Word:
This is a sturdy and portable option for tight indoor spaces and gyms.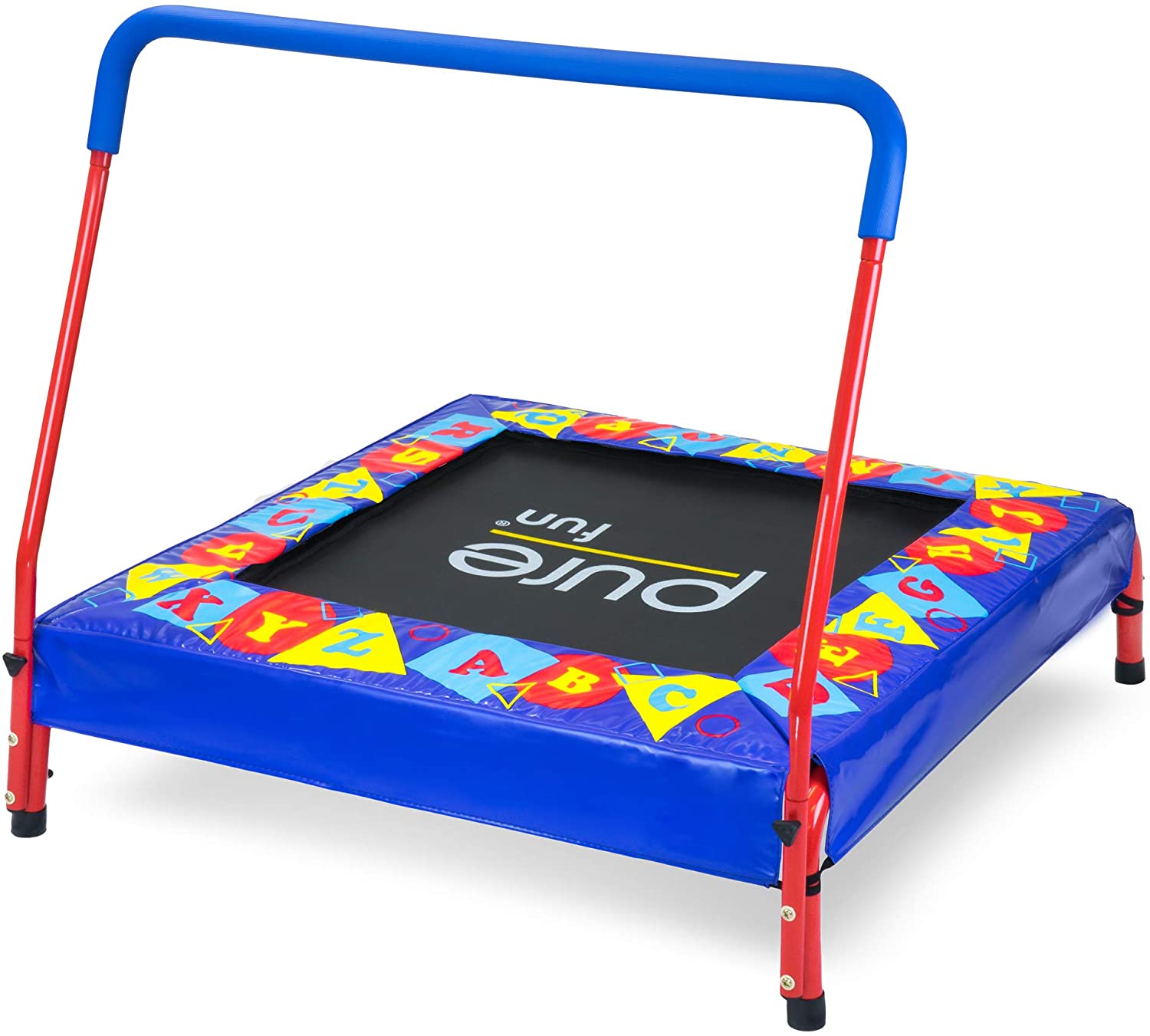 Pure Fun Kids' 36″ Preschool Jumper
Pros:
The compact square trampoline suits kids aged 3-7 years. The cushioned support bar gives a comfortable but steady grip. The foam mat is decorated with bright colors and alphabets for appeal. Covered springs prevent injuries. The durable frame can hold up to 75 lb.
Cons:
Difficult and time consuming to set up.
Final Word:
This is a good single-user indoor trampoline for gymnastics training, tight spaces and preschoolers who are bouncing for the first time.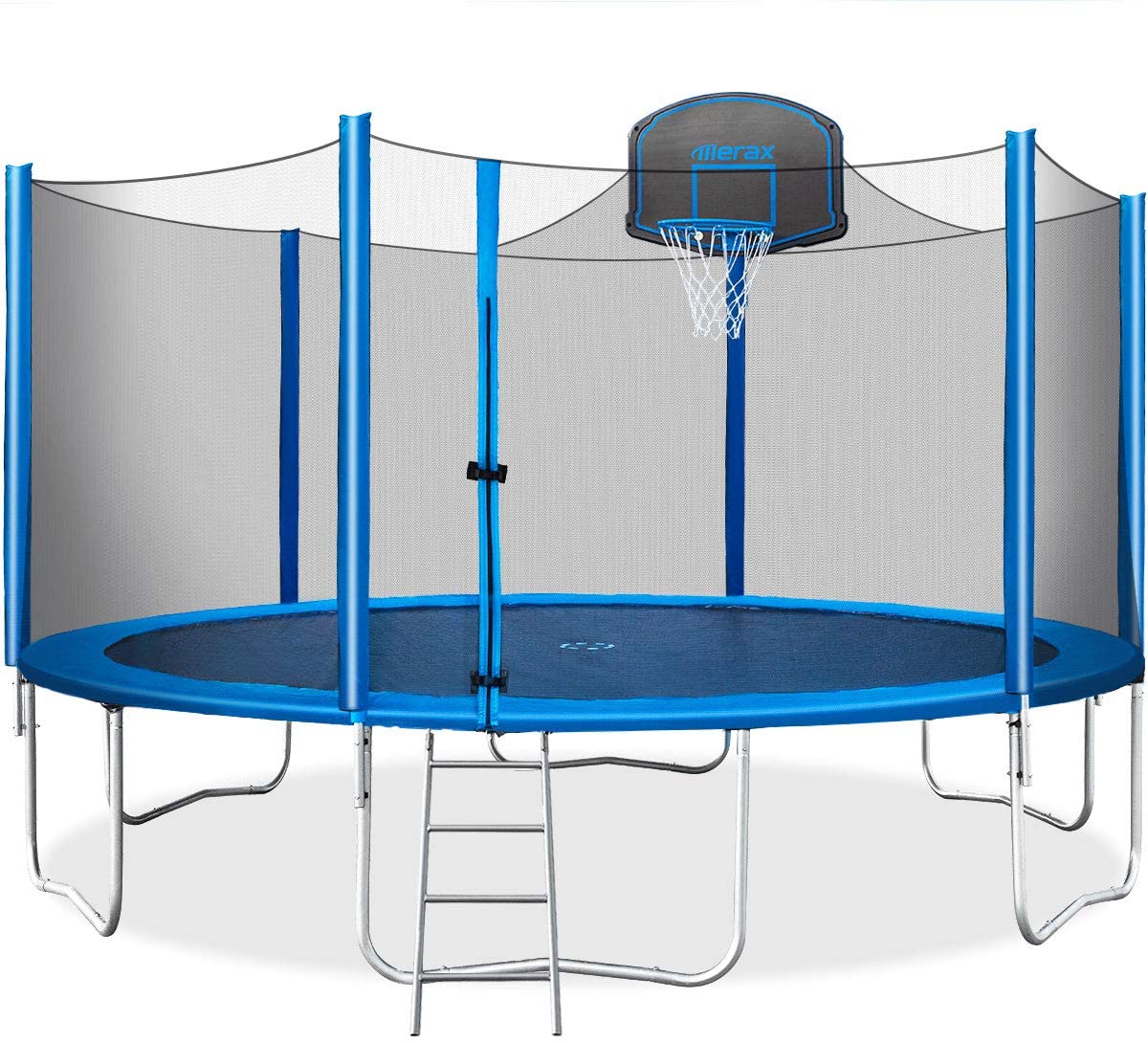 Merax 15 FT Trampoline with Safety Enclosure Net, Basketball Hoop and Ladder
Pros:
The massive trampoline stands at 15' with a 6' high safety net enclosure. Its 6 legs keep it nicely balanced and the galvanized, rust-proof steel frame is top-notch. Features a basketball hoop. Padded support poles and durable pad frame save children from injury. Weight limit is 375 lb.
Cons:
Doesn't come with wind stakes. Cannot be placed on a slight slope as legs are not adjustable.
Final Word:
If you want to enjoy bouncing along with your children, go for this family trampoline. You can also amp up the fun with some basketball.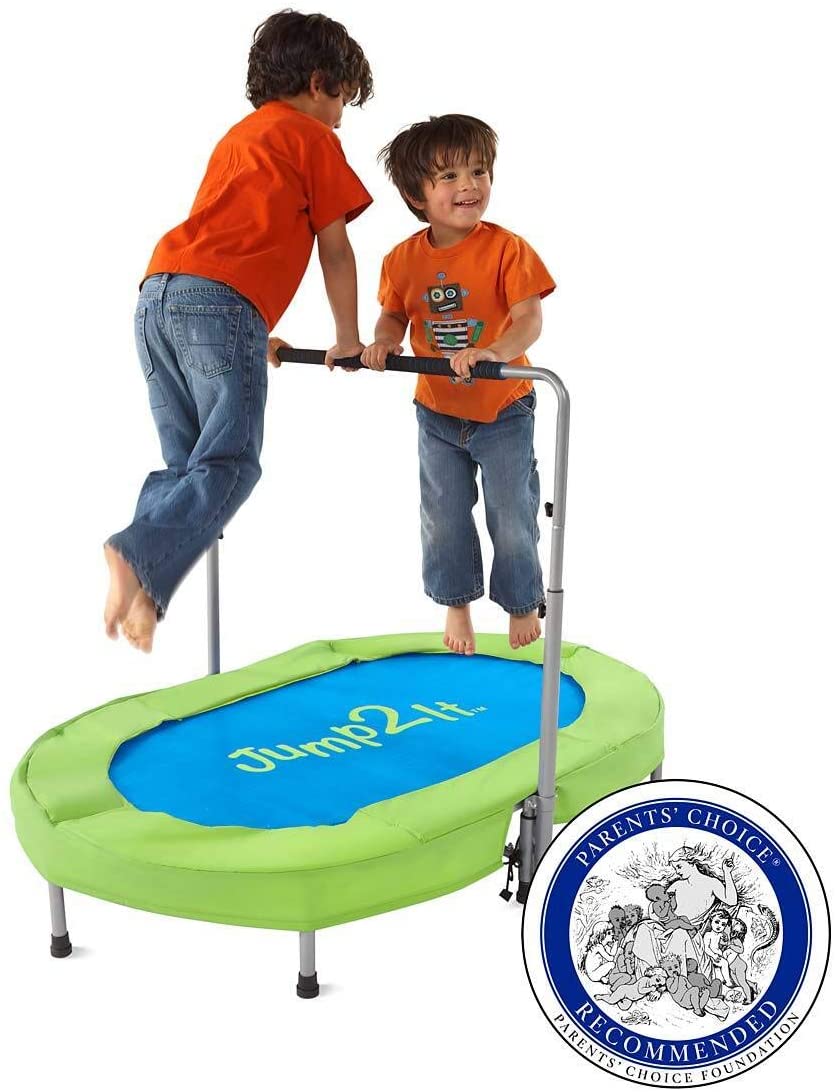 Jump2It Kids Mini Trampoline with Adjustable Central Handle and Protective Frame Cover
Pros:
The small, oval trampoline can accommodate 2 kids at a time. Adjustable, removable central handle is good for newbies who want to try out some tricks. A strong jumping mat and additional padding along the edges ensure bouncing pleasure for hours. Weight limit 180 lb and the recommended age is 3-12 years.
Cons:
The included instructions are confusing and don't help much in the assembly. However, you can do it on your own even without them.
Final Word:
You can easily put this compact trampoline in your living room to combine fitness and fun for your kids.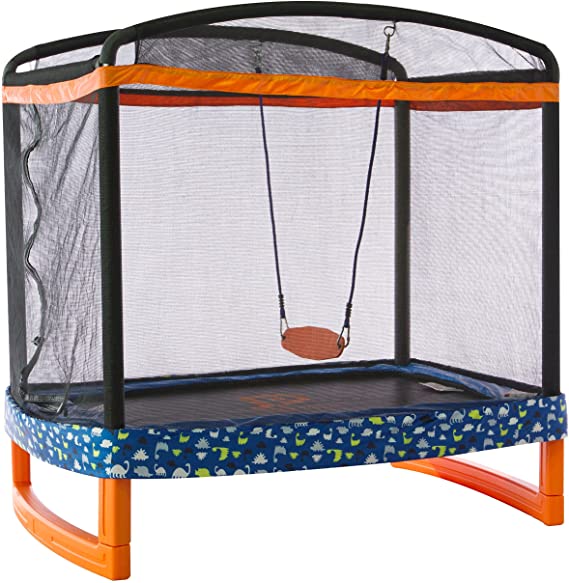 JUMP POWER Rectangle Trampoline with Swing Combo
Pros:
Removable swing for more playtime fun. The dinosaur printed padding around the mat looks appealing. The safety net and padded, high-quality steel poles reduce the chances of injury and fall. It is for kids aged 3-10 years and can hold weights up to 110 pounds
Cons:
The attached instructions for assembling have very little written content, forcing you to mainly follow the pictures.
Final Word:
The durable rectangular trampoline is a good candidate for a backyard setup in summer. However, it is small enough for setting up inside your home as well.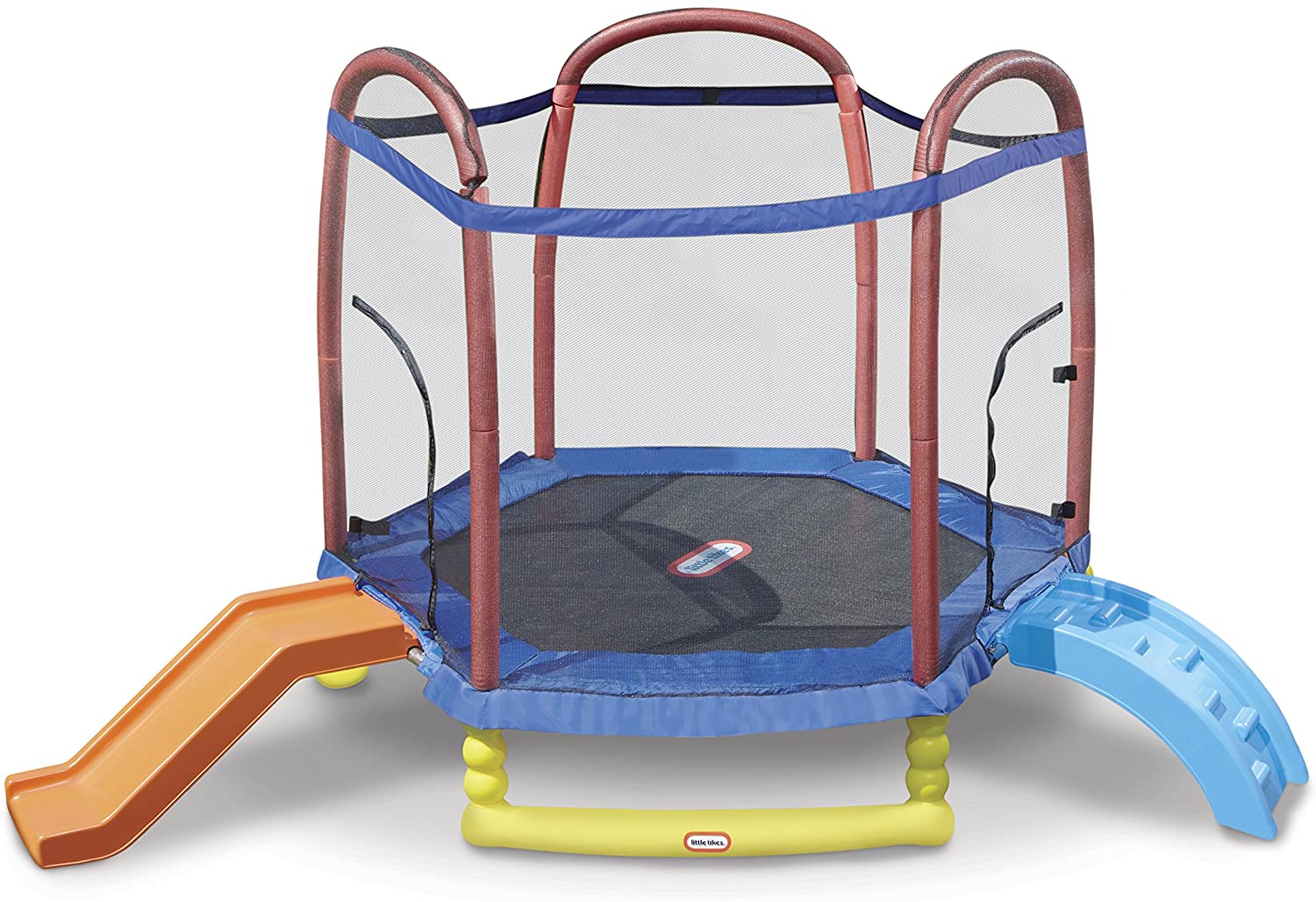 Little Tikes 7′ Climb 'N Slide Trampoline
Pros:
Climbing steps and a slide add to the fun. Zipper closures make entry and exit easy. Exposed metal parts and springs are padded for protection. The frame is made of durable blow-molded plastic. Maximum weight limit is 105 pounds and is meant for 3-10 year olds.
Cons:
Expensive. Slide and staircase too small for kids above 5 years.
Final Word:
This is a great single-user outdoor trampoline that combines jumping, climbing and sliding activities for toddlers and older kids.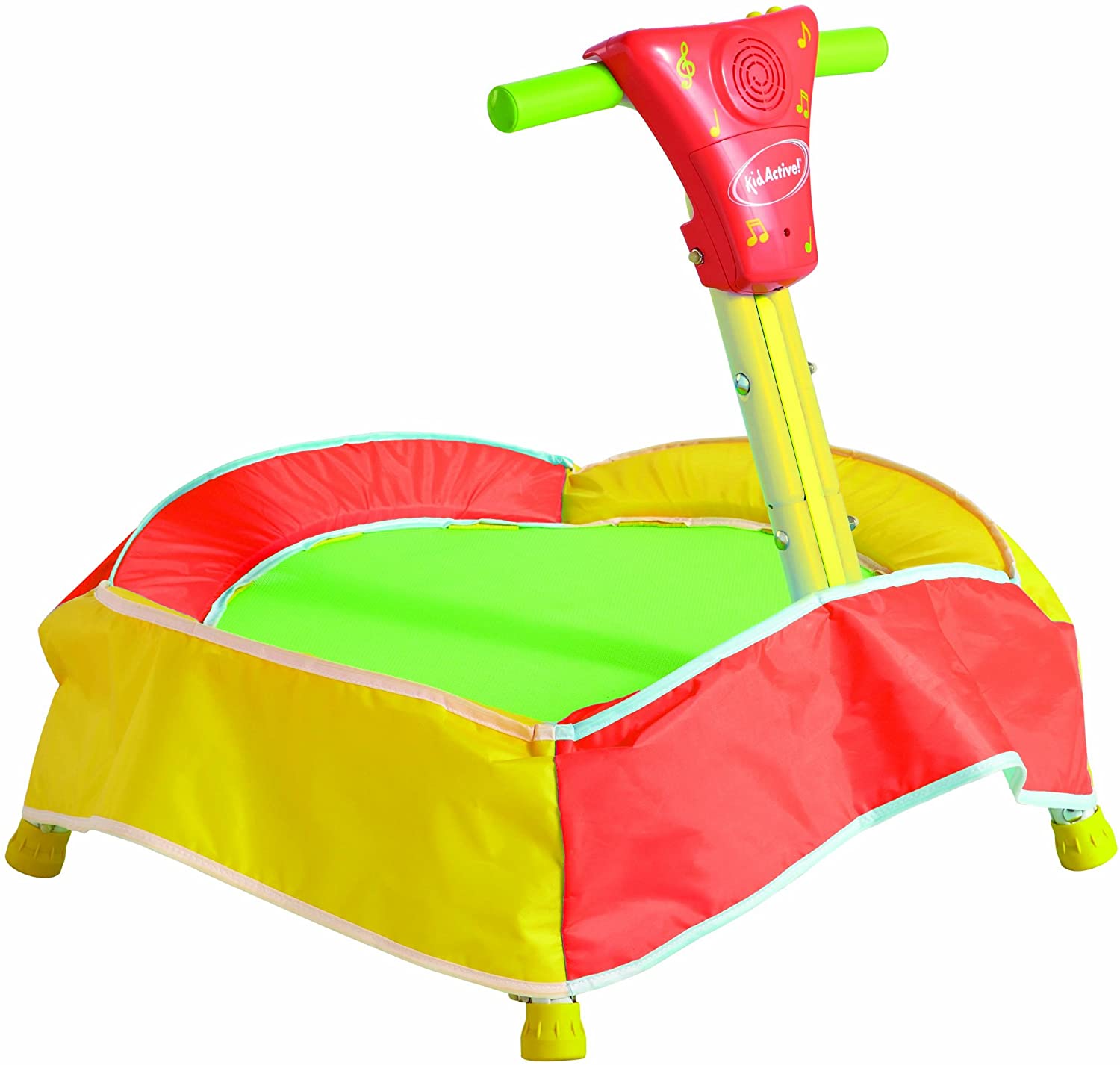 Diggin Jumpsmart Junior Electronic Trampoline
Pros:
Includes a sewn padded cover for safety. Triangular shape assists storage in the corner of a room or against a wall. The low weight makes it portable. Fun learning games and songs are included. The safety grip handle keeps toddlers active. The maximum weight limit is 44 lb and is suited for kids older than a year.
Cons:
Batteries are not included. The bouncing surface is not made of standard trampoline material; that is, it doesn't bounce back. You can use it to your advantage by using your full energy for jumping on it.
Final Word:
The counting feature and musical games keep little ones entertained as they jump on this space saver.
Tips to Keep Kids Safe on the Trampoline
Irrespective of whether the playing tool is made of rust or UV resistant material or not, occasionally check the springs and screws for tightness and security.
If the trampoline is not in use, cover or disassemble it. You can store the outdoor ones in your garage or shed if you won't be using them for some time.
FAQs
A trampoline can be a good idea to keep your kids active and burn some calories even if they are staying indoors. The best trampolines are those that have safety nets or handles (in case of rebounders), minimize contact with the springs and made of durable material.