It's Monday, and what better day to makeover your office – the place where you spend so much of your life? I really believe the space we're in can affect us positively or negatively. Who can be creative and vibrant in an entirely gray, dull, boring office?
Care2.com has 13 tips to Feng Shui your office, if you'd like to give it a try. Tip: put your computer in the North or West area of your office to enhance your creativity and not to have mirrors in your work space.
Meanwhile, get some office makeover inspiration from the creative minds featured below. They're all easy enough that you could have a super cute office by the end of the week!
1. Filing cabinets are just about the ugliest piece of something I've ever seen. Isn't it crazy that even though women have been in the workforce in massive numbers for decades now, there has been almost NO advancement in manufacturing filing cabinets that don't make you feel like you work in the warden's office of a second-rate penitentiary?  Thank goodness for I'm a Yarner and her chalkboard filing cabinet! I love it!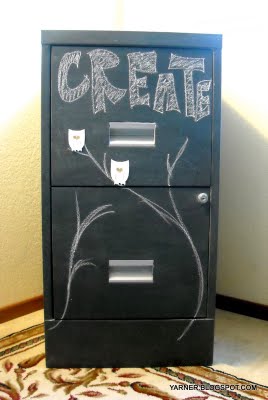 2. Do you remember these trays? Growing up, they were everywhere and I still see them at garage sales all the time. I think having several of them in different, but complimenting, patterns and colors would make for some awesome bulletin board space.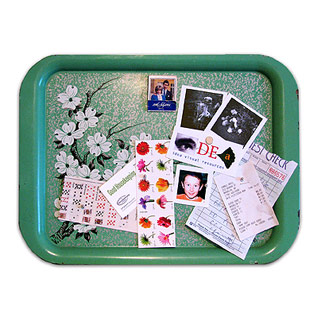 3. On the subject of awesome magnetic bulletin boards, I adore these from Saving the Family Money. She gives you the entire tutorial, and it looks easy enough that even I could do it. 🙂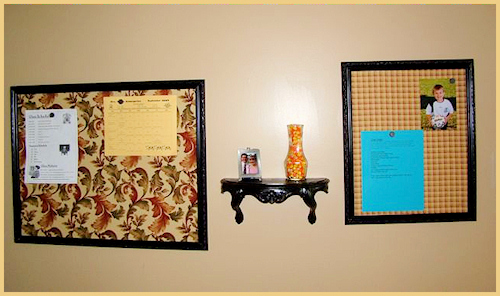 4. Apartment Therapy shows you how to make this AMAZING piece of string wall art by Kathryn Anderson using pushpins and yarn. I think having a DIY mural like this one in your office would make the most mundane business feel a little more tolerable.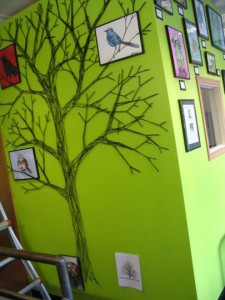 5. Time passes slowly in an office and you know you have photos of kids or dogs or honey-pies, or whatever it is that gets you through the day. I say this tutorial from Good Housekeeping for a cool wall clock would be a perfect fit for your office.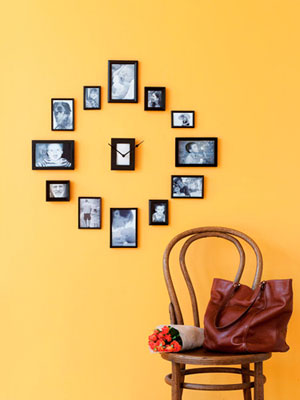 6.
The Undressed Skeleton
spray painted some bottles and added some salt and glitter for some pretty delicious eye candy. I think you could do the same with some old vases to create some very sexy pen and pencil holders for your desk. What do you think?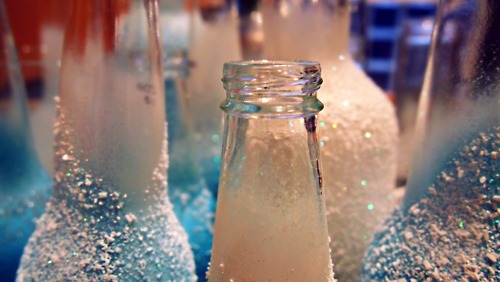 7. No way you don't have candy on your desk! Gotta have candy on your desk! C'mon! This Mason Jar bird feeder is now a delightful candy dispenser. Can you stand the cuteness? Chica and Jo, you are brilliant. (Psst: check out these other yummy Mason Jar pics.)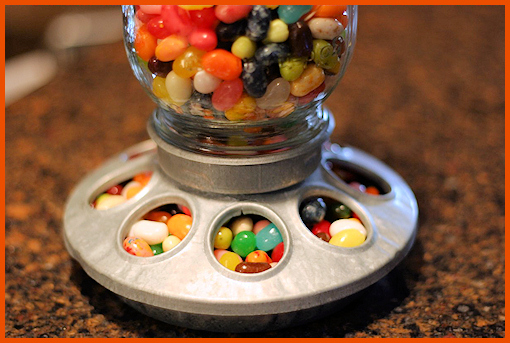 In other news, did you know that every time this post is shared or pinned, a supermodel gains 5 pounds?