As any of my longtime readers know,  I am to crafts what Freddy Krueger is to sleeping teenagers. Virtually every crafty craft I've ever tried turns out looking like I was challenged to Mod Podge a rabid rhino while blindfolded and drunk. Once in awhile I'll get something sort of right, like this craft using an old book or the Fleur de Lis I make. But mostly I am girl who is crafty-craft deficient.
That's why I have Momcaster. I am so infatuated with the brilliant minds that come up with things I could never imagine. So much crafty talent exists, and I love stalking, looking, and imagining that I might someday be just like them.
Momcaster's Crafty Craft Faves of the week!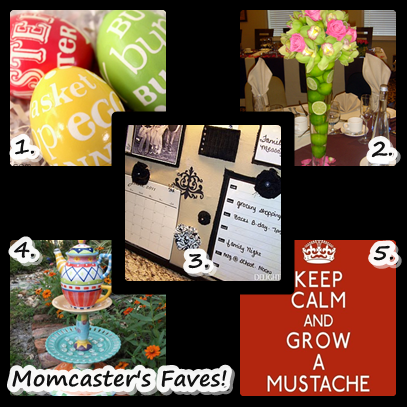 1. Subway art painted Easter eggs by Lil' Luna. 
2. Fruity floral centerpiece by Fiance to Wife.
3. Everyday message board by Delightful Order.
4. Garden totem by Mary 2010 @ Garden Web.
5. Keep Calm & Grow a Mustache.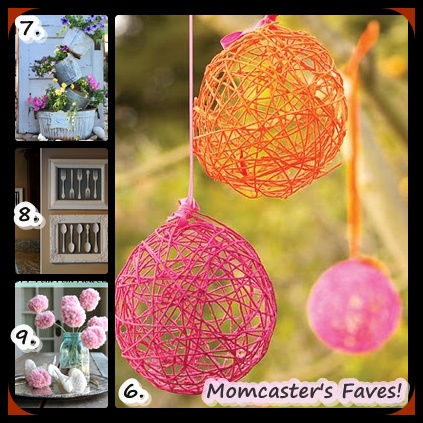 6. Crafty yarn egg decoration by Sweet Designs. 
7.  Primitive tipsy pot planters by The Pink Hammer Blog.
8.  Utensil wall arty by One Month to Win It. 
9.  DIY pompom flowers by Eclectically Vintage. 
Which crafty crafts are YOUR favorites? Are you a crafty chick? If you have a blog showing off your own handy work, for the love of yarn and Mod Podge, PLEASE show me! I want to see and I know my readers want to as well!
Love you all harder than a goat loves a stump,