I have a bee in my bonnet tonight about orange things and upcycled things. Who knows where such thoughts come from. I would blame the LCD I did in the 60s, but I was only a toddler and my Mom wouldn't let me have any fun.
Meanwhile doesn't "Etsy" sound like your Aunt from the hills of North Carolina who crochets socks for you every year for Christmas and is so old, no living human exists that can verify that she is indeed an immortal vampire?
Aunt Etsy's Favorite Shops – Upcycled & Orange
If I had the skill to turn aluminum cans into jewelry, I would rule the world. No way you can look at this delight from ecochiqueboutique and not feel like chopping up a Diet Dr. Pepper can and wearing it to work tomorrow. This is so "adorkable", I can't stand it.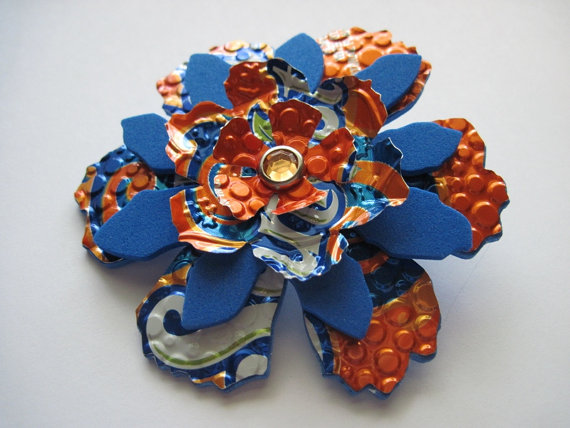 Never once have I looked at a gelatin box and thought, "This could house my random thoughts on life as well as various and assorted grocery list items." I don't know how RecycledFibers got to be such a visionary, but seriously y'all. She made a notebook out of a discarded box of gelatin. I'm gonna just say it because we're all thinking it…
Sarah, we're gonna need proof you aren't some sort of alien.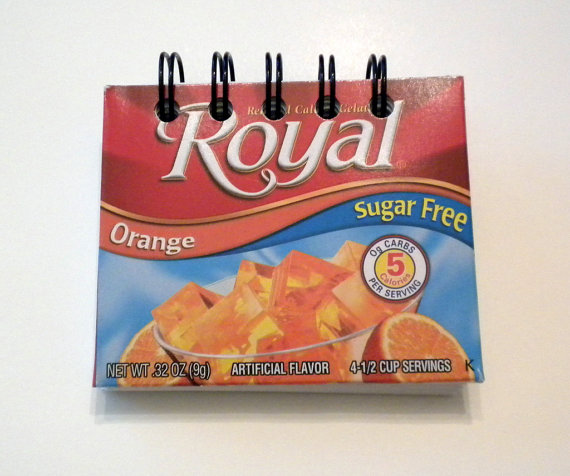 Once upon a time this ring was a vintage button. In other news, once upon a time I was a size 1. Life lesson from Aunt Etsy? Things change, kids.
Etsy shop owner Wendy of alwaysgreener uses words like "chucked" and "kit & kaboodle" in her listing. That makes me like her. The fact that she ships this beauty in a handmade origami box makes me want to touch the hem of her garment in the hopes some of her Earth-loving self will rub off on me.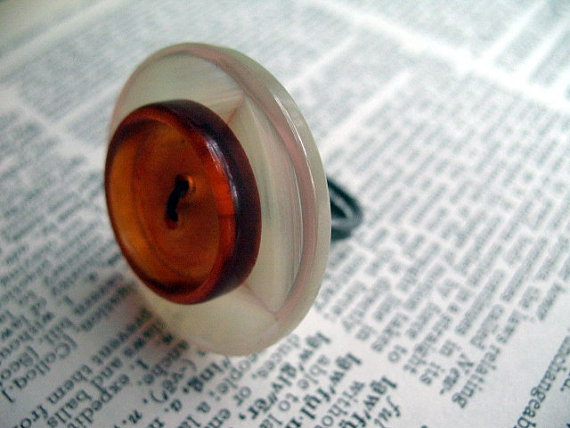 Jackson of All Trades combines vintage cans with soy wax and the next thing you know, you have one of the absolute coolest looking candles in your neck of the woods. They have tons of scents from which you can choose. I'm thinking the Hazelnut Coffee is the right way to go.
PS: I don't know what "neck of the woods" even means. Al Roker says it, so it must be an acceptable American thing to say in mixed company but still… it makes no sense.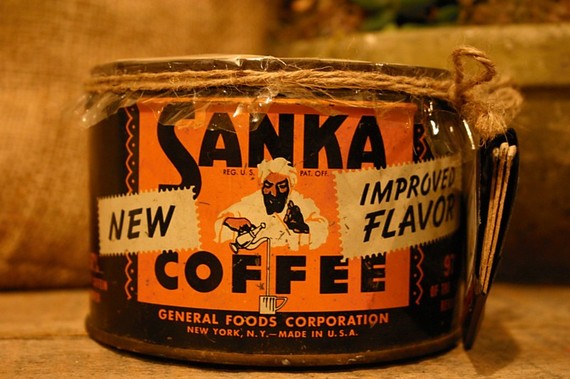 This necklace from sweet2bliving features a Buffalo nickel and a beautiful orange bead hanging from a sterling silver chain. I want to have it.
While I cannot promise I wouldn't drop my necklace in a slot machine the next time I'm in Vegas and down $3455, I can at least promise I will try.
1-800-BETS-OFF, people. Because shoving your Etsy jewelry in a slot machine is the first sign you might have a problem.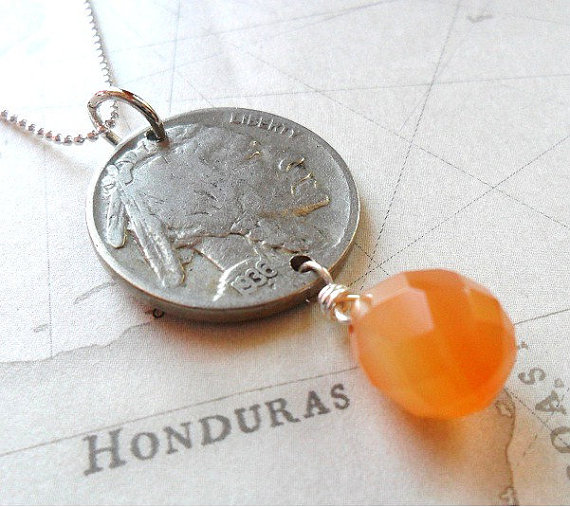 Okay kids, Sadie's good for my upcycled and orange craving for tonight. I love Etsy harder than a goat loves a stump because there is so much unbelievable talent there. (Read: Advertise Your Etsy Shop Like a Pro, Yo.) I'm always filled with 'WOW" when I'm creeping there.
Subscribe to my feed to see what's up next. Who knows what Momcaster will feature tomorrow? Could be YOU! 🙂