It's pretty easy to manage a flip flop craft. So easy in fact that even I, Sadie the Not Crafty, can manage a flip flop craft.
Most human females you know has more flip flops in her closet than she can count, but sadly most of them are probably plain and entirely ugly. Let's fix that! With the help of talented bloggers who know what's up with flip flop crafts, the entire world can decorate their flip flops with these fabulous flip flop crafts!
From how-to make duct tape (or "duck tape") flowers and roses for your flip flops, to embellishing with old jewelry, to balloons… below are some fab flip flop craft ideas!

1. Cindy at Skip to My Lou has a tutorial for creating duct tape roses for a flip flop craft that is darling. She says all you need is colored Duck Tape and scissors. I say I also need coordination and talent.  But seriously, can you stand the cuteness of these? Isn't she a smart cookie?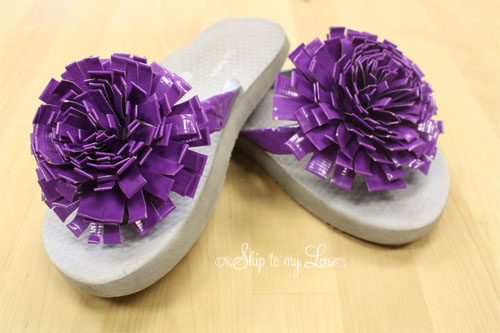 By the way, I'd never seen colored "duck tape" before, so I went to Amazon and sure as I am craving chocolate frosting right now, they have beaucoup colors of duct tape AKA duck tape.
2. These ribbon & button flip flops are pretty awesome. I never have buttons, because I am a domestic loser, but I could buy some for this flip flop craft. Smart ideas from 2 Good Claymates

3. I don't know who first thought of tying balloons onto flip flops. You probably don't either. I guess that means I could say I did. Pass it on. I want my kids to have a reason to be proud of me after I'm gone, and inventor of tying balloons to flip flops would do the trick. Red Door Home shows us how to turn water balloons into fashion for girls, and I love it!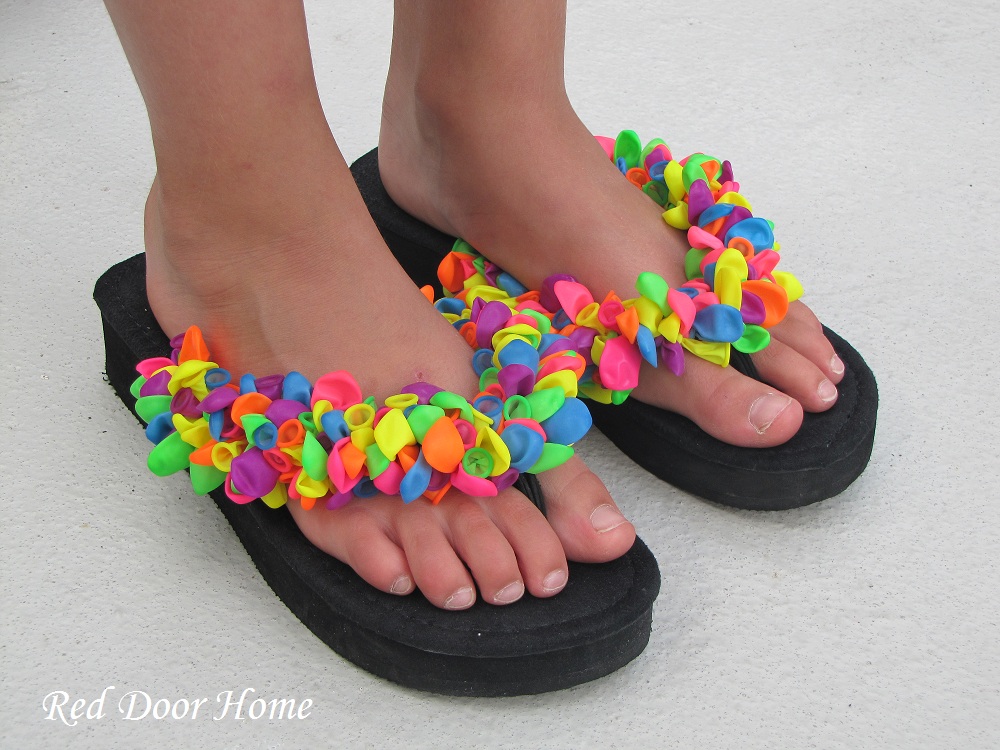 4. In my next life, I want to come back as Ashley at Make It and Love it. She's smart enough to create the tutorial for these interchangeable flip flops designs, and also smart enough to use the words "fusible web" correctly in a sentence. I am ten kinds of jealous of how crafty she is. I genuinely heart this flip flop craft.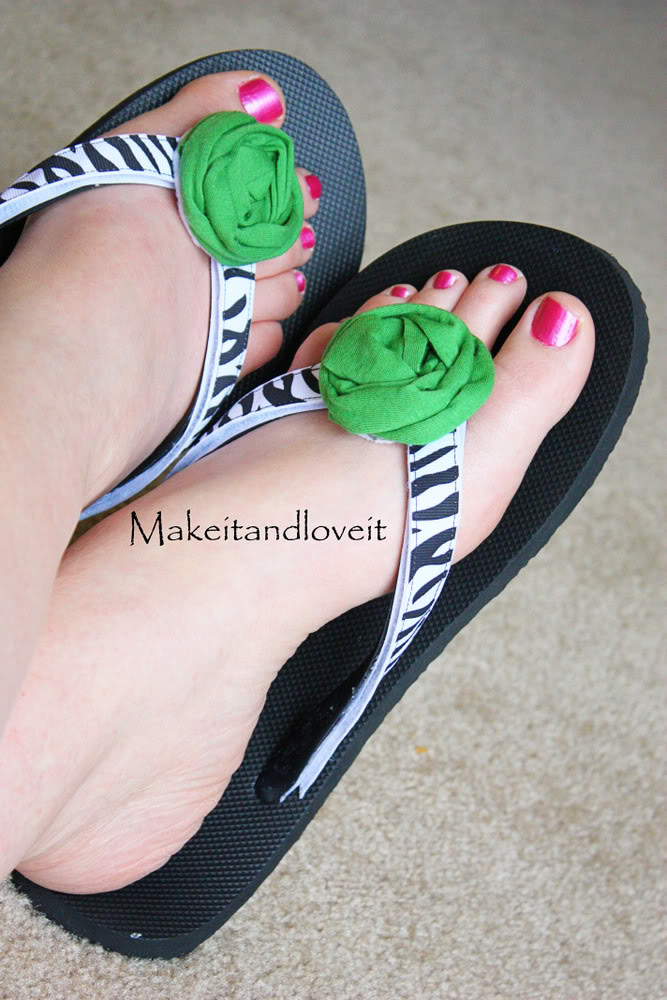 5. Lord knows I love to get married. Getting divorced seems to make me pretty happy, too. This tutorial to make bridal flip-flops from Wedding Flowers & Reception Ideas makes me almost feel like I should get a Craigslist ad going…
"Wanted: fresh husband. Must be willing to keep his bags packed and by the door, as he won't be around long."