I like DIY organization ideas very much. Is it too much to ask that my son keep his cereal in alphabetical order, or that all the DVDs are arranged according to laughs per minute? I just think organization is the answer to all life's problems. Well except for all the calories in Chunky Monkey ice cream. Sadly, there is no organization idea that'll fix that.
Check out these uh-maze-ing DIY organization ideas from people way more resourceful than myself!
When I saw this pantry over at Shanty 2 Chic, I nearly had an OCD seizure. I am crushing HARD on this, y'all. And while it looks like so much more work than I am prone to do, her post makes me believe I can do this. And you know what, it's so dang simple, I believe I can. I believe I will!!!  LOVE this DIY organization idea… in case you hadn't figured that out.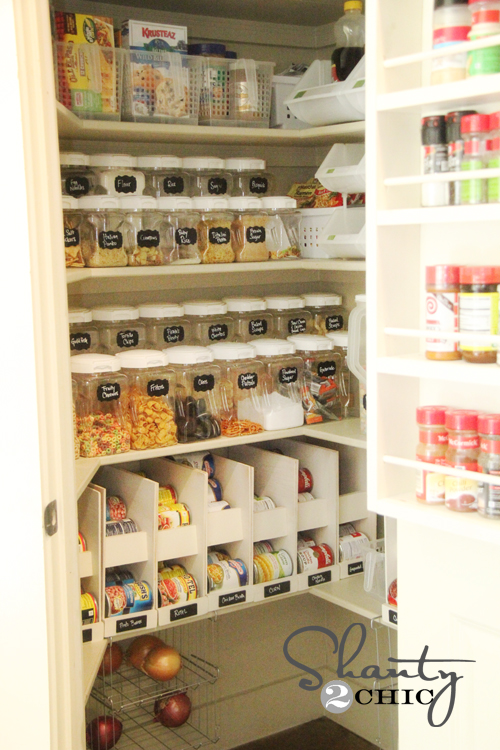 I am a straight up Sharpie fanatic. It's true. I would sell my ex-husband's testicles (yes – I got them in the divorce) to get more Sharpies. So Aunt Peaches says she stopped what she was doing for 10 minutes to create this marker caddy. I'm saying it may take me 40 days and 40 nights, but mark my words – I will totally have this for my Sharpie babies.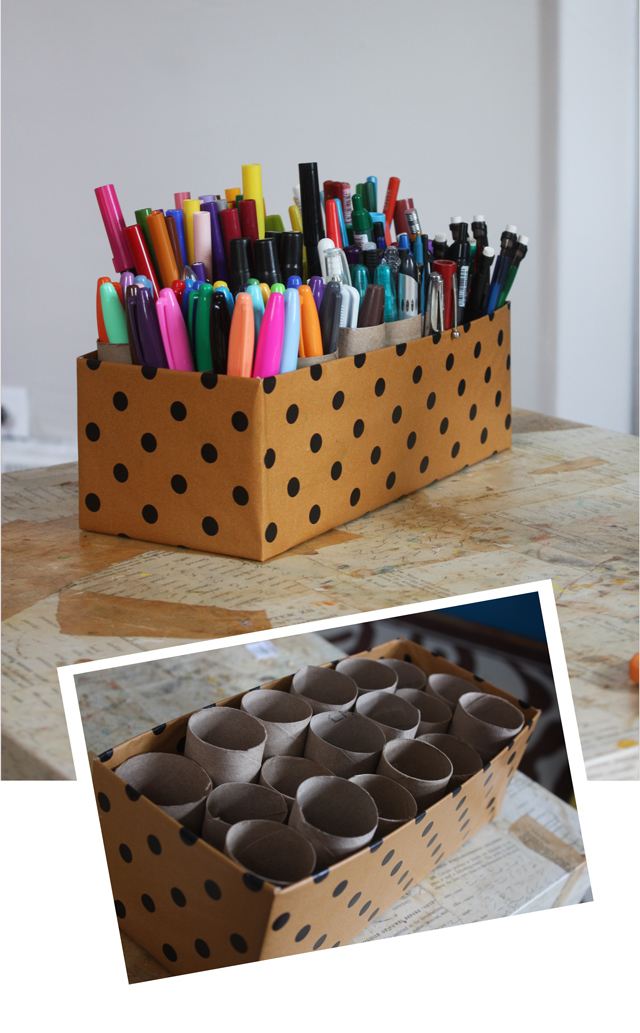 My Grandmonkey loves books like crazy. I think this little children's library (found on Apartment Therapy) all along one wall would be a lovely way to organize his huge collection. Am I afraid he might try to use the ledges to scale the walls and free himself from the confines of his toddler life? I am a little. He'd be back though. He can't yet change his own diaper.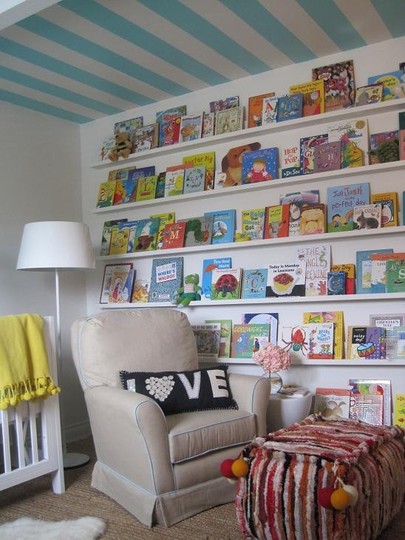 I love three things more than any other: Moonpies that have been slightly melted in the microwave, doing laundry, and lying to blog readers to make myself seem like somebody who enjoys chores. If my laundry room were as organized as this one on Easy 2 Organize, I'd probably have friends over just to watch me fluff and fold.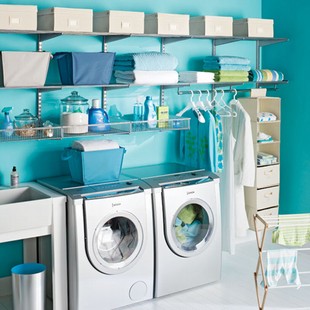 Every day I wake up and do my part to keep America beautiful. I put on make-up. It takes a lot of it, let me tell you. This make-up brush organizing tip is so simple, even I may actually be able to do it. Very cool find on Shelterness.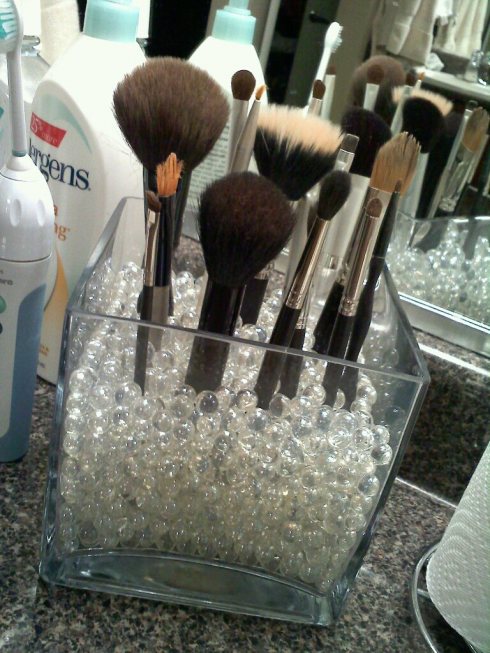 If my wine rack weren't so full of…ummm…wine, I would be all over this bathroom towel organization idea from It's Rustic Living. I think I'll start looking for some new wine racks at garage sales actually. I'll try my very best not to fill them up with bottles.

In our house Mason Jars are for drinking when fancy people come to dinner. This Mason Jar organizer from Vanilla & Velvet is so blooming cute, I may pour the corn liquor right out of mine and make it.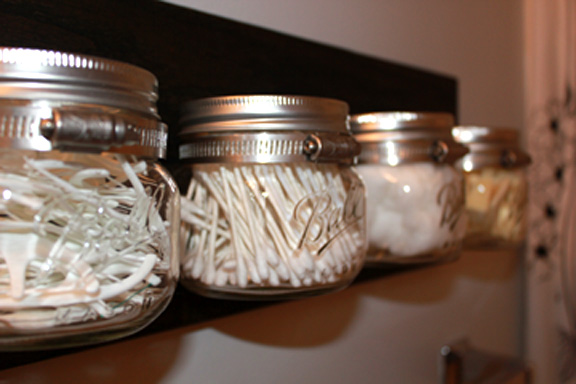 Only losers use shoe holders for shoes. Seeing this makes me want to put taco seasoning where taco seasoning has never gone before. Very cool,
Money Saving Queen
.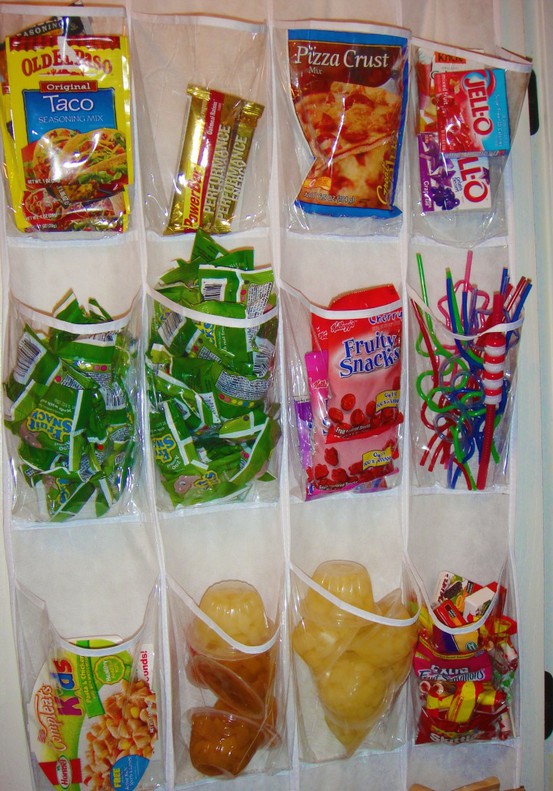 I like sharp knives very much. I'm not a serial killer or anything. I just find it calming to know I could, at any time, walk in my kitchen and cut a can in half and mere moments later, slice a tomato. I do not like those ugly wooden blocks they live in though. Curbly has a much better idea.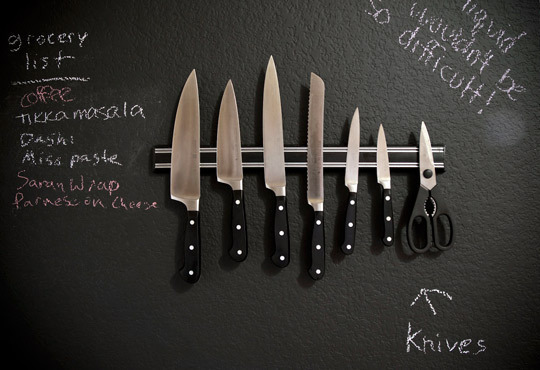 Are we Facebook friends? We totally should be! And by the way, if you'd like to submit a post to Momcaster, shoot me an email! (sher at momcaster.com)