Handprint Flowers: An Interesting Craft
Nostalgic as I may sound, one of my favorite hobbies, especially during the scorching summer holidays was sitting with lots of paint bottles and white papers to make some engrossing handprint crafts. And now, my daughter does the same! So I thought why not make handprint flowers as a keepsake for her to cherish when she grows up.
How to Make Handprint Flower
What you'll need
Paints
Paintbrushes
Thick white papers (Preferably construction papers or cardstocks)
Instructions
I squeezed the paints on an old plastic plate-turned-into-palette.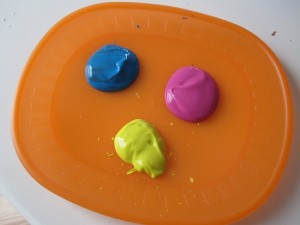 My little princess dipped her little hands in the paint and pressed them on the papers. Then I made her draw a stem and some leaves for the handprint blossoms.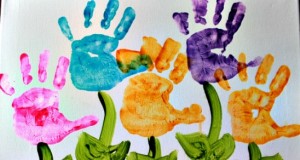 For a more vibrant effect, I suggested her some unique colors for the flowers. After all, who likes a monotonous art when you have tons of paint bottles and tubes at home?
Cool New Handprint Flower Craft Ideas You May Like
Have you a terracotta flower pot? First, color the entire pot with an eye-catching paint. Once it completely dries, the paint-dipped hands of your little artists can begin working on it. What a fabulous way to showcase myriad plant collections and your kids' handprints as well.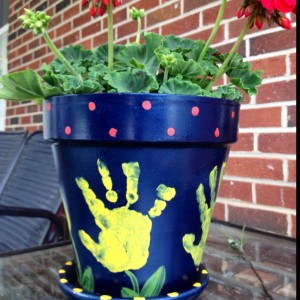 I voted this handprint flower craft as the best Mother's Day gift. Here, the handprint was done as usual and on each fingertip, my daughter stamped the flowers using her tiny thumb soaked in paints. Finally, I took a printout of the poem and pot design, made a cutout and glued it to the bottom. You may even write some interesting quotes or sayings and hang it on the wall.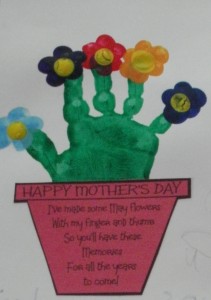 Surprisingly, our handprints turned into a blooming garden accentuating the blue sky in the backdrop. Next time, we are planning to do it on a bulletin board with a larger paper.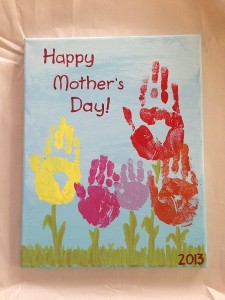 I thought of making a new centerpiece for her room, so we stamped the handprints on a couple of colored papers and cut them out. Then I picked few drinking straws from the kitchen drawer and stuck them to the handprints with a sticky tape. After that, the exotic blooms were placed in a vase.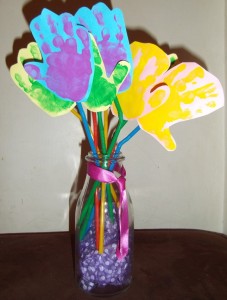 A few handprints and here you get a reusable floral tote bag to go shopping with the kids.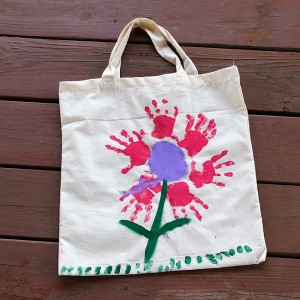 A plain card was folded into two, and the painted hands were pressed on it. For a sparkling effect, I sprinkled some glitter on the handprints.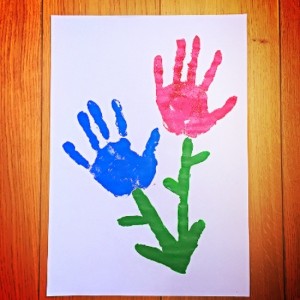 The stems were drawn, and we added a bow to make a bouquet of handprint flowers. My little one's grandma will be happy to get it as a gift when we visit her this weekend.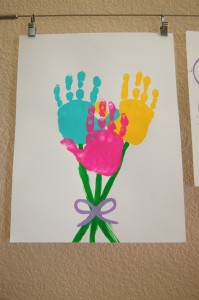 Another cute piece of art, I tried out with handprints and footprints. A bit abstract but I liked the result.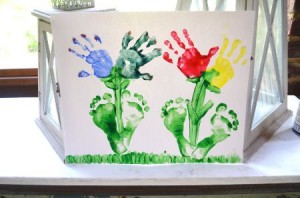 It was a delight seeing my daughter taking a deep interest in making the handprint flowers. Although the project demands messy hands, I am sure your preschoolers will have a whale of a time playing with colors.