How to Make Dirt Cups
A Halloween party can be peppered with yummy savories laced with a creepy vibe. Children find it hard to resist sweets and they will absolutely love dirt cups that are filling while scoring high on the spook quotient. The dish will keep the little ones entertained and make the adults nostalgic. Plus, they can be made quickly and enjoyed all year round.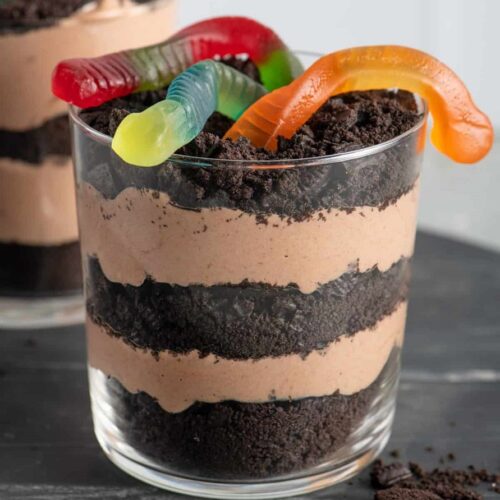 Dirt Cup Recipe
Dirt cups have been around for a long time and are pretty easy to make. People of all ages love the layers of chocolate pudding sandwiched between crushed Oreo cookie layers and topped off with colorful gummy worms.
Ingredients
2 cups of cold milk

1 pack (4 oz) of chocolate instant pudding

An 8 oz container of whipped topping, thawed

1 pack (16 oz) Oreos, crushed into crumbs

Gummy worms

10 8 oz plastic cups
Instructions
Pour the milk into a mixing bowl and add the pudding mix.

Whisk for about 2 minutes until the pudding is well blended

To thicken, let it stand for 5 minutes

Stir in whipped topping gently till the entire mixture is of the same color

Take the plastic cups and put 1 tbsp crushed cookies at the bottom of each

Now add 2 tbsp pudding to each cup

Put another layer of cookies, then repeat the pudding layer and lastly, put a layer of cookie.

Top off with two gummy worms cut in half

Optionally, put the cups in the refrigerator till serving time.
Tips
You can add 1.5 sticks of butter, 1 cup powdered sugar and 8 oz cream cheese blended into a smooth paste to the pudding after step 4 above for a healthy dirt cup recipe.
JELL-O chocolate and vanilla flavors of instant pudding mixtures are a hit with kids. So you can try them.
You can make the dirt cups without cool whip if you so wish, keeping the rest of the recipe the same.
You can tweak the recipe for making it gluten-free by substituting the Oreo cookies in the ingredients list with gluten-free ones.
More Ideas for Dirt Pudding Cups
If you are making the dirt cups for a birthday, you can swap the worms with tiny toy dinosaurs.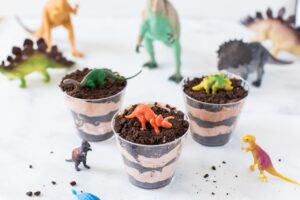 Halloween graveyard dirt cups can be made by sticking in Milano cookies decorated with melted chocolate made to flow through a piping bag to create 'RIP' and ghost face patterns. Throw in bone sprinkles to enhance the spook factor.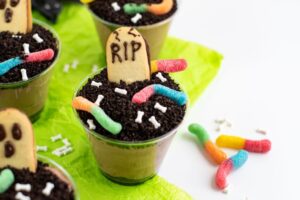 Jazz up a fall party with the regular dirt cup trifles with a few pumpkin candies thrown in. They can be great school snacks.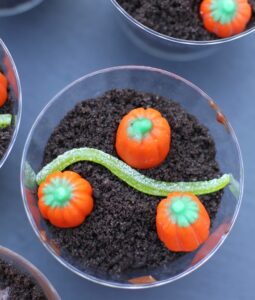 Another yummy idea is to alternate the cookie layers with scoops of chocolate ice cream instead of the pudding. Kids will relish it in the summers.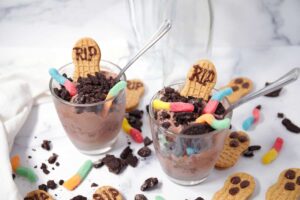 Now that you know the ins and outs of the recipe, it's time to start working on it. You can get the whole family together to make this dessert. Children will especially be happy to be a part of it. Once done, they will love to indulge in the visual and gastronomic delight of the edible dirt cups.