Simple Recipe for Ghost Cookies
After getting a lot of praise for my innovative recipes like Oreo spiders and dirt cups that were a hit at Halloween parties, I wanted to create something based on cookies. I did some research, tried and tested to come out with this creepy yet cute-looking ghost cookie idea. I bet little ones would love to help you out in making this dessert and gobble them all up in a matter of minutes!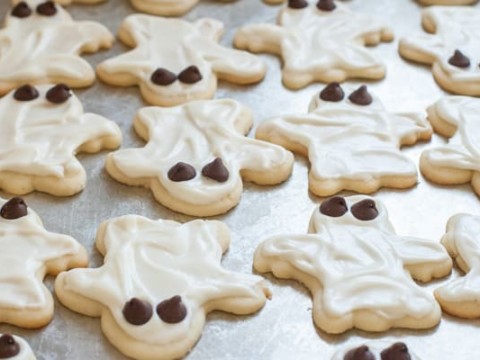 Ghost Cookies Recipe
The ghost sugar cookies involve making the dough, cutting it to shape, baking and topping it up with a layer of delicious icing. You can try experimenting with the facial features of the cookie ghosts
Ingredients
For the cookie dough
1 cup butter

1.5 cups confectioners' sugar

1 egg

1 tsp vanilla extract

2.5 cups all-purpose flour

1 tsp baking soda

1 tsp cream of tartar

¼ tsp salt
For the icing
1 cup confectioners' sugar

2 tsp milk (plus more if needed)

2 tsp light corn syrup (plus more if needed)

¼ tsp vanilla extract

1 oz package of miniature semisweet chocolate chips
Instructions
For making the cookie dough and the cookies
Beat butter in a bowl with an electric hand mixer until creamy.

Add the confectioner's sugar slowly, beating until the mixture is light and fluffy.

Beat in egg and vanilla extract.

In a second bowl, combine flour, cream of tartar, baking soda and salt. Add it to the creamed butter mixture and mix well.

Cover the dough with a plastic wrap and refrigerate for at least an hour.

Dust a work surface with flour and roll the prepared dough over it in a thin circle

Cut out ghost shapes with a cookie cutter of that shape.

Arrange the cut-outs on ungreased baking sheets

Bake in an oven preheated at 200°C for 6-8 minutes until the cookies become light brown in color.

Remove them carefully from the baking sheets and transfer them to wire racks.

Let them cool completely for about 15 minutes or so.
For making the icing
Stir the confectioners' sugar and milk together in a bowl to mix until smooth

Beat in corn syrup and vanilla extract until the texture becomes smooth and glossy [N.B. If you find the icing to be too thick, don't shy away from adding more corn syrup or milk]

Spoon the icing thus prepared into a piping bag with a small, plain tip.

Pipe it along the edge of each cookie

Fill the middle entirely with icing.

Stick 2 tiny chocolate chips into the wet icing for the eyes

Let the cookies stand for around an hour until the icing dries
More Decorating Ideas
You can pipe black icing in a crescent shape to make the mouth of a ghost cookie, or just add another mini chocolate chip in the penultimate step
Instead of chocolate chips, you can use candy eyeballs. They look even spookier!
You can place different colors of icing in the piping bag and decorate the head, hand and leg of the ghost cookies with dots.
The ghost cookies are great giveaways for trick-or-treaters and a better alternative to all the sugar-loaded candies that children indulge in during the holiday. They look perfect as a part of a Halloween spread for your guests without compromising the taste.