Rainbow Waffles: A Delectable Breakfast Idea
Bring some color to your St. Patrick's Day breakfast plate by making colorful waffles with a pot of gold at their ends. You can also make them for a kid's birthday party to ring in the accolades. And just take a look at the pictures to get convinced about how cute they look. I'd been craving waffles throughout my pregnancy days and just the thought of them cooking in my waffle maker makes my mouth water.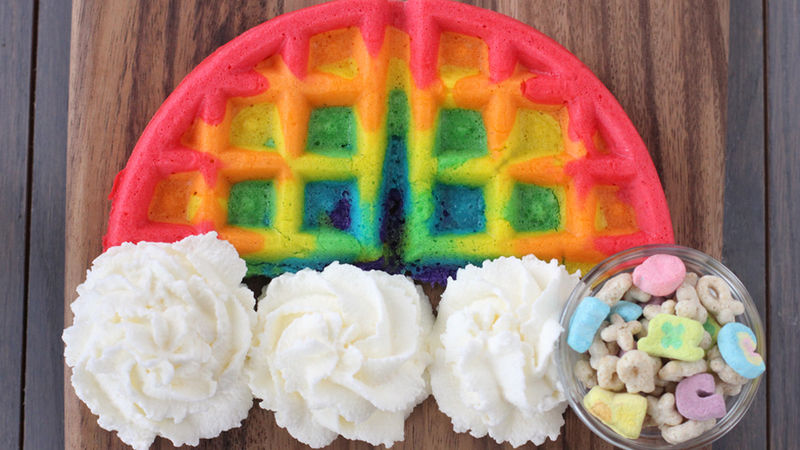 Rainbow Waffles Recipe
In this easy recipe, gel food coloring is used to color the batter in the rainbow shades before pouring it in neat circles into a heated waffle iron. The prepared waffles are then decorated with whipped cream and Lucky Charms.
Ingredients
2 cups Bisquick baking mix

2 eggs

1 cup milk

Gel food coloring (red, blue, green, purple, yellow, orange)

Whipped cream (for the clouds)

Lucky Charms cereal (for the treasure)
Instructions
In a large bowl, whisk together Bisquick, eggs and milk until smooth

Divide the batter among 6 bowls, putting around 1/3 cups in each.

Put a few drops of gel food coloring, using a different color for each bowl.

Whisk in the food coloring until it gets uniformly blended

Transfer each color of batter to a piping bag and cut off the tips avoiding spillage

Now pour each color of batter in a circle into a heated waffle maker. The outermost circle should be red, then orange, yellow, green, blue and lastly, purple.

Cook according to the instructions on your waffle maker

Remove the circular waffle and repeat the steps with the remaining batter.

Cut each waffle in half to make it resemble a rainbow

Serve with whipped cream for the clouds and put Lucky Charms as the treasure at the end of the rainbow.
Tips
Ensure that you portion the batter in the bowls so that the ones getting the red and orange colors have a little more batter as they make bigger circles.
Apart from St. Patty's Day, I like to make the colored waffles for my Sunday brunch and sleepovers. I like their tenderness in my mouth. They feel soft, just like a pillow! I never overcook the waffles as they tend to lose their natural color that way. Plus, that compromises on their taste.