Making Cinnamon Candied Cashews at Home
If you dislike including regular cashews in your diet as they taste pretty bland, why not make candied versions of them? The crunchy sweet treats are great for desserts and gifting. The nutrition quotient of the protein-rich nuts is enhanced with the inclusion of spices and eggs. You can keep the sugar part in the ingredients list low if you are counting calories or use the recipe as is if it's a party that you are making it for.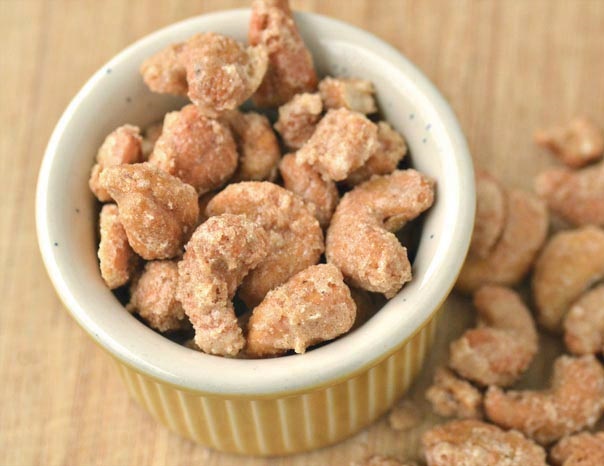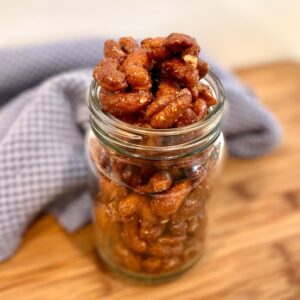 Candied Cashews Recipe
In this easy recipe, cashews are coated with sugar, egg white, spices and baked until they become crunchy. Here the egg whites act as the glue holding all the other ingredients together. Also, since we whisk it to a soft meringue before using it in the recipe, it firms up on baking to lend a crispy and crunchy outer layer to the candied cashews.
Ingredients
4 cups whole cashews (raw or roasted)

2 medium-large egg whites

¾ cup sugar

6 tbsp light brown sugar

3 tsp cinnamon

2 tsp water
Instructions
Mix the sugars and cinnamon in a bowl and keep it aside

Beat the egg whites with a hand whisk for about a minute or two until they become frothy.

Add the water and whisk for another minute

Add the cashews to the egg whites and toss to coat them evenly

Now add the sugar mixture and toss again to coat the nuts evenly.

Spread them on a cookie sheet lined with parchment paper and bake for 25-30 minutes in an oven preheated to 300°F till the nuts become dark golden in color

Remove from the oven and allow them to cool
You can sprinkle the homemade candied cashews on ice creams, salads and granola. They can be savored for a month or so if you store them in an airtight container at room temperature. The dessert never fails to invoke interest in my guests for its unconventional looks and taste.