I love the idea of a giving a ring to your daughter. I have a beautiful daughter who is about to have her own little girl. A daughter's ring is a sweet way to remind her that she is and will always be uniquely special to you.
If you're shopping for a ring for your daughter, you probably see the same thing over and over again. I wanted to find something more than just pretty. I wanted to find daughter's rings that were a little unique and very special
7 Daughter's Rings (Almost) As Special As She Is
1. This little sterling silver personalize-able ring from Etsy shop owner Dharlee is on my list of rings for a daughter because it's simple and you can have it say anything – up to 6 letters. You can tell your daughter she's "LOVELY" or "KIND" or "ADORED." At only $15.97, I might suggest you get several rings so you can offer up several sentiments to her.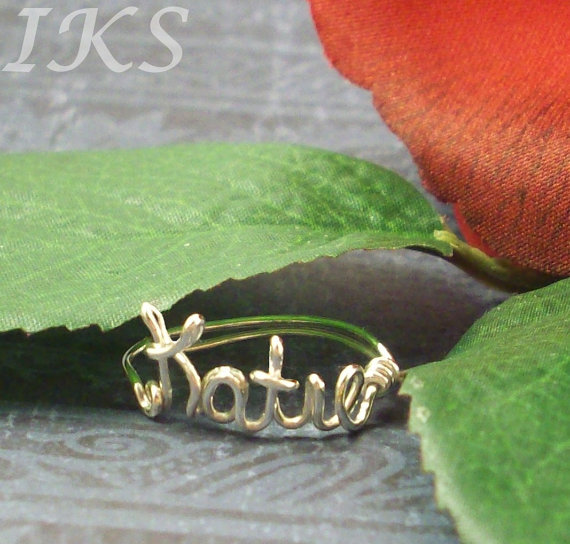 2. The idea of personalized interlocking rings for a daughter delights me. From Etsy shop boutonrougedesigns, this is a set of 5 solid sterling rings that are all "caught up" in each other. You could tell a whole story in this one daughter's ring. For example, "You are my precious girl."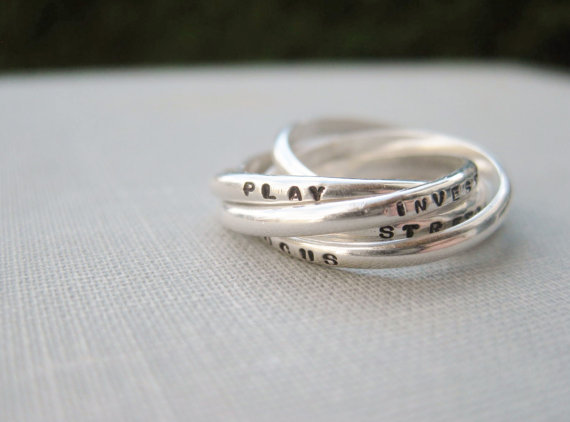 3. This ring is called "My Daughter's Faith And Love" and it's a little Diamond Ring by The Bradford Exchange. It's solid sterling silver, with selective 24K-gold plating, and it has a sparkling solitaire diamond accenting a cross. Engraved inside it reads, "Trust in the Lord with All your heart." It's a perfect ring for a parent who wants to express their faith to their daughter.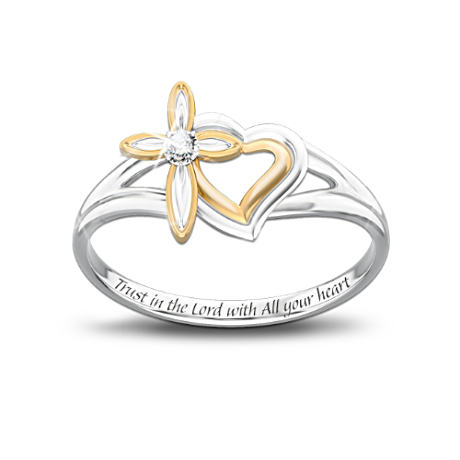 4. Sometimes the most simple things are the most beautiful. This handmade sterling silver posey ring from Etsy shop punkybunny300 fits the bill perfectly. (A posey ring is engraved with a brief sentiment on the inside or outside – or both.) Posey rings can be wonderful daughters rings. This particular ring is only $32!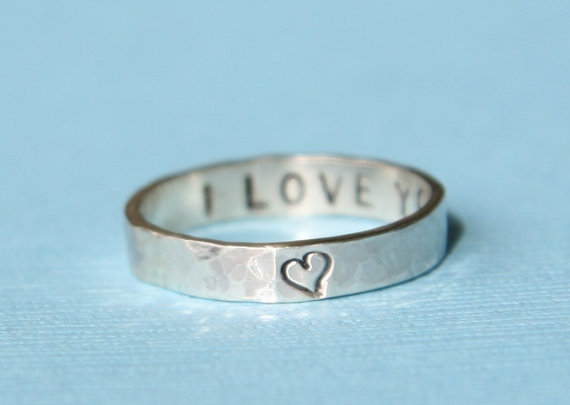 5. "Always My Daughter – Now My Friend." That's the sentiment on this silver spinner ring. It's a lovely gift for a grown daughter from her Mom or Dad – or both.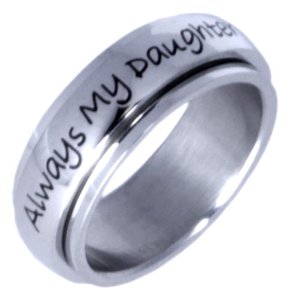 6.  This sterling silver "My Precious Daughter" ring has a sweet sentiment, and a pop of color with the addition of her birthstone. You could put your daughter's birthstone in the middle, and Mom & Dad on either side.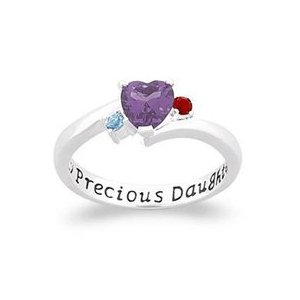 7. Etsy shop 
RingRingRing
 offers this very simple
Infinity Ring in sterling silver
. It's delicate, but what it symbolizes is powerful. It tells your daughter your love for her is infinite.  Beautiful and only $35.