Who doesn't love cheesecake? The way it melts in your mouth is just heavenly. Although when it comes to making cakes at home, you got to rely on your oven. Surprisingly, my mother (the best cook on this planet) suggested a recipe for making cheesecake without going through the hassle of baking. Since I make fewer trips to the kitchen, my first stint with peanut butter cheesecake was a hit.
No Bake Chocolate Peanut Butter Cheesecake Recipe
Ingredients
Baking crumbs- 1 ¼ cups
Cream cheese (softened) – 8 ounces
Butter (melted) – 1/4 cup
Peanut butter- 1 cup
Chocolate sprinkles (I chopped two milk chocolate bars into tiny pieces)
Whipping cream- 1 cup
Directions
Mix the baking crumbs and butter properly and press the mixture uniformly along the bottom of a springform pan.
Place the pan in the refrigerator for 10 minutes.
Blend peanut butter, cream cheese, and sugar in a mixer and then add the whipping cream.
Add half amount of the chocolate pieces into cheesecake filling and stir well. (You can chop some peanut butter cups too and add them to the mixture for a richer flavor.)
Spread the mixture over the crust and refrigerate for about 3 hours.
Heat the remaining whipping cream and chocolate pieces in a microwave for about 1 minute. Allow it to cool a little and then pour over the cheesecake.
Refrigerate the cake till it hardens.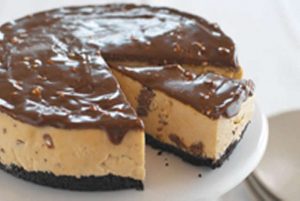 Not being boastful but my first attempt at making a cheesecake was successful. As the first slice of the cake tasted delicious, my sweet tooth couldn't stop me from having another one.
Some Easy Non-Bake Peanut Butter Cheesecake Recipes
No Bake Sugar-Free Peanut Butter Cheesecake
While gobbling cheesecake is a pleasure, the health-conscious ones can prevent themselves from having the extra calories by going for a sugar-free recipe.
Ingredients
Melted butter- 1/4 cup
Sweetener- 1/ 2 cup (from here you have to take 1 tablespoon to prepare the crust)
Almond flour- 1 cup
Low-fat cream cheese (softened) – 8 ounces
Whipping cream- 1 ½ cups
Peanut butter- 1 ½ cups
Directions
Mix almond flour, melted butter, and sweetener well, and press the mixture gently all over the cake pan. Refrigerate for about 10 minutes.
Combine cream cheese, peanut butter, and sweetener in a bowl till a smooth mixture is obtained.
Pour the whipping cream after beating well at high speed into the bowl and stir thoroughly.
Spread the mixture uniformly over the crust and then place the pan in the refrigerator for 2 hours.
No Bake Peanut Butter Cheesecake Lollipops
Decorate the cheesecake with yummy pops and celebrate any occasion in style.
Ingredients
Cream cheese- 8 ounces
Peanut butter- 1/2 cup
Sugar- 2 tablespoons
Chocolate chips- 1/2 cup
Dark candy making and dipping wafers (melted) – 1 cup
Directions
Blend cream cheese, peanut butter, and sugar in an electric mixer for 2 minutes.
Transfer the mixture to a bowl and add chopped chocolate chips to it.
Place a sheet of parchment paper on a cutting board.
Use a cookie scoop to take out the cheesecake dough and place it on the parchment paper.
Keep the board in the refrigerator for 15 to 20 minutes till the dough becomes stiff.
Soak the cheesecake bites one by one in the melted chocolate completely using a toothpick and place them back on the parchment paper.
Allow the chocolate to harden and refrigerate. Insert toothpicks into each cheesecake pop.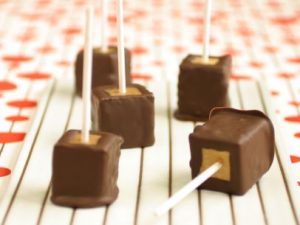 No Bake Peanut Butter Protein Cheesecake
Desserts addicts would love the idea of a protein cheesecake without worrying about gaining any extra pounds. Although there is no change in the process of making the cake, you have to add some more ingredients.
For the Crust
Almond meal- 2/3 cup
Chocolate whey protein powder- 1 cup
Coconut oil- 1/4 cup
Raw cacao powder- 1/3 cup
Salt- 3/4 tablespoon
Sugar-free maple syrup- 1/4 cup
Sweetener- 2 tablespoons
Vanilla extract- 1 tablespoon
For the Cheesecake Filling
Cream cheese- 1 cup
Yogurt- 1 cup
Vanilla whey protein powder- 1 scoop
Peanut flour- 1/3 cup
Peanut butter- 1/4-1/2 cup
Sweetener- 1 tablespoon
As a topping, you can place peanut butter cups around the border of the cake before refrigeration.
A Few More Delectable No Bake Peanut Butter Cheesecake Ideas
For a no-bake peanut butter cheesecake pie, you can use a pie plate instead of a cake pan. Although you need to follow the same steps, you can use hot fudge sauce instead of chocolate pieces. However, just spread it over the crust and then layer the cheesecake on it before refrigerating for 2 hours.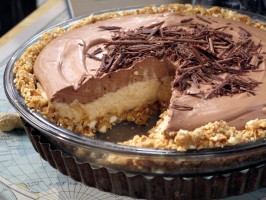 For a chocolaty delight, you can replace the baking crumbs with brownies. All you got to do is use the store-bought brownie mixture to make brownies and lay it over the springform pan. Adorn the top of the cake with peanut butter cups. Greet your kids with a mouth-watering no-bake peanut butter brownie cheesecake.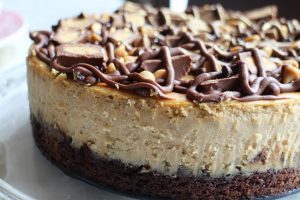 If you want a banana-loaded cheesecake, then don't forget to place sliced bananas over the cookie crust before pouring the cheesecake filling. Nothing could taste better than a no bake peanut butter banana cheesecake.
The gooey marshmallows, when added to cheesecake make it sweeter and fluffier. All you have to do is mix the peanut butter and sugar separately in a mixer while the cream cheese needs to be combined with some marshmallow fluff (10 ounces) in a bowl. Before that, add 3/4 tablespoon of gelatin to water and let it swell. Now mix the gelatin, cheesecake mixture, and whipping cream properly and pour it over the crust as previously shown. Serve your guest with creamy peanut butter no bake marshmallow cheesecake bars and see the compliments pouring.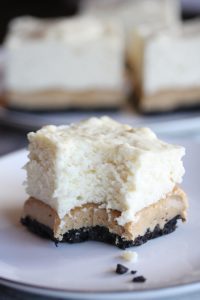 You have the complete liberty to experiment with various other ingredients such as caramel, sweetened condensed milk, pretzel crust, and jelly for a flavorsome treat. Hope to get some feedback and other ideas too from you soon.