How to Make Marshmallow Fluff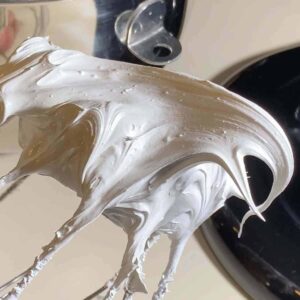 One of the reasons why I thought of making my own marshmallow fluff was that I found the store-bought variety very runny and hard to work with. In fact, it ended up ruining my homemade desserts on many occasions! But the recipe that I use here yields real fluffy stuff that looks cool and tastes yum.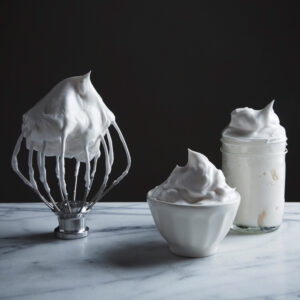 Homemade Marshmallow Fluff Recipe
Just a few ingredients need to be mixed and whipped to make this light, creamy and fluffy dish that looks similar to melted marshmallows. It is traditionally used in making peanut butter and marshmallow fluff sandwiches
Ingredients
¾ cup granulated sugar

⅓ cup water

¾ cup corn syrup or honey

3 large egg whites, room temperature

½ tsp cream of tartar

1 tsp vanilla extract
Instructions
Place water, corn syrup and sugar in a medium saucepan. Stir to combine them.

Fit a candy thermometer to the pot and put it on medium-high heat. Don't stir at this point or crystals will form

Wipe down your stand-mixer bowl, whisk and other equipment that you will need from now with lemon juice or vinegar to ensure that they are completely free of grease. [N.B. Even if there is a tiny speck of grease or egg yolk in the utensils, the meringue doesn't whip]

Add the egg whites and cream of tartar to the bowl of the stand mixer

When the sugar syrup reaches 225°F, start whipping the egg whites mixture so that they form soft peaks. It will take around 3-4 minutes

When the egg whites are ready and the temperature on the candy thermometer reads 240°F, turn the mixer to medium and slowly pour the sugar syrup into the egg mixture in a thin, steady stream down the sides of the bowl. [N.B. You should do this very carefully as the stream should be perfect as it flows down the sides of the bowl without getting splashed by the whisk.]

Now set the mixer to medium-high and continue beating. The whites will deflate at first but will thicken and fluff afterward

Continue whipping for 7-8 minutes until the mixture becomes thick and fluffy

Add the vanilla and whip till the mixture fully cools down

You can now use it right away as filling or frosting or transfer it to an airtight container and store it for up to 2 weeks at room temperature. When stored thus, the spread needs to be whipped again to fluff it up before serving.
Ideas
If you want the fresh taste of mint instead of vanilla in your homemade marshmallow fluff, you can substitute the vanilla extract in the recipe with the same amount of peppermint extract. For a lemon flavor, you add a zest of a large lemon to the finished fluff
If you are vegan, you can replace the egg whites with aquafaba that whips into similar peaks. You need to substitute 2 tbsp aquafaba for each large egg white to make this vegan marshmallow fluff without eggs.
You can use this as a topping on pancakes, waffles, cupcakes, cakes, S'mores and the list goes on. You can also use it in a layer between two cookies and I love to add a big dollop of it to my mug of hot chocolate. We are sure that you can never run short of ideas when it comes to using this creamy stuff on your favorite dishes.