How to Make Ice Cream in a Bag
Ziploc bag ice cream can be made easily at home with just a few readily available ingredients. Kids love to dig into the dessert as they do with any other ice cream. But the making process is something that sets this dish apart. A good thing about this recipe is that you can use it with or without half and half. Just substitute the said ingredient with whole milk or heavy cream. Scroll down to get the details of making your own vanilla ice cream in a bag.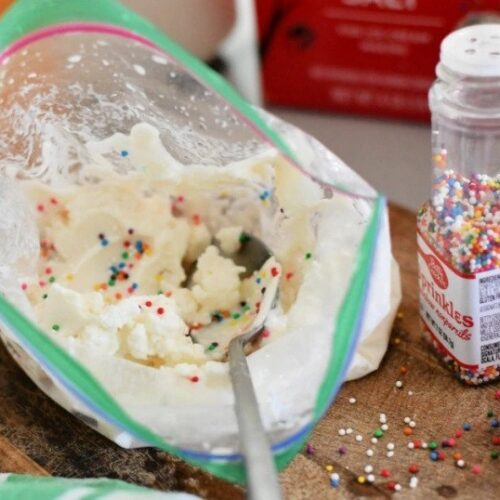 Ice Cream in a Bag Recipe
This easy, kid-friendly treat perfectly suits summers. It requires you to just put ingredients inside two Ziploc bags as directed and shake to freeze the mixture. You can turn it into a valuable science experiment and lesson for children that they would absolutely love to 'savor'.
Ingredients
2 gallon-sized Ziploc bags

2 cups heavy cream or half and half or whole milk

¼ cup sugar

1 tsp vanilla extract

⅓ cup rock salt

6-8 cups ice
Instructions
Put the ice and salt in a Ziploc bag

Put the heavy cream in another Ziploc bag.

Now put in the sugar and shake the bag to mix

Add the vanilla extract and shake again

Seal this 2nd bag completely, squeezing out any air trapped inside so that no salt enters it and put it inside the first bag containing the ice

Shake the 1st bag for around 5 minutes or until frozen. You should wear gloves for this step as the salt makes the ice extremely cold.

Take the inner bag out of the outer one and rinse the former with cold water, including the top part above the seal

Carefully open it so that no salt from outside this bag gets inside

You will find the ice cream inside a little icy at first. So you can use a spoon to move around the chunks a bit, so they mix and soften. Scoop and enjoy your homemade ice cream!
Ideas
You can make plastic bag chocolate ice cream by stirring in chocolate syrup instead of the vanilla extract
If you are lactose intolerant, make it dairy-free by replacing the half and half with full fat coconut milk or coconut cream
Endear it to kids further by stirring in their favorite mix-ins once the ice cream is ready. Options are crushed cookies, chopped candy bars, sprinkles, peanut butter, nuts, sliced fruits, mini M&M's and the list goes on.
Now that you know the ins and outs of the recipe, it's time to get working on it. We are sure that little ones will be awestruck by the unconventional making of delicious ice cream in their favorite flavor. Let me end with one small tip. The more you shake and move around the ingredients in the steps mentioned above, the faster they freeze. It's the science, really, in work here.