Marshmallow Fluff Fruit Dip with Cream Cheese
Just 3 ingredients are all you need to make this sweet and creamy classic marshmallow fluff fruit dip. Apart from its ease of making, I particularly favor this recipe as it encourages my kids to have their daily portion of fruits without much fuss. Plus, I can customize it as I like by adding a fun twist of fruity or spicy flavor!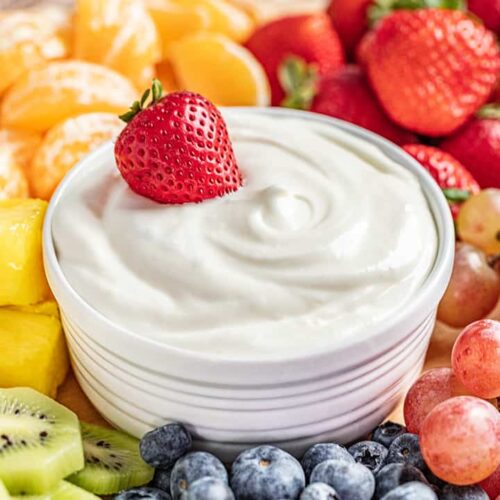 Fruit Dip Recipe with Cream Cheese and Marshmallow Fluff
Who would have thought that the unlikely pairing of marshmallow fluff with cream cheese would yield such a heavenly delight for your taste buds and that too with just a few minutes of whipping? Don't believe us? Read on.
Ingredients
8 oz cream cheese, softened

7 oz marshmallow creme

1 tsp vanilla extract
Instructions
Put all the ingredients in a large mixing bowl

Beat them with a hand mixer until the mixture becomes smooth and creamy. It will take around 2-3 minutes

You can serve it immediately with your favorite fruits or store it covered in a refrigerator for up to a week
Serving Suggestions
You can serve this delicious dip with any or all of the following. We think it is best to go with seasonal fruits for pairing this fluffy dip.
Strawberries
Blueberries
Pineapple
Kiwi
Grapes
Oranges
Tips
If you are counting calories, you can use low-fat cream cheese
Do you want to make marshmallow fruit dip without cream cheese? Feel free to substitute it with an equal amount of mascarpone.
Flavor Ideas
Instead of vanilla, you can try out a plethora of other flavors to suit your preferences
Honey cinnamon: Beat in 1 tsp of ground cinnamon and 2 tbsp honey to the mixture for a healthier yet delicious option. It is particularly helpful if you are suffering from a cold but craving something yummy.
Jello: You can beat in Jello powdered mix in different fruit flavors like cherry, mango, green apple, peach, fruit punch, etc.
Pumpkin spice: Beat in 2 tbsp pumpkin puree and 1.5 tsp pumpkin spice for this delectable flavor. Alternatively, you can use 1 tsp cinnamon, ¼ tsp nutmeg, ¼ tsp ginger and a pinch of cloves. Healthy, isn't it?
Berry: For this, just swap the plain cream cheese with strawberry or blueberry cream cheese spread
Orange: Lend the dish a fresh citrusy taste by mixing in 2 tbsp orange juice concentrate. We bet you will like its looks too!
Chocolate: Throw in 2 tbsp cocoa powder to the mix
We really like how creamy, fluffy marshmallow spread, tangy cream cheese and earthy vanilla come together to create the perfect accompaniment to your favorite fruits. It is because the cream cheese perfectly balances the sweetness of the marshmallow crème preventing the snack from being overly sweet.