Octopus Sausage: A Fun Recipe to Try
Octopus or Tako sausages are fun and easy to make and you can add them to your kid's bento box to surprise him at lunchtime. Even fussy eaters are going to gobble them all up. And moms can rest assured that they are not compromising their children's nutrition with this. What's more? The octopus-shaped sausages encourage kids to finish the whole bento!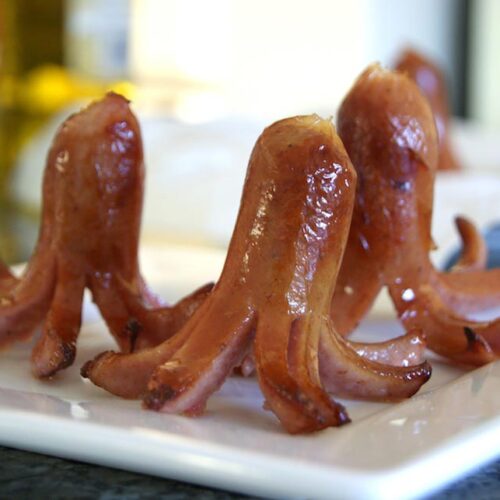 How to Make Octopus Sausage
For this simple recipe, you just need to make a few cuts in Japanese sausages or regular hot dogs cut into 3" pieces and fry or boil them in water to make the 'legs' curl up. The dish is best enjoyed with rice.
Ingredients
6 Japanese sausages

1 tsp black sesame seeds

1 tsp cooking oil or 4 cups water with 1.5 tbspsalt added to it
Instructions
Lay a sausage on a cutting board and cut one half of it lengthwise. You should not make any cuts on the other half.

Turn it over 90 degrees and make another vertical cut. Now the sausage has 4 legs.

Further cut each leg in half so that the sausage has 8 legs. You can skip this step if you are uncomfortable with thinner cuts

Similarly, slice the remaining hot dogs

Heat cooking oil in a non-stick pan and then add the sausages

Cook them on medium heat till they turn brown.The legs will open up and curl outwards. Instead of frying, you can boil them in water with a little bit of salt added to it.

Decorate with black sesame seeds for the eyes and mouth, attached by pricking holes on the hotdogs with toothpicks and placing the sesame seeds inside.
This is a great preparation for potluck and birthday parties. Children love the visual effect of the dish that scores higher than plain hotdogs or sausages. The contrast of flavor and texture between the juicy Tako sausage head and the crisp legs endears it to adults too.