Oreo Lasagna: a Treat for Your Taste Buds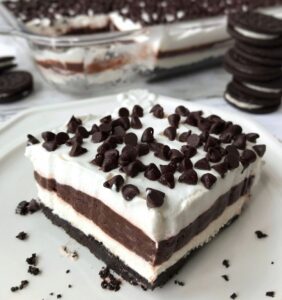 If you are a big fan of all things chocolate like me and want to make something unique with it, why don't you try an Oreo lasagna recipe? The dish has been a huge hit at potluck parties and people keep asking me about the recipe. So here it is for you. It is no-bake and can be savored for a long time if refrigerated properly. Since the recipe involves considerable chill time, it is better to plan the dish well before serving time.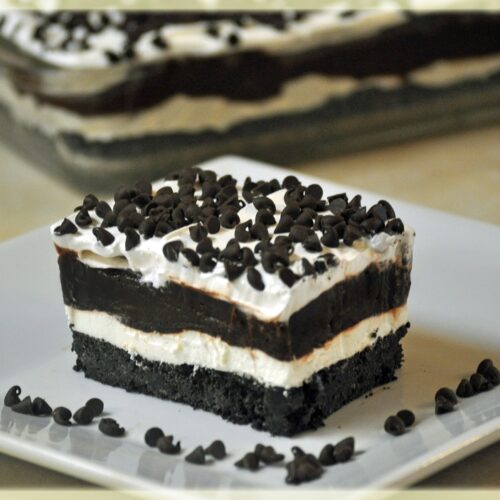 Oreo Lasagna Recipe
This tasty yet simple chocolate lasagna has a cookie crust topped with layers of chocolate pudding, cream and chocolate chips. It is great for satiating the hunger pangs when you have quite a crowd for dinner.
Ingredients
36 regular Oreos

6 tbsp butter, melted

8 oz cream cheese, softened

¼ cup granulated sugar

12 oz cool whip, divided

7.8 oz chocolate instant pudding (2 packs)

3½ cups cold milk, divided

Crushed Oreos or mini chocolate chips (for topping)
Instructions
Place the Oreos in a food processor or blender to break them into small crumbs.

Add melted butter to the crumbs and mix until well combined.

Press the mixture into the base of a 9"x13" dish and refrigerate for 5 minutes.

Whip the cream cheese in a medium-sized bowl until it is fluffy.

Add the sugar and 2 tbsp cold milk to the cream cheese. Mix until it is well blended.

Stir in 1 cup cool whip and spread the mixture lightly over the cookie crust.

Refrigerate for another 5-10 min

In a separate bowl, whisk together the pudding and remaining cold milk until the mixture is thick.

Spread it over the cream cheese layer.

Refrigerate for another 5-10 minutes to let the pudding set.

Now spread the remaining cool whip on top and sprinkle chocolate chips or crushed Oreos.
You should slice the Oreo lasagna just before serving and enjoy it while it's still cold.
Now that you are through with the recipe, feel free to make minor changes in it to suit your preferences. It could be adding a few chocolate curls as topping or giving it a fancy look by piping your whipped topping with a large open star tip.