Scrumptious S'mores Cake Recipe
If you are looking for homemade cake ideas for an upcoming birthday party and don't mind an elaborate recipe as long as the taste is heavenly, you have landed in the right place. Considering the effect s'mores have on your taste buds, we thought of making this creamy yet crunchy dessert based on the popular campfire treat.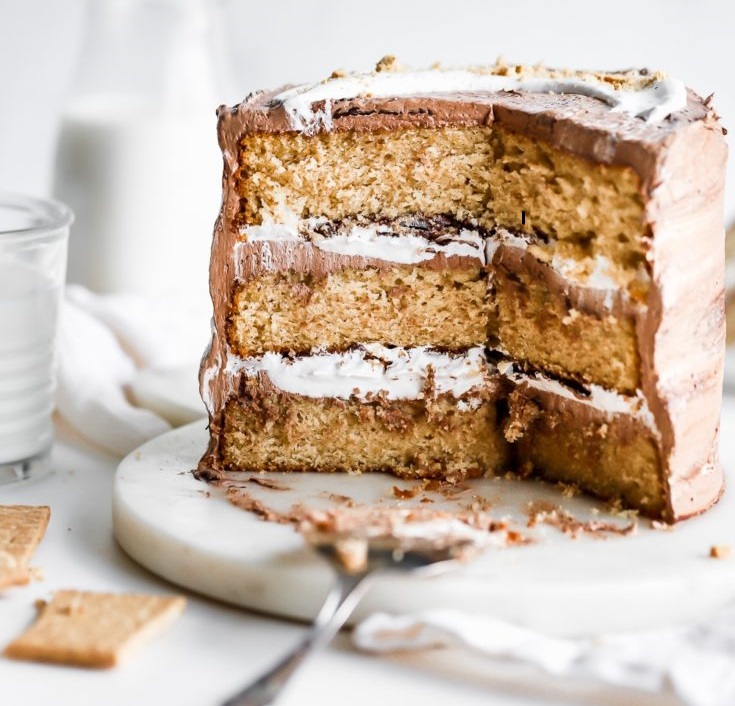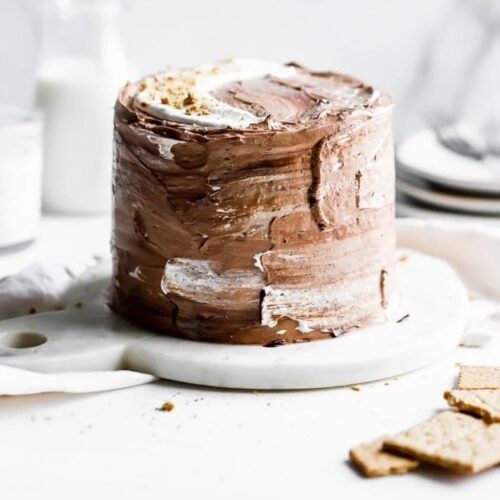 S'mores Cake Recipe
This yummy s'mores cake has graham cracker flavored layers frosted with chocolate Swiss meringue buttercream and delectable marshmallow fluff. Make it for a gathering and be ready for a shower of accolades coming your way.
Ingredients
For the graham cracker cake
2 cups all-purpose flour

1 sleeve or 8-9 sheets of graham crackers

1 tbsp baking powder

¼ tbsp salt

¼ tbsp cinnamon (optional)

1 cup brown sugar

1/2 cup granulated sugar

¼ cup unsalted butter, room temperature

½ cup oil

3 large eggs, room temperature

1 cup buttermilk

½ tbsp vanilla extract
For the meringue or marshmallow frosting
6 large egg whites

1½ cups granulated sugar

½ tbsp vanilla bean paste
For the chocolate Swiss meringue buttercream
½ of meringue frosting

1 cup unsalted butter, room temperature

4 oz dark chocolate chips

½ cup heavy cream

½ cup cocoa powder

A pinch of salt
Instructions
For the graham cracker cake
Grease and line 3 6-inch cake tins with cooking spray and parchment paper, respectively.

Place a sleeve of graham crackers in a food processor and put it on high till there are no more big chunks

In a medium bowl, whisk the flour, baking powder, cinnamon, salt, and graham cracker crumbs together. Set this dry ingredients' mixture aside.

Use an electric mixer with a whisk attachment to beat the butter, granulated sugar, oil, vanilla extract and brown sugar together on medium speed until light and fluffy. It takes about 2-3 minutes.

Now add the eggs, one at a time, beating well after adding each. Ensure that you scrape the bottom of the bowl as and when needed to avoid lumps

Alternate adding the dry ingredients and buttermilk to the egg batter in 5 increments such that you begin and end with the dry ingredients.

Beat the mixture on medium speed just until the flour gets fully incorporated

Spread the batter evenly in all the prepared cake tins and bake in an oven preheated to 350°F for 30 minutes until the cake springs back when poked

Remove the cakes from the pans and let them cool completely before proceeding with the frosting
For the meringue or marshmallow frosting
Clean the aluminum bowl and whisk attachment of the stand mixer thoroughly as they can't have any fat residue when making the frosting. Once they are clean and dry, put the egg whites and granulated sugar in the bowl.

In a small saucepan, simmer ½ cup of water. Keep it simmering in low heat as you place the aluminum bowl containing the egg whites and sugar on top of it, creating a double boiler.

Whisk the egg whites and sugar for 5-10 minutes until the latter is completely dissolved. [N.B. You can check it by feeling it between your fingers or using a candy thermometer to bring the mixture to a temperature of about 150°F]

Remove the bowl from the heat and place it in the stand mixer fitted with the whisk attachment.

Beat it on medium-high speed until stiff peaks are formed

Add the vanilla bean paste and beat the mixture till it is no longer warm. It will take around 10-15 minutes

Transfer half the meringue to a separate bowl and set it aside.
For the chocolate Swiss meringue buttercream
In a small saucepan, bring the heavy cream to simmer

Pour it over the dark chocolate kept in a medium bowl and let it melt for 1-2 minutes

Stir it into a smooth mixture

Allow it to cool completely

Put the stand mixer containing half of the meringue on medium speed

Slowly add the softened butter, 2-3 tbsp at a time

Even after the butter is fully incorporated, continue beating for a few minutes till it emulsifies into buttercream. It may go through soupy or curdled stages in between but comes together in a matter of 5-10 minutes

Add cocoa powder, salt and half the melted chocolate ganache. Set aside the other half.
For assembling the cake
Place one of the graham cracker cakes on a cake board and spread a thin layer of the chocolate buttercream over it

Then add a layer of meringue frosting and a swirl of chocolate ganache from the parts that were kept aside [N.B. If you want, you can reheat the chocolate in the microwave for 5-10 seconds before throwing it in]

Repeat the steps with a second layer of graham cracker cake

Place the 3rd layer of the graham cracker cake on top

Smooth out any buttercream excesses that pop out between the layers and refrigerate for an hour, at least

Place the remaining buttercream on the top and work its way down the sides using an offset spatula

Lightly spread dabs of meringue frosting and chocolate ganache from the parts set aside

Top off with extra graham cracker crumbs
Tips
If the chocolate buttercream or frosting is too soft, you can consider refrigerating it for 20 minutes before layering on the cake. It's better to have it slightly firmer instead of absolutely soft.
You can keep the cake at room temperature for just a day. If it's any longer, you need to keep it in a refrigerator where it can be stored for up to a week. If you have already cut out a few slices, cover the open side of the cake with a plastic wrap and store the slices in an airtight container.