Butter Glazed Roasted Rainbow Carrots
Roasted rainbow carrots are crisp and tender, with a slight crunch at their centers. They are buttery and sweet when roasted to perfection. Only 6 ingredients are needed to make this savory dish. The best time for making this is spring, when you have farmer's markets and grocery stores flooded with carrots. I am a great fan of this recipe as it's simple and I really like some color on my plate due to its high nutrition quotient.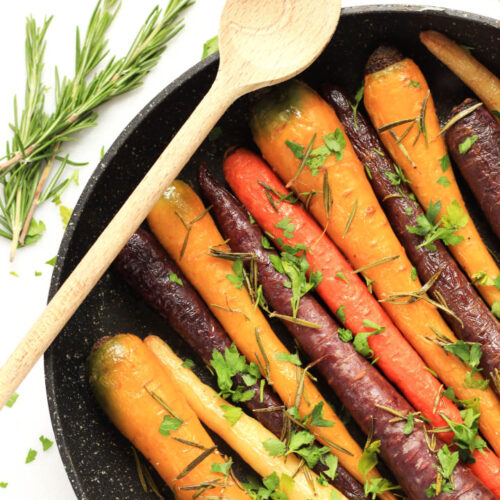 Roasted Rainbow Carrots Recipe
Your oven does all the hard work here, with you only required to do the sprinkling and coating of the rainbow carrots with seasonings and oil. But you got to be very careful with the roasting process for the perfect caramelization of the candied rainbow carrots.
Ingredients
2 lbs whole rainbow carrots (small or medium)

2 tbsp olive oil

2 tbsp unsalted butter, melted

4 tbsp maple syrup, plus more for drizzling at the end

Salt and pepper to taste
Instructions
Wash the carrots thoroughly, especially around the stem.

Peel them. You can leave the tops (green parts) on them if you like

If the carrots are too thick, you can cut them in half length-wise. The slender ones, though, can be roasted whole so they get a slight crunch at the center.

Arrange them on a large sheet pan or 2 medium sheet pans with 1-2 inches gap between them

Brush them evenly with olive oil and sprinkle salt and pepper

Roast for 15-18 minutes in an oven preheated to 425°C, turning them when halfway through, until they are almost fork tender

Remove them from the oven and toss them with maple syrup and melted butter

Put them back in the oven and roast for another 8-10 minutes until caramelized. Take special care so that the maple glaze doesn't burn

Arrange the butter glazed raibow carrots on a serving plate and drizzle some more maple syrup if you want
Tips
In the step where you add salt and pepper, you can add extra seasoning like onion powder, garlic powder, ground cumin, smoked paprika or Italian seasoning.
The rainbow baby carrots or heirloom carrots can light up any Easter dinner table with aplomb. Plus, they ensure sheer gastronomic delight. I've also put them on my Thanksgiving dinner table and had my guests raving about them.