Easy Recipe for Oreo Fluff
An Oreo fluff salad is creamy, yummy and hard to resist, irrespective of whether you have a sweet tooth or not. The best part about the recipe is that it is extremely easy and can be whipped up really fast. But it would be best if you plan the dish in advance as it warrants reasonable chilling time. The 5-ingredient dessert can be made for the entire family as it can endear itself to the young and old alike.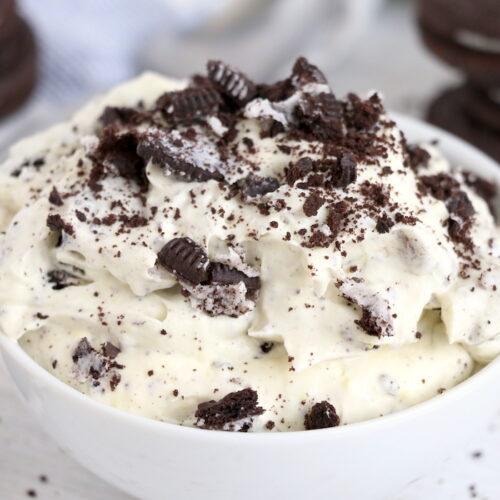 Oreo Fluff Recipe
This no-bake Oreo fluff dessert doubles up as a side dish or salad. It requires you to just beat and mix a handful of ingredients to result in a creamy, fluffy texture. The Oreo cookies give the dish a crunch that lends a welcome break from its softness at times.
Ingredients
2 small boxes (3.4 oz) of vanilla instant pudding mix (you can also use chocolate flavor)

8 oz cream cheese at room temperature

3 cups milk

1 family size (19.1 oz) bag of Oreos, crushed

2 cups mini marshmallows
Instructions
In a mixing bowl, beat the instant pudding mix with the soft cream cheese until the mixture becomes smooth

Now add the milk slowly until the mixture becomes creamy with no lumps.

Stir in the broken Oreos, marshmallows and whipped topping

Cover and refrigerate for at least 3 hours.
Tips
If you are counting calories, you can substitute the regular cool whip with fat-free cool whip and the milk with skim milk in the recipe. Reduced fat Oreos instead of the regular ones should also be used in the weight watchers Oreo fluff.
You can cover and store it in the refrigerator for up to 3 days. When stored thus, the Oreos tend to lose their crunch though the dish still tastes delicious. So you can sprinkle some fresh crumbs of Oreos at serving time to regain the crunchy texture of the salad.